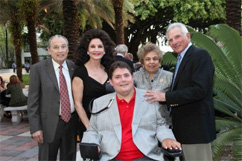 PHILANTHROPY
Christine E. Lynn Donates $10 Million to Fund Human Clinical Trials Initiative at The Miami Project
Philanthropist Christine E. Lynn was honored on April 7 for her recent $10 million donation to name the Christine E. Lynn Human Clinical Trials Initiative at The Miami Project to Cure Paralysis. The contribution matches the largest gift ever given to the University of Miami Miller School of Medicine's Miami Project. | more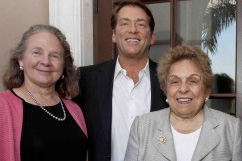 SCHOOL OF LAW
Entrepreneur's $1.5 Million Gift Will Establish a Triple-Degree Program at UM's School of Law
A $1.5 million gift from entrepreneur Steven Mariano will allow the University of Miami's School of Law to establish an innovative program in which students who were undergraduate business majors earn three degrees—a J.D., an LL.M. in taxation, and an MBA—in just four years. | more

UNIVERSITY
Scientists Study Ancient Corals for Clues to the Future of Coral Reefs
While coral reefs around the world are being negatively affected by climate change, the long-term effects of the damage have been difficult to predict. Now, scientists at the University of Miami and elsewhere are using the geologic record of ancient Caribbean corals to understand precisely how reef ecosystems might respond to climate change in this century. The findings are published in the current issue of the journal Geology. | more

COLLEGE OF ARTS AND SCIENCES
Psychologist Uses New Approach to Understand Infants' Patterns of Communication
Learning how babies communicate can teach us a lot about the development of human social interactions. University of Miami psychologist Daniel Messinger, who studies infants' interactions, has found that babies are not simply living in the moment. Instead, infants seem to have particular interests that create historical footprints reflected in their visual engagement over time. | more

ENTREPRENEURSHIP
Inc. Magazine Honors The Launch Pad
The Launch Pad at Toppel, which offers guidance, resources, and advice to entrepreneurs, innovators, and inventors at the University of Miami, recently received national recognition in the April issue of Inc. magazine, which named the center among the ten best entrepreneurship courses in the nation. | more
• Marc Ecko: Inside the Entrepreneurial Journey | more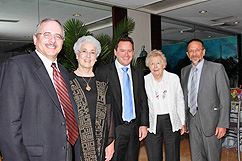 FREEZE FRAME
British Ecologist Receives Rosenstiel Award
The Rosenstiel School of Marine and Atmospheric Science presented British marine ecologist Peter Mumby with the 2011 Rosenstiel Award, the school's top honor, during a ceremony on April 6. | more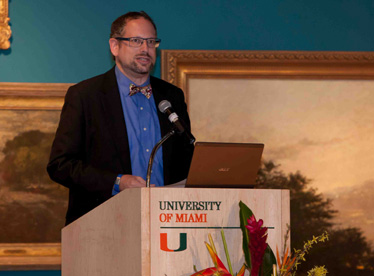 Internet Expert Froomkin Honored
Faculty, friends, and colleagues gathered at the Lowe Art Museum on April 4 to recognize University of Miami School of Law Professor A. Michael Froomkin, who was awarded the Laurie Silvers and Mitchell Rubenstein Endowed Distinguished Professorship for the 2010-2011 academic year.
| more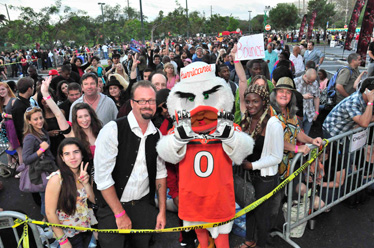 FREEZE FRAME
They've Got 'the X-Factor'
Some 7,500 singers anxious for a chance at stardom packed the lawn in front of the BankUnited Center at the University of Miami last Thursday to audition for Simon Cowell's new Fox competition show The X-Factor, which promises the winner a $5 million recording contract. People arrived as early as 3:30 a.m., passing the time until they were allowed to enter the building by singing renditions of the national anthem and posing for pictures with UM mascot Sebastian the Ibis. Grammy-winning singer and UM alumna Gloria Estefan made a surprise appearance. | more


2011 Anonymous Staff Survey Deadline Is April 22
Last week all University of Miami staff with valid email addresses received an email with a link to UM's staff survey. The University encourages those who have not yet completed the survey to click on the link in their email and spend just 15 minutes providing feedback about their UM experiences. The results of the survey, which closes Friday, April 22, will help the University enhance the work environment. | more

UM Family Night with the Marlins Tickets Available at Miller School on Thursday
Additional sales date added for sixth annual event on April 23. | more

UM PRESENTS
Ring Theatre to Present Broadway Classic 'Pal Joey'
Rodgers and Hart's Broadway classic Pal Joey comes to the University of Miami's Jerry Herman Ring Theatre this spring. Running April 13-23, the play tells the story of Joey, a nightclub habitué who, despite his habit of loving and leaving women, is thoroughly lovable. | more


Through Friday, April 29: Salon des Refusés exhibition | more
Through Sunday, May 1: M.F.A. Exhibition 'Creativity Driven by Southern Hospitality' | more
Monday, April 11: Standard Operating Procedures Course | more
Monday, April 11: Participate in the 2011 Epilepsy Walk the Talk | more
Monday through Wednesday, April 11-13: Tunnel to Shed Light on Oppression | more
Tuesday through Thursday, April 12-14: Relaxation Training | more
Tuesday, April 12: Celebrate a Season of Success with the UM Women's Basketball Team | more
Tuesday, April 12: Department of Philosophy Lecture: Complexity Theory in Cuba: The History of a Difference | more
Wednesday, April 13: McKnight Research Seminar: Integrin Signaling in Retinal Ganglion Cells Survival | more
Wednesday, April 13: Miller Center Lecture: The Arab Lobby | more
Wednesday, April 13: Grandmaster Chen Zhenglei to Give Tai Chi Demonstration on Medical Campus | more
Thursday through Sunday, April 14-17: Lattman Foundation Series Continues with Cold Weather; Q&A with Film's Star to Follow Thursday Screening | more
Thursday, April 14: Biostatistics Clinic: Sample Size and Power Considerations in Clinical and Translational Research | more
Thursday, April 14: Discovery Science Grand Rounds: Novel Perspectives on the Molecular Regulation of the Kidney Filtration Barrier | more
Thursday, April 14: Marc Ecko: Inside the Entrepreneurial Journey | more
Thursday, April 14: Carl Hiaasen to Receive UM's Reitmeister-Abess Center Environmental Stewardship Award | more
Thursday, April 14: Outstanding Alumni to be Honored at UMAA Ceremony | more
Friday, April 15: From Jim Crow to Sigmund Freud: Transnationality, Psychoanalysis, and the Remaking of a Black American | more
Friday, April 15: USpeak Concludes Season with Mangrove Journal Launch | more
Friday, April 15: Career Forum | more
Saturday and Sunday, April 17 and 18: Help Find a Cure for Cancer at Relay for Life of Coral Gables | more
Monday, April 18: College of Engineering Distinguished Speaker Series: Hierarchical Thermal Transport in Nanoscale Semiconductors | more
To browse more medical-related seminars, Grand Rounds, lectures, and workshops, please click here.