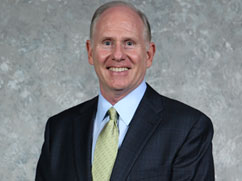 SPORTS
UM Hires George Mason's Jim Larranaga as New Men's Basketball Head Coach
Jim Larranaga, who led George Mason University to five NCAA tournament berths in 14 seasons, including a Final Four appearance in the 2006 tournament, has been named the new head coach of the University of Miami men's basketball team. | more

COMMENCEMENT
Honorary Degree Recipients, Speakers Announced for Commencement
A stellar lineup of speakers and honorary degree recipients will be featured at the University of Miami's spring commencement exercises May 12-14, during which nearly 3,500 students will graduate during six ceremonies. | more

• Important Information for Faculty Planning to Attend Commencement | more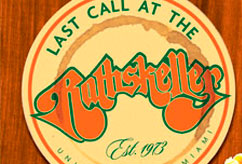 UNIVERSITY
UM Community Sounds Last Call at The Rat
The University of Miami will commemorate one of the Coral Gables campus's most iconic sites on Friday, April 29, when students, faculty, staff, and alumni turn out for Last Call at the Rat festivities. The popular gathering spot will be relocated at Sbarros in the Whitten University Center when construction begins on a new, state-of-the-art Student Activities Center, which will be the home of a new Rathskeller when it opens. | more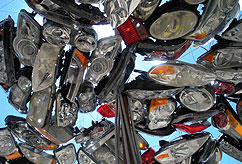 UM PRESENTS
UM's Wynwood Project Space Presents Ryan Farrell's 'Hybridity'
Using car parts as a medium and sampling from his infatuation with science fiction and imagery from popular culture, Master of Fine Arts student Ryan Farrell has constructed interactive installations as well as static objects that illustrate his prophetic view of an apocalyptic future. His exhibit, "Hybridity," will be on view at UM's Wynwood Project Space from May 9-27. | more



Family Night Baseball
From clowns and face painting to a fast-pitch booth, autograph sessions, and good old-fashioned hot dogs, the sixth UM Family Night with the Florida Marlins on April 23 served up carnival-like and baseball-themed activities for thousands of University of Miami employees and their families—all capped off by a concert featuring the sounds of salsa music. Held at Sun Life Stadium, where the Marlins are playing their final season before moving to new digs at a 37,000-seat ballpark in Little Havana next season, Family Night had a decidedly Hurricane orange-and-green feel, as pregame festivities saw UM employees throw out first pitches and the Florida Marlins Community Foundation donate scholarship funds for deserving students in the Schools of Communication and Education. Above: From left, Marilin Cabassi, budget analyst in the Office of the Registrar; Brent Alexander, network specialist at the Rosenstiel School of Marine and Atmospheric Science; and Jacqueline Sagen, professor of neurological surgery at the Miller School of Medicine, were the three employees who won a raffle to throw out first pitches.
| more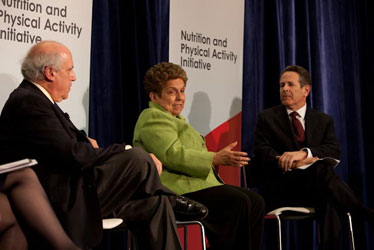 FREEZE FRAME
Nutrition and Physical Activity Initiative Gets Underway
The co-chairs of the Bipartisan Policy Center's new Nutrition and Physical Activity Initiative officially kicked off the first in a series of nationwide site visits and public forums in Miami last Wednesday, making stops at a preschool and the University of Miami to learn about innovative nutrition and physical activity programs already underway.They wrapped up their visit with panel discussions at the Newman Alumni Center, where they joined UM physicians and researchers in sounding warning bells on obesity and sedentary lifestyles in America. Above: UM President Donna E. Shalala, who was secretary of Health and Human Services in the Clinton administration and is one of the initiative's co-chairs, discusses strategies for helping people make healthy eating choices on a panel with former Secretaries of Agriculture Dan Glickman, left, and Ann M. Veneman, not shown, and preventive cardiologist Arthur Agatston, right. Glickman, Veneman, and former HHS Secretary Mike Leavitt, who did not attend the Miami visit, also co-chair the initiative.


Healthy 'Canes Employee Clinic Celebrates Grand Opening Tomorrow
The new recently opened Healthy 'Canes Employee Clinic on the Miller School of Medicine campus, which offers faculty and staff convenient access to UHealth medical services for common illnesses, will host a grand opening event tomorrow, April 26, at 10 a.m., featuring tours of the facility, healthy snacks, and giveaways. | more
• Professional Development Courses to Be Held in April | more
Developing Emotional Intelligence in the Workplace
The Faculty and Staff Assistance Program is offering this lunchtime seminar for those interested in understanding what is meant by Emotional Intelligence (EI) and discovering ways to strengthen EI capacities within the workplace. | more


Saturday through Monday, April 23-25: Cosford Screenings:
As You Like It
Monday, April 25: Microbiology and Immunology Seminar Series: The Development of Synergistic Therapies for Her-2/Neu Positive Breast Cancer |
more
Monday, April 25: Biology Departmental Seminar Series: Caves, Climate and Cognition: Recent Findings from Bahamas Blue Holes |
more
Tuesday, April 26: Webinar: Why and How to Work with Families of Justice-Involved Adolescents |
more
Tuesday, April 26: Celebration Concert for the Frost School's Joyce Jordan and Nick DeCarbo |
more
Tuesday, April 26: Rehabilitation Medicine Grand Rounds: New Techniques in Peripheral Nerve and Spine Surgery |
more
Tuesday, April 26: Cell Biology and Anatomy Seminar: Understanding Synaptic Biology Through the Vertebrate Neuromuscular Junction |
more
Tuesday, April 26 through Tuesday, May 3: Travel Fairs to Be Held on Coral Gables and Miller School Campuses |
more
Wednesday, April 27: Sleep and Young Children: Helpful Tips for Getting a Good Night's Rest |
more
Wednesday, April 27: Miami Project Wednesday Morning Seminar Series: Meeting FDA Requirements to Manufacture Autologous Human Schwann Cells for Transplantation | more
Wednesday, April 27: Public Health Open House | more
Thursday, April 28: Party at the 2011 Corporate Run/Walk | more
Thursday, April 28: Take Our Daughters and Sons to Work Day | more
Thursday, April 28: Bascom Palmer Grand Rounds | more
Thursday, April 28: Anesthesiology Grand Rounds: Being on Trial: The Perspective of a Physician Defendant | more
Friday, April 29: Panel Discussion: Careers in Real Estate | more
Friday, April 29: Fundraising Event to Benefit Melanoma Research | more
Friday, April 29: Physical Therapy Grand Rounds: Targeted Exercise as an Intervention to Increase Strength and Function in Individuals Post-Liver Transplant: A Clinical Trial | more
Sunday, May 1: UM's Cuban Theater Digital Archive to Present 'Por el monte Carulé, a Musical' | more
Monday, May 2: Faculty Luncheon on Teaching Effectiveness | more
To browse more medical-related seminars, Grand Rounds, lectures, and workshops, please click here.