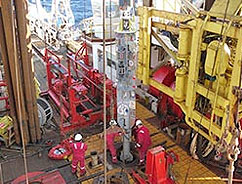 ROSENSTIEL SCHOOL OF MARINE AND ATMOSPHERIC SCIENCE
Scientists Report Results of First Study of Microbial Life inside Earth's Crust
An international team of scientists has reported on the first observatory experiment to study the dynamic microbial life of an ever-changing environment inside the Earth's crust. University of Miami researcher Keir Becker contributed the deep-sea technology required to make the long-term scientific observations of life beneath the seafloor. | more

FACULTY SENATE
Faculty Senate Elects Officers
The Faculty Senate, the vehicle by which University of Miami faculty members share in the planning and governance of the institution, has elected its officers for the 2011-2012 academic school year. | more

COMMENCEMENT
UM Commencement Ceremonies Next Week
A stellar lineup of speakers and honorary degree recipients will be featured at the University of Miami's spring commencement exercises May 12-14, at which nearly 3,500 students will graduate during six ceremonies. | more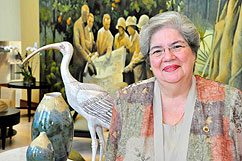 STAFF PROFILE
Closing the Books on a Distinguished Career
Throughout her more than 20 years at the University of Miami, Aida Diaz-Piedra, associate vice president and controller, helped the academic institution's fiscal operations run like a well-oiled machine. | more

SPORTS
Eight UM Student-Athletes Selected in 2011 NFL Draft
First came offensive lineman Orlando Franklin, then cornerback Brandon Harris. In all, eight Miami Hurricanes were selected in the recent 2011 NFL Draft at Radio City Music Hall in New York, the second most of any school in the nation. | more
• Maria Ronderos Earns All-ACC Honors | more

UM PRESENTS
UM's Wynwood Project Space Presents Ryan Farrell's 'Hybridity'
The University of Miami presents the Master of Fine Arts exhibition "Hybridity" by Ryan Farrell, which will be on view at UM's Wynwood Project Space from May 9-27 by appointment. An opening reception for the artist will be held on Saturday, May 14 at 6 p.m. | more


Mayoral Candidates Make Their Cases
With the May 24 special election that will determine Miami-Dade County's next mayor still weeks away, all 11 candidates vying for the job assembled inside the University of Miami's Fieldhouse on Tuesday, May 3 to debate the issues. Above, from left, are former state representative Marcello Llorente, Hialeah Mayor Julio Robaina, and former county commissioner Carlos Gimenez.
| more

FREEZE FRAME
Team Effort
About 530 members of the University of Miami community participated in last Thursday's 2011 Mercedes-Benz Corporate Run, donning running shorts and shoes and hitting downtown Miami's streets as part of the popular event organized to promote fitness, company spirit, and teamwork. Above, Team UM and Sebastian the Ibis pose for a photo prior to the start of the event, which drew about 20,000 people. | more


Equality Administration to Host Sexual Harassment Seminars
The Equality Administration Office will host two sexual harassment seminars on May 23 and May 24 on the Coral Gables and Miller School of Medicine campuses, respectively. The seminars will cover recent sexual harassment court decisions, trends, and academic issues as well as behaviors or situations that may constitute sexual harassment. Strategies for preventing and addressing incidents of sexual harassment also will be addressed. | more
• Coaching for Performance | more


Through Friday, May 13: CAS Gallery to Display Work of BFA Graduating Students | more
Thursday, May 5: The Alan S. Livingstone Commemorative Lecture: Meditation on Mortality: Lessons from a Life in Surgery | more
Thursday, May 5: 2011 Enrique Cepero Memorial Lecture: Immune Memory to Viral Infections | more
Thursday, May 5: Learn More About the MBA for Working Professionals Program | more
Thursday, May 5: Emmy-Winning 'Changing Seas' to Premiere New Episode at Rosenstiel School | more
Friday through Sunday, May 6-8: Student-Produced Films to be Showcased at 'Canes Film Festival | more
Friday, May 6: eCheck Online Training | more
Friday, May 6: Sixth Annual Latin America Conference | more
Saturday, May 7: ALS Recovery Fund 10K Run and 5K Run/Walk | more
Saturday, May 7: David Henrie of 'Wizards of Waverly Place' headlines United Way Rocks for Education at the BUC | more
Monday, May 9: Learn More about Documentation Practices | more
Tuesday, May 10: Good Clinical Practices Course | more
Tuesday, May 10 through Thursday, May 12: Skin Care 101 | more
Monday, May 9: Department of Philosophy Lecture Series: Do Propositions Have Parts | more
Wednesday, May 11: Biostatistics Clinic: Experimental Design | more
Thursday, May 12: Frontiers in Vision Science Seminar: Global Blindness: What Can We Do by 2020? | more
Friday, May 13: Brown-Bag Lunch-and-Learns Explore Living Well with Hearing Loss | more
Tuesday, May 17:SPEAK Test | more
November 4-6: Save the Date: Alumni Weekend and Homecoming 2011 | more
To browse more medical-related seminars, Grand Rounds, lectures, and workshops, please click here.