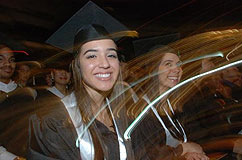 COMMENCEMENT
UM's Commencement Ceremonies Get Under Way Today
The University's graduate commencement ceremony, which will be held today, May 12 at 4 p.m. at BankUnited Center, kicks off three consecutive days of honoring graduates and distinguished luminaries. All commencement ceremonies will be webcast. | more
• Mwambo Ceremony to Honor Black Graduates | more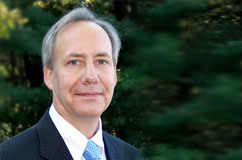 SCHOOL OF COMMUNICATION
School of Communication Gets New Dean
Gregory J. Shepherd, a distinguished communication faculty member and administrator for nearly 30 years at several major universities, has been named the new dean of the University of Miami School of Communication. | more

MILLER SCHOOL OF MEDICINE
Chevron Corporation Helps Family Medicine Promote Patient Self-Management of Chronic Diseases
The Miller School of Medicine's Department of Family Medicine and Community Health has received a generous gift from Chevron Corporation to encourage patients in Miami's Overtown and Little Haiti communities to take a more active role in managing their health care. | more

UM PRESENTS
Lowe Art Museum's ArtLab Opens Exhibition on Islamic Art
The Lowe Art Museum, in partnership with the Department of Art and Art History in the College of Arts and Sciences, presents "Women, Windows and the Word: Diverging Perspectives on Islamic Art," the third exhibition in the ArtLab @ The Lowe series, on view in the Richard and Shelley Bermont Focus Gallery through April 22, 2012. | more

E-VERITAS
e-Veritas Summer Schedule Starts May 16
Starting with the May 16 edition, e-Veritas will begin its summer schedule of once-per-week delivery every Monday. Faculty and staff who submit items for inclusion should take this new schedule into consideration for their upcoming events. e-Veritas will resume its twice-per-week delivery with the start of the fall semester.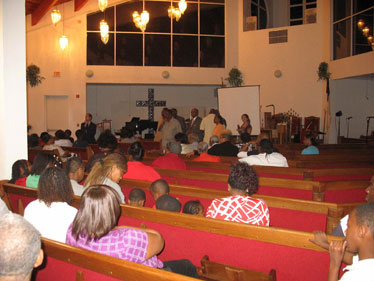 History of West Grove's Black Churches Documented by UM Law
The School of Law screened its annual documentary on the histories of some of the West Grove's historic black churches at the Newman Alumni Center and Greater St. Paul A.M.E. Church on April 26 and May 2, respectively. The project is a campus and community partnership with Miami Law's Center for Ethics and Public Service, the Ministerial Alliance, Ransom Everglades School, and UM's School of Communication.
| more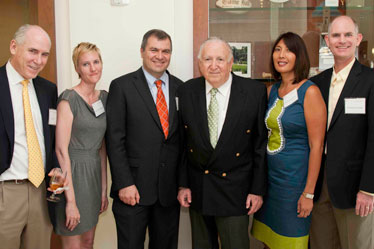 Honoring a Creative Half-Century of Teaching
The Creative Writing Program in the Department of English celebrated Professor Lester Goran's 50th teaching anniversary with "Tales from the Irish Club," a reception in his honor on April 21 in the Newman Alumni center. | more

SPORTS
Three UM Student-Athletes Invited to USA Basketball Women's World University Team Trials
Senior guards Shenise Johnson and Riquna Williams and junior center Shawnice Wilson are among 35 of the nation's top collegiate players who have accepted invitations to attend the 2011 USA Basketball Women's World University Games Team Trials, which will take place May 22-25 at the U.S. Olympic Training Center in Colorado Springs, Colorado. | more
Miami Faces Duke in Final Employee Day Baseball Game on May 20
The University of Miami's second Employee Day Baseball Game presented by Verizon Wireless is less than two weeks away. Tickets are still available for UM employees who have not already purchased their four allotted Employee Day tickets. | more



Retirement Savings Plan Safe Harbor Notice Online
View the Retirement Savings Plan (RSP) Safe Harbor Notice online. This legal notice is provided to all employees who participate in the RSP and supplements the summary plan description and other information, which is available on the Benefits Administration website at www.miami.edu/benefits. In particular, the notice provides a brief summary about University contributions under the plan, the contribution election process, vesting, and in-service withdrawals. | more
• Becoming a Homeowner on Any Income | more
• Staffing Needs Analysis and Job Descriptions | more
• Conflict of Interest Seminars and Training | more


Through Thursday, May 12: Skin Care 101 | more
Thursday, May 12: Students from Frost School's Mancini Institute, Jazz Vocal Program Featured on 'An Evening with Dave Grusin' | more
Thursday, May 12: Frontiers in Vision Science Seminar: Global Blindness: What Can We Do by 2020? | more
Thursday, May 12: Discovery Science Grand Rounds: Targeting Steroid Hormone-Regulated Pathways in Prostate Cancer | more
Thursday and Friday, May 12-13: Support the Debbie School's Scholastic Book Fair | more
Friday, May 13: Twelfth Annual Zubrod Memorial Lecture and Cancer Research Poster Session | more
Friday, May 13: Brown-Bag Lunch-and-Learns Explore Living Well with Hearing Loss | more
Friday through Sunday, May 13-15: Cosford Screenings | 3 Backyards | Queen to Play
Tuesday, May 17: SPEAK Test | more
Tuesday, May 17: Developmental Center for AIDS Research Grand Rounds: Prevention of Heterologous Mucosal SIV Infection by Vaccination | more
Wednesday, May 18: Sylvester to Host Melanoma Awareness Day | more
Wednesday, May 18: CHP to Host Poverty Alleviation Conference | more
Wednesday, May 18: Psychiatry Grand Rounds: Is It Juvenile Bipolar Disorder or Severe Mood Disregulation? | more
Thursday, May 19: Early Steps Program to Host Healthy and Developmental Conference | more
Friday, May 20: CHP Panel Discussion: Brazil under the Rousseff Administration: The Outlook for Political Change | more
Saturday, May 21: Dance the Night Away for Autism Awareness at the 9th Annual Tropical Nights | more
Sunday and Monday, May 22-23: Torretta Foundation Golf Tournament to Benefit ALS Research in Department of Neurology | more
Monday and Tuesday, May 23-24: Equality Administration to Host Sexual Harassment Seminars | more
Tuesday, May 24: Rehabilitation Medicine Grand Rounds: Considerations in Burns | more
November 4-6: Save the Date: Alumni Weekend and Homecoming 2011 | more
To browse more medical-related seminars, Grand Rounds, lectures, and workshops, please click here.