Health Care Reform and UM
A Dialogue with President Donna E. Shalala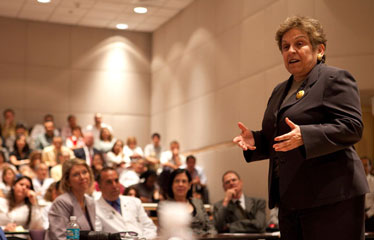 President Donna E. Shalala presents "The Challenges of Health Care Reform for Public Health" at the Lois Pope LIFE Center.
More than 150 faculty, staff, students, and members of the community attended President Shalala's Grand Rounds presentation, "The Challenges of Health Care Reform for Public Health," on May 19 at the Miller School of Medicine.
During the standing-room-only event, President Shalala answered questions about how health care reform is likely to impact the University in the near future. The president, who served two terms in the Clinton Cabinet as the nation's longest-serving secretary of health and human services, shared her insights:
Q: The Patient Protection and Affordable Care Act is complex, with some changes occurring now and some over the next decade. What changes can faculty and staff expect to see in the short-term?
A: There are four areas that are changing now:
pre-existing condition clauses
lifetime maximum caps on medical plans
provisions on preventive care benefits
dependent child eligibility

I'm proud to say that we are ahead of the game on all but the last of these. Our Aetna Select plans do not have lifetime limits on benefits or exclusions of pre-existing conditions. In addition, with this new law, Congress agrees all Americans should get recommended preventive tests and screenings. Since 2005, the UM medical plan has offered free preventive care benefits. In fact, the University has one of the most comprehensive preventive care benefits in Miami-Dade County. The last provision—covering dependents up to age 26 regardless of full-time student or marital status—represents a change to current UM plans.

Q: Do you know how and when faculty and staff will be able to take advantage of the new dependent age provision?
A: In keeping with the new law, we will implement this change on January 1, 2011. Details will be available during Open Enrollment in the Fall.
Dependent children under age 26 who are covered as of May 31, 2010, will be allowed to retain coverage for the rest of 2010 even if they are no longer full-time students and/or single. While dependent children will be eligible for health care up to the end of the month in which they turn 26, the child's spouse or domestic partner and/or children will not be eligible. Also, if the adult dependent is eligible for employer-sponsored coverage elsewhere, s/he will not be eligible for coverage under the UM plan. If anything changes, we will keep the community informed.

Q: What can we anticipate in the long-term?
A: The provisions of the new law listed above will impact us as early as January 1, 2011. However, most of the major provisions will not take effect until 2014 or even as late as 2018. We will provide you with descriptions of those provisions as their effective dates draw closer.

Q: Where can faculty and staff receive the most up-to-date information on health reform?
A: Please visit the home page of the Benefits website. Our Human Resources-Benefits office will post periodic updates as additional information becomes available, as well as links to resources from the Department of Labor. Also, do not hesitate to ask questions! You can e-mail our benefits experts any time at www.miami.edu/benefits/ask.

Q: Have any decisions been made about the UM/Aetna medical plans for 2011?
A: Details about calendar year 2011 plan changes are not yet available; we are currently working with Aetna, the Health Care Task Force, Employee Benefits Advisory Council, Faculty Senate, and UHealth on the plans. We will provide 2011 medical plan details toward the end of the summer.
Personal wellness, accountability, and use of the UHealth system will remain high priorities of our medical plans. Health care reform will not change our commitment to being your partner in health.
Nearly 3,700 employees participated in the Know Your Numbers and Aetna Health Assessment incentive programs, and employees can expect other incentives in 2011.
Rising health care costs will still be an issue, of course, but these incentives will help offset some of those costs.
We will continue to offer lower copays within UHealth. Employees should take advantage of these discounts. I am also excited about some of the service enhancements that UHealth will offer employees, like the new UHealth Chart.

Q: How can faculty and staff become more involved with their health care and aware of what is changing?
A: We can all be actively involved to make the most of our health plan and other University benefits. While we continue to evaluate health care reform legislation, please focus on the following:
Schedule your free annual physical and all of the other recommended preventive care screenings you and your family need.
Check out UM wellness programs—Well 'Canes— and other benefits like the Faculty and Staff Assistance Program that can help you today.
Log on to Aetna's Navigator member website for personalized health and financial information such as Aetna's Simple Steps to a Healthier Life and Aetna's Personal Health Record.

President Shalala to Speak on Issue
The president will present a forum on "UM and Health Care Reform," on Wednesday, September 1 at noon in the Multipurpose Room of the Fieldhouse on the Coral Gables campus. We will also make this presentation available via webcast.
To view the video of President Shalala's May 19th Grand Rounds session, click here (please note, you will need RealPlayer to view the session).