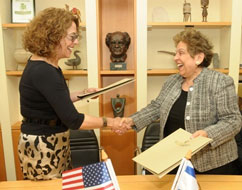 UNIVERSITY
UM and Ben-Gurion University of the Negev Sign Collaboration Agreement
The University of Miami and Ben-Gurion University of the Negev have signed an agreement to develop collaborative and cooperative programs of study in the fields of the humanities and fine arts, social and behavioral sciences, engineering and mathematics, earth sciences, and management sciences. | more

UNIVERSITY
Mayoral Policy Forum to be Held at Newman Alumni Center this Wednesday
A second Mayoral Policy Forum, this one featuring the two candidates in the runoff election for county mayor, will be held on the University of Miami's Coral Gables campus on Wednesday, June 8 from 5:30 to 6:30 p.m. at the Newman Alumni Center. A limited number of seats to the event are available. | more

ROSENSTIEL SCHOOL OF MARINE AND ATMOSPHERIC SCIENCE
Ocean Acidification May Reduce Coral Reef Diversity
A new study by scientists at the University of Miami and elsewhere concludes that ocean acidification, along with increased ocean temperatures, threatens to severely reduce the diversity and resilience of coral reef ecosystems within this century. | more
• World Oceans Day Event at Saks Fifth Avenue Dadeland to Benefit Rosenstiel School | more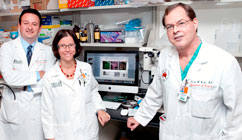 MILLER SCHOOL OF MEDICINE
Physicians Discover How Cancer Drug Works to Help Prevent Recurrent Kidney Disease
A collaboration among Miller School physicians, surgeons, and scientists has unlocked the mechanism of a drug used to prevent recurrent kidney disease. The finding, which has implications for the diagnosis and treatment of many other diseases, is published in the June 1 edition of the journal Science Translational Medicine. | more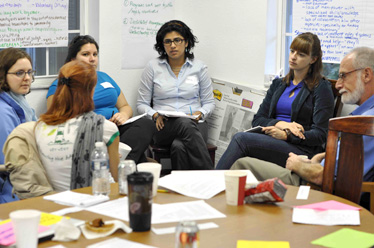 Creating Agents of Social Change
A new master's program at the School of Education prepares students for leadership roles in the not-for-profit sector with an emphasis on strategies that help communities solve and prevent problems by concentrating on their strengths, not their weaknesses.
| more

COLLEGETOWN LECTURE SERIES
UHealth Chief Medical Officer William O'Neill to Present 'Innovations in Cardiology'
William O'Neill, executive dean for clinical affairs and chief medical officer of UHealth, will present a special lecture, "Innovations in Cardiology," on Tuesday, June 7 at 6:30 p.m. in the Newman Alumni Center as part of the Collegetown initiative to enrich the local community with intellectual discourse and presentations by faculty experts. | more


SPORTS
Brandon Washington Listed Among College Football's Elite
Rivals.com is counting down its Top 100 players for the upcoming 2011 college football season, and Hurricanes offensive lineman Brandon Washington has made the list at No. 85. | more
• Catch Up on More Hurricanes Sports News at Hurricanesports.com | more


Preventing Identity Theft: What You Need to Know
This seminar, offered by the Faculty and Staff Assistance Program, will inform participants about the latest methods used by thieves to steal personal information. Learn how to protect yourself from becoming a victim of identity theft. Discover cost-effective safeguards to protect your identity without participating in credit-monitoring and identity-theft protection services. | more

• Business Development Program and Purchasing Department to Host Reverse Networking Events | more
• Training Dates for Blackboard 9.1 System Upgrade | more
• Conflict of Interest Seminars and Training | more
• Take Advantage of Free Computer Software Training in June and July | more
• Critical Leadership Skills: Become the Manager Everyone Wants to Work For | more



Wednesday, June 8: Dermatology Grand Rounds: Learn from My Mistakes | more
Thursday, June 9: Discovery Science Grand Rounds: Can TLR4 Antagonists Be Used to Treat Inflammatory Bowel Disease? | more
Thursday, June 9: Ophthalmology Grand Rounds | more
Thursday, June 9: Anesthesiology Grand Rounds: Ultrasound-Guided Regional Anesthesia: Back to the Basics | more
Wednesday, June 15: Dermatology Grand Rounds: Confocal Microscopy in Management of Pigmented Lesions | more
Wednesday, June 15: Psychiatry Grand Rounds: Sequenced Treatment Alternatives to Relieve Depression | more
Friday, June 17: Rehabilitation Medicine to Present Fifth Annual Research Day | more
Friday, June 24: Save the Date: Aging in Place: Living Well in the Community Conference | more
November 4-6: Save the Date: Alumni Weekend and Homecoming 2011 | more
To browse more medical-related seminars, Grand Rounds, lectures, and workshops, please click here.