COLLEGE OF ARTS AND SCIENCES
Physicist Develops Formula for Predicting Insurgent Attacks
University of Miami physicist Neil Johnson and collaborators have developed a mathematical model that can estimate the progression of fatal terrorist and insurgent attacks around the world. The team's research findings are published in the current issue of Science. | more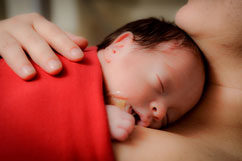 MILLER SCHOOL OF MEDICINE
New Episode of 'Breakthrough Medicine' Airs This Weekend
Breakthrough Medicine, the series that provides viewers the opportunity to go inside a university-based health system and share in the remarkable breakthroughs being made every day on the Miller School campus, will premiere its newest episode, "Tiny Miracles: Lifesaving Surgery within a Mother's Womb," on Saturday, July 16 at 7 p.m. on Channel 10. | more

SPORTS
Demanding Schedule Awaits Hurricanes Volleyball Team
Three regular-season tournaments, matches against seven opponents that advanced to postseason competition last year, and an Atlantic Coast Conference finale against in-state rival Florida State are just some of the highlights of the University of Miami women's volleyball team's 2011 schedule. | more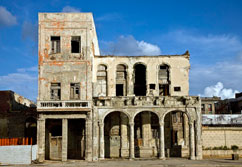 UM PRESENTS
'La Habana' Exhibition Features Works of Cuban-Born Photographer Victoria Montoro
The images of Cuban-born photographer Victoria Montoro are the focus of the exhibition "La Habana," on view in the Korach Gallery of the Jorge M. Perez Architecture Center through August 12. | more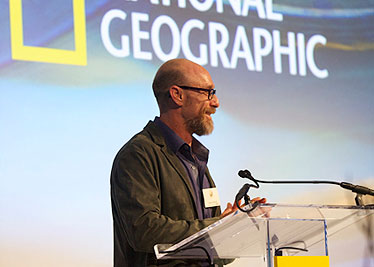 Explorer of the Year
Environmental anthropologist Kenny Broad, above, and the late underwater photographer Wes Skiles were honored by the National Geographic Society at its first-ever Evening of Exploration gala event, held recently in Washington, D.C. Broad, associate professor of marine affairs and policy and director of UM's Leonard and Jayne Abess Center for Ecosystem Science and Policy, and Skiles were named "Explorers of the Year," a new award presented in recognition of their extraordinary achievements in exploring and documenting the Blue Holes of the Bahamas in 2010.
| more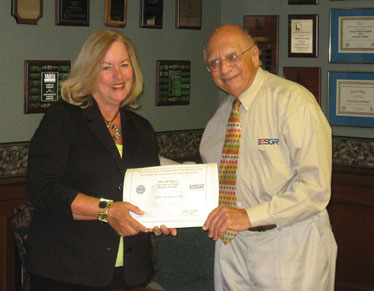 FREEZE FRAME
Patriotic Recognition
Sherrill Hayes, professor and chair of the Miller School of Medicine's Department of Physical Therapy, accepted the Patriot Employer Award on June 28 from retired U.S. Army Colonel Martin Rosen. The award, given by the Employer Support of the Guard and Reserve, an agency of the U.S. Department of Defense, recognizes employers and individuals who practice leadership and personnel policies that support employee participation in the National Guard and Reserve force. Emily Blood, who served in the Air National Guard while she was a UM physical therapy student, nominated Hayes for the award. | more


Communication Skills
How well you communicate can influence how others view your work, your performance, and your prospects for career mobility. This course, offered through the Professional Development and Training Office in partnership with the Faculty and Staff Assistance Program, will help participants learn how to actively listen in a variety of situations, listen for different types of input and respond appropriately, and identify pertinent information. | more


Tuesday, July 12: UM and MDC to Host Faculty Seminar and Documentary Screening on Toussaint Louverture's Life and the Haitian Revolution | more
Thursday, July 14: UM's Center for Latin American Studies to Co-Host Panel on the China and Latin America Connection | more
Thursday through Sunday, July 15-18: Cosford Screening:
Manon
|
The Trip
|
Neds
Wednesday, July 20: Dermatology Grand Rounds: Dermoscopy: Not Only for BCC and Melanocytic Lesions | more
Thursday, July 21: Ophthalmology Grand Rounds | more
Through Friday, July 29: M.F.A. Exhibition 'Metrouroboros' at Wynwood Project Space | more
Thursday, August 11: Save the Date: 'Opening Doors' Networking Event | more
November 4-6: Save the Date: Alumni Weekend and Homecoming 2011 | more
To browse more medical-related seminars, Grand Rounds, lectures, and workshops, please click here.