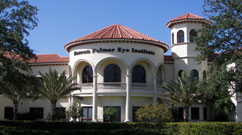 MILLER SCHOOL OF MEDICINE
Sweet Gift: Sugar-Growing Fanjul Family Pledges $1 Million to Bascom Palmer
A $1 million gift pledged by the Fanjul family, owners of a leading sugar-producing and cane sugar company, will help create a 21,000-square-foot state-of-the-art Clinical Research Center at Bascom Palmer Eye Institute's Palm Beach Gardens campus. | more

PARKING AND TRANSPORTATION SERVICES
New Parking Management Plan Starts Today on Coral Gables Campus
The University of Miami's new Parking Management Plan, which divides parking into six separate zones, becomes effective today, August 15, on the Coral Gables campus. Parking service officers will be out in force monitoring parking lots and providing information to motorists on campus. | more

UNIVERSITY
Kauffman Foundation CEO Carl Schramm to Speak at New Student Convocation
Carl J. Schramm, president and CEO of the Ewing Marion Kauffman Foundation, is the featured speaker of this year's New Student Convocation. The annual event, which invites a distinguished guest to campus to enlighten the University of Miami community on the educational world that students will encounter, will be held Friday, August 19 at 9:30 a.m. at BankUnited Center, and is open to students, faculty, and staff with UM identification. | more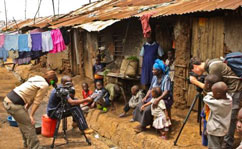 SCHOOL OF COMMUNICATION
'My Story, My Goal' Project Wins Best of Show Award
The School of Communication has won a "Best of Show" award from the Association for Education in Journalism and Mass Communication for "My Story, My Goal," a Knight Center for International Media-sponsored project that personalizes the United Nations Millennium Development Goals through multimedia stories. | more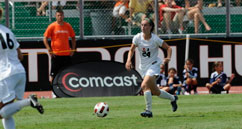 SPORTS
UM Women's Soccer Team to Kick Off 2011 Season against Florida
In what promises to be a classic rivalry matchup, the University of Miami women's soccer team will kick off its 2011 season this Friday, August 19 at 7 p.m. at Cobb Stadium against the No. 9-ranked Florida Gators. | more
Miami to Play on ESPN 3D Twice during 2011 Season | more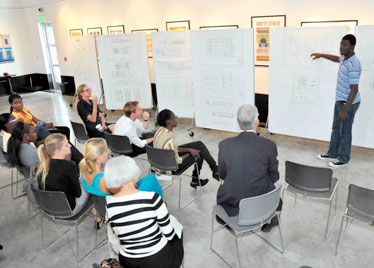 Rebuilding Port-au-Prince
Creating designs that included mixed-use buildings and public parks, a group of architecture students from the University of Miami and Haiti worked side by side this summer on a plan that would rebuild quake-ravaged Port-au-Prince block by block. Above: Jean Denis Noel, a student from Haiti, explains to School of Architecture Dean Elizabeth Plater-Zyberk (front row, sitting far left) and others his architectural design for redeveloping a portion of a two-block site in the Haitian capital.
| more


Training for Technology in the Classrooms
Join the Instructional Advancement Center for a demonstration of the technology available in the University of Miami's general-purpose classrooms. Whether you are new to the technology or just want a quick refresher course, these informal sessions will explain how the equipment works. Learn how to use the tools that will enhance your teaching. | more
Visit the e-Veritas Website for News Updates and Information
Whether its learning about a new research breakthrough by a UM investigator or reading about a new Lowe Art Museum exhibition or Professional Development and Training course, visit the e-Veritas website for news updates, events, benefits information, and more. The site is updated regularly. | more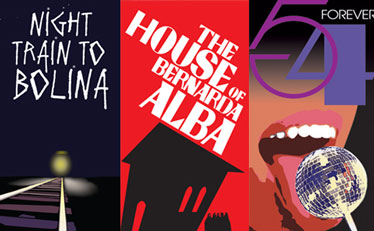 UM PRESENTS
Ring Theatre Announces New Season
The Department of Theatre Arts has released the 2011-2012 Ring Theatre lineup, a five-play season that kicks off on Wednesday, September 14 with Night Train to Bolina, written and directed by Pulitzer Prize-winning playwright and Miami native Nilo Cruz. | more


Wednesday, August 17: Dermatology Grand Rounds: Lasers for Treatment of Vascular and Pigmented Lesions, Hair Removal, Acne, and Psoriasis | more
Friday through Sunday, August 19-21: Cosford Cinema Screenings:
Flypaper
|
Page One: Inside The New York Times
Tuesday, August 23: Rehabilitation Medicine Grand Rounds: Stem Cells in Severe TBI – Hope or Hype? | more
Thursday, August 25: Anesthesiology Grand Rounds: Mummification: Resurrection of an Ancient Art | more
Friday, August 26: USpeak to Kick Off New Season with Back to School Bash | more
Friday, August 26: Sylvester Distinguished Lecture Series: Community-Based Participatory Research: Addressing Cancer Disparity From 'Trench' to Bench | more
Wednesday, September 7: Gail F. Beach Memorial Visiting Lectureship Series | more
Friday, September 30: Save the Date: Hypofractionation 2011: Scientific Concepts and Clinical Experiences | more
Saturday through Friday, October 1-November 4: Save the Date: Festival Miami | more
November 4-6: Save the Date: Alumni Weekend and Homecoming 2011 | more
November 5-6: Save the Date: Second Annual Dolphins Cycling Challenge | more
To browse more medical-related seminars, Grand Rounds, lectures, and workshops, please click here.