INFORMATION TECHNOLOGY
UM to Unveil CaneLink as Part of Enterprise Resource Planning Project
The University of Miami will roll out in March a new central Web page designed to facilitate the smooth transition to a new student information system. CaneLink is part of the multiyear, multi-phase Enterprise Resource Planning initiative, a major upgrade of the information technology infrastructure that drives UM's student, financial, and human resources systems. | more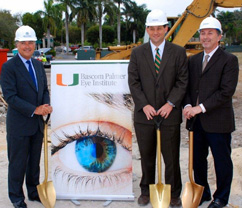 MILLER SCHOOL OF MEDICINE
Bascom Palmer Eye Institute Breaks Ground on New Site in Naples
Bascom Palmer Eye Institute officially began its expansion to better serve patients on Florida's Gulf Coast, holding a recent groundbreaking ceremony for its new expanded location in Naples. The site will contain clinical space customized for the treatment of ophthalmic diseases and disorders as well as for imaging, laser vision correction, and vision research. It will also have an ambulatory surgery center. | more

SCHOOL OF COMMUNICATION
Students Help Nonprofits Raise Profiles during 25-Hour PhilADthropy
It was an all-nighter with a philanthropic twist. During the fourth annual 25-hour PhilADthropy event, University of Miami School of Communication students provided free advertising and public relations services to 16 South Florida nonprofit organizations, creating materials such as vibrant advertising, buzz-worthy viral videos, cool websites, and more. | more

ROSENSTIEL SCHOOL OF MARINE AND ATMOSPHERIC SCIENCE
Modeling Helps Clarify Effect of Dispersants on Deepwater Horizon Oil Spill
Using computer models, a University of Miami oceanographer and her colleagues studied whether the use of synthetic dispersants helped speed the breakdown of oil gushing from the Deepwater Horizon rig, concluding that the chemicals had little effect on the amount of crude that surfaced in the Gulf of Mexico. | more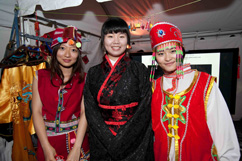 UNIVERSITY
Ring in the Chinese New Year: Celebration to Feature Food, Performances, and More
Celebrate the Year of the Snake by joining the Asian American Students Association and the Chinese Students and Scholars Association for UM's second annual Chinese New Year Celebration. The event, which will feature cultural activities, authentic Asian cuisine, and performances on the UC Rock and Foote University Green, will be held Monday, February 18 starting at 7 p.m. | more

ATHLETICS
Green Out the BUC on February 19
Hurricane men's basketball fans are encouraged to wear green for Miami's Tuesday, February 19 game against Virginia in an effort to "green out" the BankUnited Center. The Department of Athletics is teaming with the University's Energy and Conservation Organization to help promote their first annual Recycle Madness event. | more
• Dual-Sport Star Cornelius Elder Signs National Letter of Intent with Miami | more
• Sneaker Convention Coming to BankUnited Center on March 9 | more


For a comprehensive listing of the University of Miami's many events—including lectures, exhibitions, workshops, medical grand rounds, seminars, and more, click here.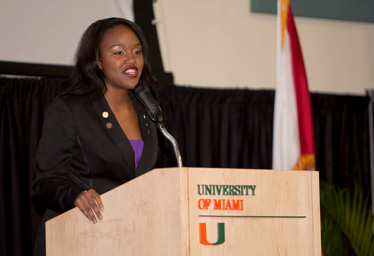 Scholarly Thanks
Accompanied by family members, professors, and friends, some of the best and brightest scholarship recipients at the University of Miami gathered at the BankUnited Center Fieldhouse on February 12 to show their heartfelt appreciation for the philanthropists who have helped make their dream of a college education come true. Above: Jasmine Holmes, a junior accounting major in the School of Business Administration and a Ronald A. Hammond Scholarship recipient, addresses the audience at last Tuesday's Scholarship Donor Recognition Luncheon. | more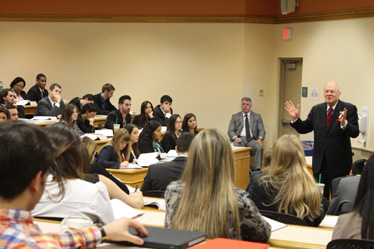 FREEZE FRAME
Justice Kennedy Holds Court
University of Miami students, faculty members, staff, and guests got a gripping insight into the thinking of the Supreme Court's fourth-most-senior member on February 11 when Associate Justice Anthony M. Kennedy visited the Coral Gables campus, teaching a Constitutional Law class at the School of Law and delivering the Robert B. Cole Distinguished Jurist Lecture at the BankUnited Center Fieldhouse. Above: Justice Kennedy lectures to students at Miami Law. | more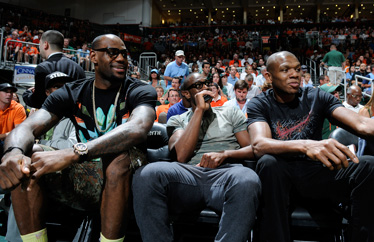 FREEZE FRAME
Star Power at the BUC
With the University of Miami men's basketball team continuing its dominance in the Atlantic Coast Conference, the NBA's best made a house call to the BankUnited Center on February 9 to witness firsthand the Hurricanes' stellar play. Miami Heat star players, from left, LeBron James; Dwyane Wade; and James Jones, who played at UM, took in the action courtside as the Hurricanes routed the North Carolina Tar Heels 87-61. UM Coach Jim Larranaga's squad continues its unprecedented march toward the ACC and NCAA tournaments. Keep up with all the action at Hurricanesports.com.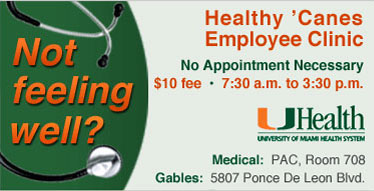 UMGA Offering 20 Percent Off Tuition for Children of Full-Time Employees, Alumni
The University of Miami Global Academy, a SACS-accredited online college preparatory school, is offering 20 percent off tuition for children of full-time University of Miami faculty and staff, and alumni. | more
FSAP Health and Wellness Seminar: Heart Health
Learn seven simple steps to improve your overall cardiovascular health, and find out what it takes to help prevent heart disease and stroke. This seminar, offered by the Faculty and Staff Assistance Program in partnership with the American Heart Association, will also provide an easy-to-use assessment tool to determine your personal heart score. | more
• Free Blackboard Smartphone and Tablet App | more
• Take Advantage of Free Computer Software Training for February | more
• Tax Season Is Here; File Early to Avoid Scams | more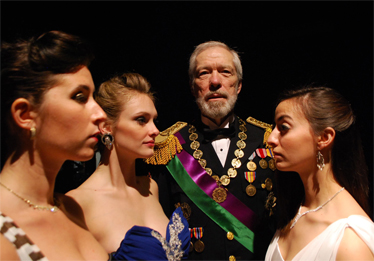 King Lear Comes to the Jerry Herman Ring Theatre
The Jerry Herman Ring Theatre's 74th season continues with King Lear, February 20 through March 2, a stunning portrait of greed, power, pride, and betrayal. While remaining true to the original's powerful, poetic language and dynamic theatricalism, the Ring's production sets the drama in a contemporary society where corporate and military leaders make rash and reckless decisions that eventually bring ruin to the country and the tragic disintegration of two families. | more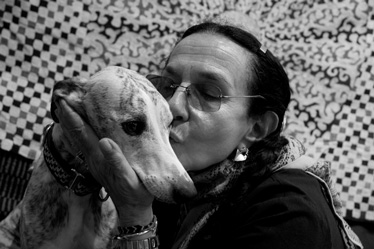 Famed Photographer Mary Ellen Mark to Speak at UM
Mary Ellen Mark, an American photographer who has achieved worldwide visibility through her numerous books, exhibitions, awards, and editorial magazine work, will speak at Storer Auditorium on Thursday, February 28 at 7 p.m. as part of the Lowe Art Museum's Arnold and Augusta Newman Lecture Series in Photography. | more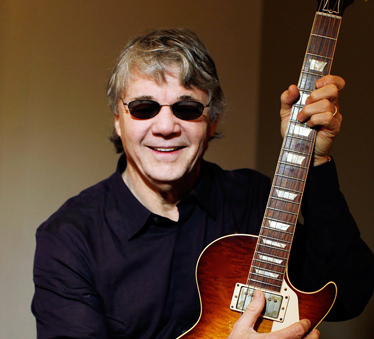 Steve Miller: Rockin' and Swingin' with the Frost Concert Jazz Band
The Frost School of Music presents blues-rock legend Steve Miller as part of the 2012-2013 Stamps Family Distinguished Visitors Series. Miller will present a lecture on Tuesday, February 19 and appear in concert with the Frost Concert Jazz Band on Wednesday, February 20. | more
• Special Employee Rate for Steve Miller Concert | more