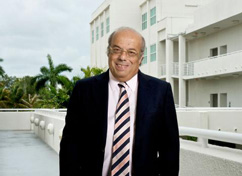 Generous Planned Gift from School of Communication Alumnus Supports Student Scholarships
University of Miami alumnus Robert Mann, chair of the School of Communication's Visiting Committee and a member of the UM Board of Trustees, has made a $1 million planned gift to a School of Communication scholarship fund. | more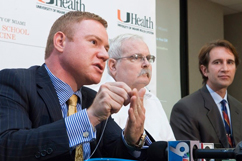 MILLER SCHOOL OF MEDICINE
Neurosurgeon Uses Innovative Laser Technique to Eradicate Brain Tumor
When Thomas Jambeck was diagnosed with brain tumors caused by metastatic melanoma in 2011, the 64-year-old West Palm Beach resident underwent radiation and two surgeries. One tumor responded, but the second doubled in size. That's when his physicians sent him to the Miller School of Medicine for what would be a life-changing procedure. | more

OFFICE OF EMERGENCY MANAGEMENT
UM Partners with Homeland Security to Help Keep the Country Safe
Printed messages urging vigilance in helping to keep the country safe will soon greet University of Miami employees and students on all three campuses. UM is a partner in the U.S. Department of Homeland Security's "If You See Something, Say Something" campaign, an initiative aimed at engaging the public to identify and report indicators of terrorism and terrorism-related crime. | more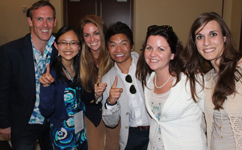 SCHOOL OF LAW
Trailblazing Program LawWithoutWalls Wraps Another Year
After all the hard work, tension, and sleepless nights, as well as four months' worth of intense virtual meetings across the breadth of the world's time zones, there were relieved smiles, firm handshakes, and tight hugs among several law and business students at the end of LawWithoutWalls' 2013 session, which began in January in Segovia, Spain, and concluded at the University of Miami the second weekend in April. | more

UNIVERSITY
Flexible Summer Workweek Begins May 31
The University of Miami's Flexible Summer Workweek Program, a ten-week period during which employees on the Coral Gables and Rosenstiel School (marine) campuses may work a modified schedule, will run from May 31 through August 8. | more

UNIVERSITY
UM to Implement Vacation Policy Change for Exempt Staff
In a move to foster work-life balance, encourage employees to take regular time off, and reduce financial liabilities, the University of Miami is modifying its vacation policy for exempt, monthly paid staff. | more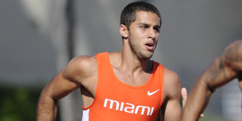 ATHLETICS
Track and Field Student-Athletes Earn ACC Academic Honors
Six University of Miami track and field student-athletes—three from the women's squad and three from the men's team—have been named to the 2013 All-Atlantic Coast Conference Academic Team for Indoor Track and Field.
• Women's Hoops Celebrates Season with Banquet | more

UNIVERSITY
New Print Services Program Equipment Assessment Phase Begins
The new Managed Print Services team recently communicated the award of a new managed output services contract to Canon Solutions America. The next step in the implementation of this new contract will be an assessment phase. For more information, call Managed Print Services at 305-284-6585. | more


For a comprehensive listing of the University of Miami's many events—including lectures, exhibitions, workshops, medical grand rounds, seminars, and more, click here.




Alumnus of Distinction
Dwayne "The Rock" Johnson, B.G.S. '95, was one of several alumni honored at the University of Miami Alumni Association (UMAA) Awards Ceremony, held April 18 at the Newman Alumni Center. Johnson, who has rocketed to stardom as a professional wrestler and Hollywood actor, received the Edward T. Foote II Alumnus of Distinction award, which honors an alumnus or alumna for personal or professional achievements that bring honor and recognition to the University. Above: Johnson addresses the audience at the UMAA Awards Ceremony. | more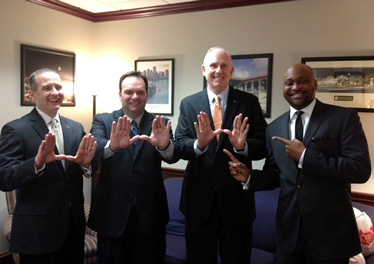 FREEZE FRAME
'Canes Hoops Honored in Tallahassee
College basketball season may be over, but the accolades keep pouring in for University of Miami men's basketball coach Jim Larrañaga and his team. Larrañaga and his squad, which captured the ACC regular season and tournament titles and advanced to the Sweet 16 round of the NCAA Tournament, were honored last Thursday in the Florida House of Representatives and Florida Senate, both of which designated April 18, 2013 as "University of Miami Hurricanes Men's Basketball Team Day." Above, from left, are UM Director of Athletics Blake James, Representative Eduardo "Eddy" Gonzalez, Coach Jim Larrañaga, and Florida Senator Oscar Braynon II. | more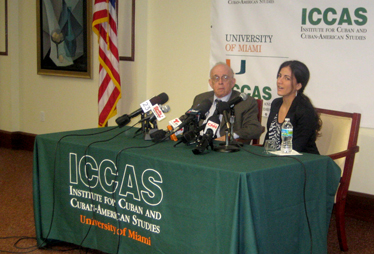 FREEZE FRAME
Cuban Dissident's Daughter Visits ICCAS
Rosa María Payá, daughter of the late Cuban dissident Oswaldo Payá Sardiñas, visited the University of Miami's Institute for Cuban and Cuban-American Studies on April 12 to urge international organizations to open an investigation into the automobile accident that killed her father in Cuba last July. Payá said that eyewitness accounts, text messages, and statements made after the car crash raise questions about the Cuban government's official version of the accident. | more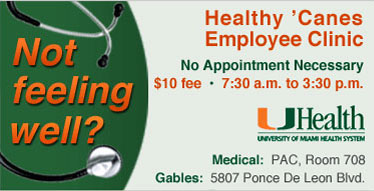 Online Video Tutorials and Training Now Available Via Lynda.com
Lynda.com is a free online collection of high-quality video tutorials covering the latest software as well as creative and business skills taught by industry experts. Visit www.miami.edu/lynda and sign in with your UM CaneID and password. For more details, click here.
FSAP Health and Wellness Seminar: Relaxation Training
A refreshed mind and rejuvenated spirit are not the only benefits of relaxation: Improved physical health can also result from releasing tension and reducing stress. Learn how to consciously activate your body's relaxation response during this seminar, offered by the Faculty and Staff Assistance Program. | more
• Qualtrics Survey Research Suite Now Available; uSurvey System Ends May 1 | more
• Take Our Daughters and Sons to Work Day Returns May 2 | more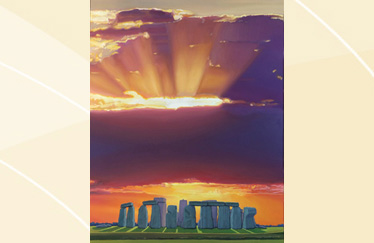 Brian Curtis: Stonehenge Series I & II
Art and Art History faculty member Brian Curtis's Stonehenge Series, on view at the Lowe through June 2, derives from his conviction that traditional oil painting is an effective medium for communicating the excitement of direct sensory perception and that representational painting is uniquely capable of intensifying self-awareness by infusing depicted imagery with emotional content and intellectual musings. | more
Rodgers and Hammerstein Classic 'South Pacific' Now Playing at the Ring
A musical by the legendary writing team of Rodgers and Hammerstein, South Pacific is set on an island during World War II and centers on two parallel love stories threatened by prejudice and war. The final production of the Ring Theatre's 2012-13 season, the musical runs through April 27. | more