COLLEGE OF ARTS AND SCIENCES
UM-NSU CARD Partners with Miami-Dade Schools to Boost Autism Outreach, Services
The University of Miami-Nova Southeastern University Center for Autism and Related Disabilities is partnering with the nation's fourth-largest school district on a new initiative that will bring autism awareness events to local schools and provide training and mentoring to teachers. | more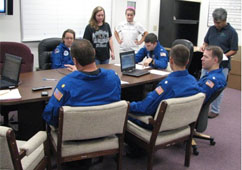 ROSENSTIEL SCHOOL OF MARINE AND ATMOSPHERIC SCIENCE
Scientists Survey Ocean to Better Understand Movement of Tar Balls in Gulf of Mexico
As Hurricane Isaac barreled toward New Orleans, a team led by University of Miami scientist Nick Shay boarded one of NOAA's P-3 aircraft to fly into the storm. Their goal: to drop profilers into the storm at optimum locations where they could collect measurements of the area affected by the Deepwater Horizon incident. | more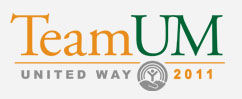 Make Your United Way Contribution; 2012 Campaign Now Under Way
Aiming for a seventh straight year of raising more than $1 million for one of the nation's best-known charitable organizations, the University of Miami has embarked upon its 2012 United Way Campaign. Get the details on how to make your contribution. | more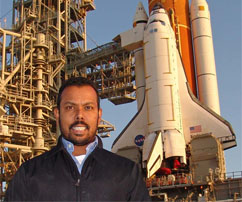 Biomedical Engineer's NASA Photo Exhibition Benefiting the United Way Gets Lift off
The Calder Memorial Library on the Miller School of Medicine campus has opened the Suresh Atapattu Space Shuttle Photo Exhibition and Sale, organized by Biomedical Communications to honor Atapattu's space shuttle photography spanning more than a decade and to support the United Way of Miami-Dade. | more
• School of Communication United Way Pizza Sale | more


Humanities and Arts Take Flight during Yearlong Celebration
The University of Miami is showcasing its commitment to the humanities and arts with a yearlong celebration highlighting both special events and ongoing programs throughout the University. Explore what's on tap at the initiative's new website.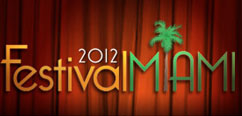 Festival Miami, a Monthlong Showcase of Music, Begins Next Month
From the music of Beethoven and Rachmaninoff to award-winning jazz headliners and a tribute to the legendary Nat King Cole, the 29th Festival Miami will feature more than 25 concerts, lectures, and master classes from October 2 through November 4. | more
Actor/Director Robert Townsend Screens New Film at UM
Actor/director Robert Townsend screens his feature film In the Hive, starring Angela Bassett and the late Michael Clarke Duncan, on Tuesday, September 25 at 1 p.m. at the Bill Cosford Cinema, with a Q&A session immediately following the screening. | more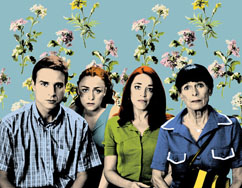 The Spanish Lens Film Series Continues with 'La Isla Interior'
"The Spanish Lens," the Cosford Cinema's cinematic celebration of Hispanic Heritage Month, continues this week with La Isla Interior (The Island Inside), a dark family drama directed by filmmaking duo Dunia Ayaso and Félix Sabroso. | more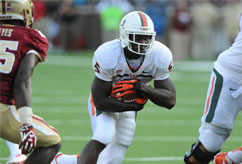 SPORTS
UM vs. North Carolina Designated Employee Day Football Game
The Miami Hurricanes' Hispanic Heritage Day game versus the North Carolina Tar Heels on Saturday, October 13 at Sun Life Stadium has been designated the 2012 Verizon Wireless Employee Day football game. This year's Employee Day game will again feature UM Employee Stadium Bucks, discounted parking, and many other promotions. | more
• Mike James Named to Allstate AFCA Good Works Team | more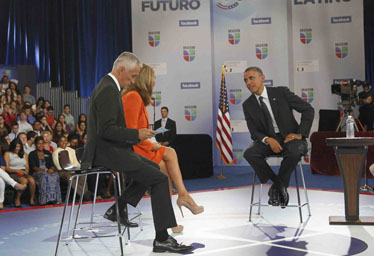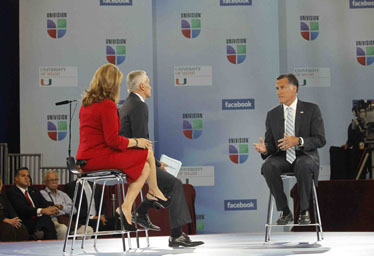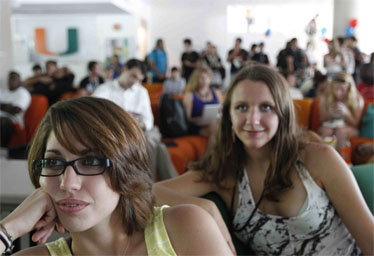 Meeting the Candidates
In back-to-back events that gave University of Miami students and others an up-close look at the two presidential candidates, President Barack Obama and Republican presidential nominee Governor Mitt Romney appeared at the BankUnited Center Fieldhouse last week to address issues related to the Hispanic community. The talks were part of Univision and Facebook's "Meet the Candidates" forums. Top: On September 20 President Obama discussed issues such as immigration reform, education, and his goals for a second term in office. To read the Obama event story, click here. Middle: Romney took the stage on September 19 for his sit-down talk with Univision anchors Maria Elena Salinas and Jorge Ramos. To read the Romney event story, click here. Above: Students watched the forums via live video feed at watch parties held in the University Center.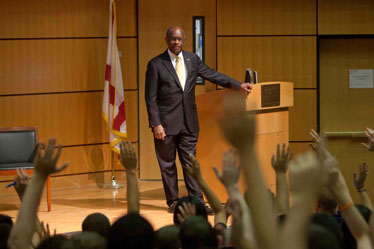 FREEZE FRAME
Herman Cain's 'Truth Tour' Makes a Stop at UM
Herman Cain, the former president and CEO of Godfather's Pizza who touted a 9-9-9 tax plan and briefly led polls last year for the Republican presidential nomination, brought his "Truth Tour" to the University of Miami last Tuesday, speaking to some 200 students in the 2012 Election class taught by UM professors Casey Klofstad, Christopher Mann, and Joseph Uscinski. Cain outlined the three phases of his presidential run and urged students to pursue their dreams, telling them "the tragedy lies in not having any goals to reach for." | more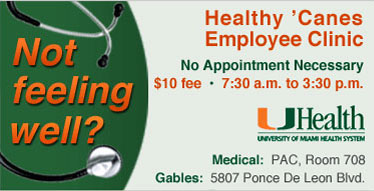 Cool-Headed Strategies for Parenting Tweens and Teens (Part 2)
Are you coping with the challenges of parenting a preteen or teenager? This informative two-part seminar, offered by the Faculty and Staff Assistance Program, demonstrates how humor, wisdom, and understanding can make a big difference in what is often considered the ultimate parenting challenge. Learn how to stay calm and cool-headed while dealing with hot-button issues such as rude attitudes, lying, and succumbing to peer pressure. | more
•ERP Road Shows Begin this Friday | more
•Visitor Parking Area in Pavia Garage Now Open | more
•Take Advantage of Free Computer Software Training | more
•Employees' Retirement Plan Annual Funding Notice | more
• Investing and Savings Educational Workshop Targeted to Women | more
• Aesthetic Center Offers Employee Discounts on All Non-Surgical Cosmetic Treatments | more
• Hire a UM Student | more
• Professional Development Courses for September | more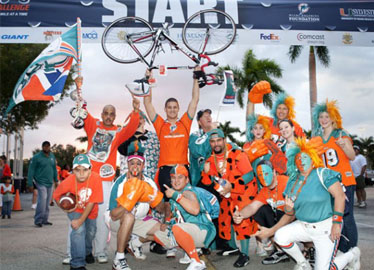 Ride for a Cause: Dolphins Cycling Challenge Special Offer for UM Employees
The University of Miami is again partnering with the Miami Dolphins in the Dolphins Cycling Challenge to "tackle cancer one mile at a time." The two-day event, scheduled for November 3 and 4, features six different bicycle routes, with 100 percent of the funds raised by the riders benefiting Sylvester Comprehensive Cancer Center. As part of a special promotion, UM faculty and staff can register for half the usual registration fee. | more


Various Dates: Cosford Cinema Screenings: Drunken Angel | Neighboring Sounds | Tarzan
Monday, September 24: Biology Departmental Seminar: Adaptation in a Variable World in Arabidopsis Thaliana | more
Monday, September 24: Intelligence Analyst to Launch UM Libraries' New Speaker Series on Global Perspectives | more
Monday, September 24: 27th Annual Great Sports Legends Dinner to Benefit The Buoniconti Fund to Cure Paralysis | more
Monday, September 24: Miller Center Lecture: The Multiple Deaths of Jew Süss | more
Tuesday, September 25: Cell Biology Research Forum: Cell Therapy for Chronic Ischemic Heart Disease from Concept to Clinic | more
Tuesday, September 25: EU Center Lecture: Globalization, the European Union, and the Americas | more
Tuesday, September 25: Pediatric Grand Rounds: Organized Medicine and Advocacy: Why It Is Critical | more
Tuesday, September 25: Miami CFAR Seminar Series: HIV/TB Interaction and Acute HIV in the Lung | more
Wednesday, September 26: Herbert Wellness Center Lecture: The Connection between Yoga and Meditation Practice | more
Wednesday, September 26: Miami Clinical and Translational Science Seminar Series: The Other Side of Translation: Development and Commercialization of Innovations | more
Wednesday, September 26: Healthy Steps Parent Group Meeting | more
Wednesday, September 26: Miami Project Wednesday Noon Seminar: Nanoparticle-Mediated Drug Delivery Systems for Spinal Cord Injury Repair | more
Wednesday, September 26: Learn about the UM Admission Process at Office of Admission Seminars | more
Thursday, September 27: Anesthesiology Grand Rounds: Pharmacodynamic Drug Interactions: Exploiting Hypnotic and Opioid Synergy to Advantage in Clinical Practice | more
Thursday, September 27: Molecular and Cellular Pharmacology Seminar Series: Functional Analysis of the Yeast LYST/Beige Homologue, Bph1 | more
Thursday, September 27: Ophthalmology Grand Rounds | more
Thursday, September 27: Order in the Court: A Panel Discussion with Judge Alex and Judge Milian | more
Thursday, September 27: Orthopaedics Grand Rounds: Diagnostic and Interventional MSK Ultrasound | more
Friday, September 28: Neuroscience Center Seminar: Dendrimer-Based Targeted Nanotherapeutics for Neurodegenerative Diseases | more
Saturday, September 29: Miami Rocks Our Troops Concert at the BUC | more
Monday, October 1: Human Genetics and Genomics Seminar Series: eQTL Regulation by NATs in AD | more
Thursday, October 4: Modern Languages Lecture Series: Reading African Migrational Identities in Fugitive Slave Ads from the Haitian Revolutionary Era | more
Monday, October 8: Lecture on Sacred Music and Sacred Spaces in Italy | more
Monday, October 8: IES Director Presents 'Why Italy? Why Now?' | more
Monday, October 8: College of Engineering Distinguished Speaker Series: Toward the Next Industrial Revolution | more
Thursday, November 1: Save the Date: Idealist Graduate Fair | more
Friday through Sunday, November 9-11: Synergy 2012: A Multidisciplinary Approach to Interventional Oncology | more
Saturday, November 10: Destination Fashion 2012 to Benefit The Buoniconti Fund to Cure Paralysis | more
To browse more medical-related seminars, grand rounds, lectures, and workshops, please click here.