UM's Bascom Palmer Receives $10 Million Gift to Establish Orbital Vision Research Center
One of the world's most prominent businessmen and leading philanthropists has donated $10 million to Bascom Palmer Eye Institute at the University of Miami to establish an interdisciplinary research center dedicated to eradicating blinding injuries and lethal orbital malignancies. | more

DIVISION OF CONTINUING AND INTERNATIONAL EDUCATION
UMGA Launches First-Ever MOOC for High School Students
In what is believed to be the world's first initiative of its kind, the University of Miami Global Academy has launched a free massive open online course, or MOOC, for high school students—a three-week, six-session class that will prepare students for the SAT subject test in biology. | more

SPORTS
Six UM Volleyball Student-Athletes Earn All-ACC Recognition; Nicole Lantagne Welch Named ACC Coach of the Year
Tying an Atlantic Coast Conference record, six University of Miami volleyball student-athletes have been selected to the All-ACC Team. Meanwhile, the team's head coach, Nicole Lantagne Welch, has been named ACC Coach of the Year.

SCHOOL OF BUSINESS ADMINISTRATION
Top U.S. Policy and Industry Leaders to Discuss Election's Impact on Health Care Reform
In the wake of the 2012 U.S. presidential and congressional elections, the School of Business Administration will bring together some of the nation's leading health care policy and industry leaders for a conference focused on the impact of the election results on health care reform, as well as on health care organizations and business in general. | more

SCHOOL OF COMMUNICATION
Faculty and Alumni Nominated for Emmy Awards
With three School of Communication alumni already winning Emmys this year, more of the coveted television production awards could be going to the school's alumni and faculty members in the weeks to come. | more

Help UM Reach 2012 United Way Campaign Goal
There is still time to donate to the University of Miami's 2012 United Way campaign—a powerful way to make a positive difference in our community. If you have not yet contributed, please make your gift today. | more


For a comprehensive listing of the University of Miami's many events—including lectures, exhibitions, workshops, medical grand rounds, seminars, and more, please click here.



A Globally Flavored Thanks
What began nearly 30 years ago as an event staged by the Intensive English Program (IEP) to share Thanksgiving with its students has today become a venerable tradition of the Division of Continuing and International Education. On November 16 the custom continued when the popular International Thanksgiving was held at Allen Hall. IEP students shared food from their homelands, their culture, and their talents. | more

FREEZE FRAME
Delivering T-Day Meals in Overtown
Seven University of Miami football players and other Athletic Department staff members delivered 48 turkey dinners and other traditional nonperishable Thanksgiving food items to the Greater Mercy Missionary Baptist Church in Overtown on November 20. | more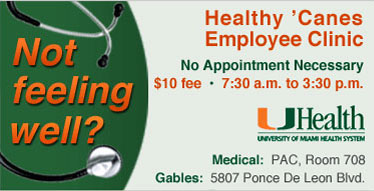 Being Engaged in the Workplace Part of UM's Formula for Success
In this fourth installment in a series of six articles penned by institutional leaders to introduce enhancements to the performance management process, Nerissa E. Morris, vice president for human resources, writes about engagement—bringing positive energy to the workplace and demonstrating a willingness to do whatever it takes to help the institution succeed. | more
• Preventing Identity Theft | more
• Reduce Stress This Holiday Season with Tips from FSAP's Holiday Newsletter | more
• Free Flu Shots Available for UM Faculty and Staff | more
• Take Advantage of Free Computer Software Training in November and December | more


ArtLab @ The Lowe
On view through April 21, "Adapting and Adopting: Waves of Change as East Encounters West, Modern and Contemporary Japanese Art" is the fourth exhibition in the series ArtLab @ The Lowe. The program provides a hands-on museum experience to UM students, who curate an exhibition from concept through selection of items from the museum's collection to the final installation. | more
'Winter Wonderful' to Raise Funds for Music Mentoring Scholarships
Holiday music performed by talented Frost School student musicians will combine with a festive candlelight dinner to help raise funds for music mentoring scholarships when Winter Wonderful takes place Sunday, December 2 at the JW Marriott Marquis Hotel in Miami. | more