COMMENCEMENT
December Commencement Ceremony to Honor Graduates, Visiting Luminaries
Nasser Ibrahim Al-Rashid, a civil engineer, businessman, and philanthropist who has supported medical initiatives including a state-of-the-art hospital providing free care to youngsters with cancer, and Arun Sarin, an Indian-born American executive who has revolutionized the way people communicate locally and worldwide, will be honored at the University of Miami's midyear commencement ceremony on Thursday, December 13 at BankUnited Center. | more

SCHOOL OF BUSINESS ADMINISTRATION
Business School Ranked No. 2 in the Nation for Executive Education in Latin America
América Economía magazine has ranked the University of Miami's School of Business Administration second in the nation for executive education in Latin America. The recently released 2012 rankings also place the school No. 15 internationally among all schools ranked. | more

MILLER SCHOOL OF MEDICINE
Miller School's NIH Funding Climbs to 38th in the Nation
Reflecting the University's growing prominence as a national research institution, the Miller School of Medicine has advanced another spot, to No. 38, in the amount of highly coveted and competitive research grant support it received from the National Institutes of Health during the 2011-12 federal fiscal year. | more

UNIVERSITY
University Update on Laptop Incident
The University released a statement concerning the theft of a laptop computer last week on the Coral Gables campus. It noted that the ENN message released in response to the theft was incomplete and insensitive and offered apologies. An investigation of the incident, the ENN message, and procedures has been launched. | more

SCHOOL OF LAW
Dean White Named One of Nation's Most Influential Legal Educators
The National Jurist, a leading news source in legal education that reaches an estimated 100,000 law students, has named Miami Law Dean Patricia D. White one of the nation's top 25 most influential people in legal education. | more

ENTREPRENEURSHIP
UM Launch Pad Model Expands; Blackstone Charitable Foundation Bringing Campus Entrepreneurship Platform to Pennsylvania
Ever since The Launch Pad at the University of Miami opened, its model of presenting entrepreneurship as a viable career option for students has spread. Recently, the Blackstone Charitable Foundation announced that it is bringing Blackstone LaunchPad, which replicates the successful program developed at UM, to Pennsylvania to train Philadelphia's next generation of entrepreneurs. | more

Help UM Reach 2012 United Way Campaign Goal
There is still time to donate to the University of Miami's 2012 United Way campaign—a powerful way to make a positive difference in our community. If you have not yet contributed, please make your gift today. | more
• Office of Government and Community Relations United Way Fundraiser | more

SPORTS
Coaches' Choice: Duke Johnson Named ACC Rookie of the Year
University of Miami running back Duke Johnson, who set a single-season freshman rushing record with 947 yards this season, has been named both the Atlantic Coast Conference Offensive and Overall Rookie of the Year by the league's head coaches. | more
• Soccer Recognized with NSCAA Academic Award | more
• Five Volleyball Players Named AVCA All-Region | more


For a comprehensive listing of the University of Miami's many events—including lectures, exhibitions, workshops, medical grand rounds, seminars, and more, please click here.


Helpful Hammocks: Students Sway to the Rhythm of a Different Study Beat
Swiss researchers recently found that swaying in a hammock will help one fall asleep faster and sleep more soundly than napping on a stationary bed. University of Miami students, however, are putting the slings to better use: relaxing while studying for final exams. Orange, green, and white hammocks hung near the fountain behind UM's Ashe Administration Building are familiar signs of test-taking time as the fall semester comes to an end. | more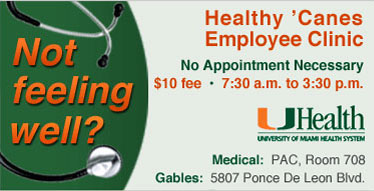 Open, Thoughtful Communication Can Improve Our Effectiveness
In this fifth installment in a series of six articles penned by institutional leaders to introduce enhancements to the performance management process, Jacqueline R. Menendez, vice president for University Communications, writes about the importance of open and effective communication as a means to improve the workforce. | more
Are You on the Right Track for a Secure Retirement?
Whether you're currently contributing 1.5 percent of your salary to your UM retirement plan or 10 percent, there is always an opportunity to improve your retirement outlook. This could mean increasing your voluntary contributions, choosing a different mix of investment funds or simply meeting with a retirement representative to ensure you're on the right track financially. | more
Holiday Schedule for e-Veritas
The last issue of e-Veritas for the 2012 calendar year will publish on Monday, December 17. The first issue of 2013 will publish on Monday, January 7. Please take this into consideration when submitting items for possible inclusion.
• Important Change to 2012 W-2 Distribution | more
• A Relaxed Approach for the Holidays | more
• Driver License Services Return to Coral Gables | more
• Reduce Stress This Holiday Season with Tips from FSAP's Holiday Newsletter | more
• Take Advantage of Free Computer Software Training in December | more


Fine Furnishings Crafted by Students Go on Display
The School of Architecture presents an exhibition of furniture designed and built by students under the direction of adjunct professor and furniture maker Austin Kane Matheson on Monday, December 10 at the Jorge M. Perez Architecture Center's Irvin Korach Gallery. | more
Let My People Go! The Soviet Jewry Movement 1967-1980
When Soviet Jews launched their campaign to emigrate, it was almost inconceivable that within little more than two decades the face of history would change beyond recognition, the Soviet Union would disintegrate, and the gates of the Iron Curtain would be thrown wide open for Jews to leave. On view January 4-25 at the Wesley Gallery, "Let My People Go! The Soviet Jewry Movement 1967-1980," a photo exhibition from Beit Hatfutsot, provides an overview of Jewish national activity in the Soviet Union during that period. | more
Christo and Jeanne-Claude: Prints and Objects
Surrounded Islands in Biscayne Bay. Wrapped Sydney Opera House. The Running Fence of Sonoma and Marin Counties. Many people have seen the pictures; now art enthusiasts can see the drawings and sketches that helped create those famous works. This exhibition, now on view at the Lowe Art Museum, features more than 130 original numbered editions of prints and objects by Christo and photographic editions by Wolfgang Volz of works by Christo and Jeanne-Claude. | more