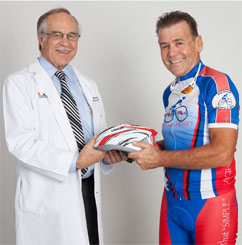 UHEALTH
UHealth Launches Clinic to Reduce Sudden Cardiac Deaths in Athletes
UHealth cardiologists have established a monthly clinic at University of Miami Hospital aimed at detecting and reducing the risks of sudden cardiac death through screenings, physical evaluations, family history assessments, and genetic testing for inherited syndromes like hypertrophic cardiomyopathy. | more

SCHOOL OF ARCHITECTURE
School of Architecture Dean Elizabeth Plater-Zyberk to Step Down
Elizabeth Plater-Zyberk, who as dean of the University of Miami's School of Architecture for nearly two decades helped establish a philosophy centered on design as a means to solve community issues and foster sustainability, has announced her decision to step down from her post effective July 1. | more


Miami Law Alumna Establishes Scholarship in Memory of Close Friend and Former Roommate
School of Law alumna Rebekah Poston has established a scholarship in memory of her former classmate and close friend Linda Dakis, an administrative judge in the Domestic Violence Division of the 11th Judicial Circuit of Florida, who passed away in 2006. The Linda Dakis, J.D. '74, Memorial Scholarship will be awarded to a Miami Law student based on merit and need, with preference given to a student who has an interest in the domestic violence field. | more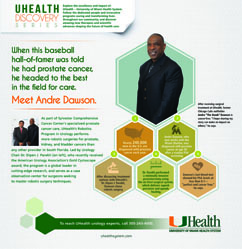 UHEALTH
Ad Campaign Highlights Transformational Impact of UHealth on Patients' Lives
The UHealth Discovery Series, a new advertising campaign featuring daily ads in The Miami Herald and el Nuevo Herald, showcases the health system's state-of-the-art clinical care and clinicians, well-known centers of excellence, and heartening stories that reflect UHealth's compassion and impact on patients' lives and the community. As part of the campaign, UM invites employees to share their positive UHealth experiences. | more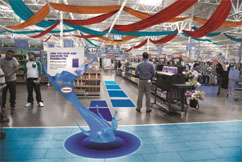 SCHOOL OF COMMUNICATION
Innovative Campaign Propels UM to Victory at National Student Advertising Competition
For the second time in three years, the University of Miami has won first place at the highly competitive National Student Advertising Competition, defeating 17 other universities from around the country with a vibrant and interactive marketing and advertising campaign for Glidden Paint at Walmart. | more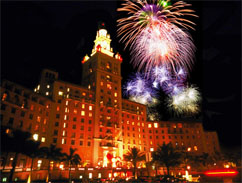 EVENTS
Celebrate Independence Day with the City of Coral Gables
The University of Miami is a co-sponsor of the City of Coral Gables Fourth of July celebration, an event that will include a special concert by the Greater Miami Symphonic Band, concessions, patriotic mascots, and a spectacular fireworks display at the Biltmore Hotel. | more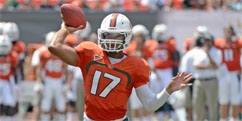 ATHLETICS
Join the Hurricane Club and Be the First to Get Tickets to See the Hurricanes Take on the Gators
With the 2013 college football season drawing closer, the University is urging fans to support Head Coach Al Golden and UM Athletics by joining the Hurricane Club and purchasing season tickets. Only current Hurricane Club donors will be able to purchase tickets to the Miami-Florida game during the weeklong pre-sale event that begins July 22. | more
Soccer, Volleyball Programs Release 2013 Schedules
Two University of Miami athletic programs recently released their 2013 schedules. The women's soccer team's 18-game schedule includes 11 opponents that qualified for the 2012 Division I Championship, including reigning national champions North Carolina. Meanwhile, the women's volleyball squad will play in four tournaments and host 12 games as part of a 30-game regular season schedule.
• Build Your Own Three-Game Ticket Plan | more
• Radziewski Earns Rawlings All-America Honors | more
• Seven Hurricanes Football Players Named to Athlon All-ACC Team | more


For a comprehensive listing of the University of Miami's many events—including lectures, exhibitions, workshops, medical grand rounds, seminars, and more, click here.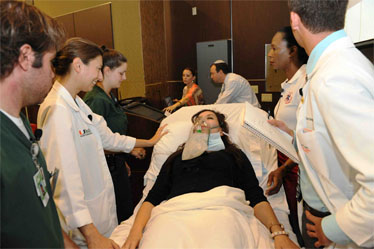 Simulating Experience
A combined team of students from the Miller School of Medicine and School of Nursing and Health Studies examines a patient actor during a simulation exercise held on June 21 at the University of Miami's Whitten Learning Center. The simulation was part of a weeklong patient safety course designed to teach future nurses and physicians how to work in concert to improve patient outcomes. The course, held June 17-21 on both the Coral Gables and Miller School campuses, was a first-of-its-kind collaboration between the nursing and medical schools. More than 200 students took the course, attending lectures and practicing their medical skills in realistic but simulated patient encounters with mannequins and patient actors. | more

FREEZE FRAME
Coach's Chalk Talk
In an effort to increase game attendance and ticket sales among the South Florida business community, the University of Miami Citizens Board hosted a luncheon with Hurricanes head football Coach Al Golden on June 20 in the BankUnited Center's Hurricane 100 Room. More than 100 UM Citizens Board members and guests attended the luncheon, which also featured a special visit by mascot Sebastian the Ibis. The event was part of the Citizens Board's CB Connects U to Athletics, an initiative aimed at establishing relationships between South Florida businesses and UM athletic programs. | more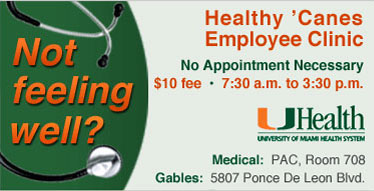 2013-14 Parking Permit Application Process Begins in July for Coral Gables Campus
The application process for permits on the Coral Gables campus begins in July. Permits will be sold to specific groups based on an established distribution hierarchy on a first-come, first-served basis. In addition, more than 100 parking spaces are being added to the Coral Gables campus this summer. | more
Well 'Canes and Guardrails Partner to Provide Free On-Campus Wellness Screenings
Back by popular demand, the Guardrails Prevention Initiative, together with Well 'Canes, will offer free on-campus wellness screenings for UM faculty and staff during the month of July. The first stop for the team from the School of Education and Human Development's Kinesiology Department will be the UC Breezeway on Monday, July 1, between 11 a.m. and 2 p.m. | more
Free Blackboard Training Begins July 1
The Instructional Advancement Center will offer free Blackboard training from July 1 through October 8. Classes will include Introduction to Blackboard, Blackboard Grade Center, and Blackboard Assignments. | more

Use a Pedometer to Help Track Daily Physical Activity
Keeping track of your physical activity level is one way to stay motivated about getting in shape. A pedometer is an inexpensive, simple device that counts each step you take. If you feel you are not active enough, concentrate on increasing your daily step count by 3,000 steps, which meets physical activity guidelines established by the U.S. Department of Health and Human Services. | more
• Saturday Appointments Now Available at Bascom Palmer in Miami | more
• New Print Services Program Followup Town Hall Meetings Set | more
• Get a Good Night's Sleep: A Brown Bag Lunch and Learn | more
• Take Advantage of Free Computer Software Training This Summer | more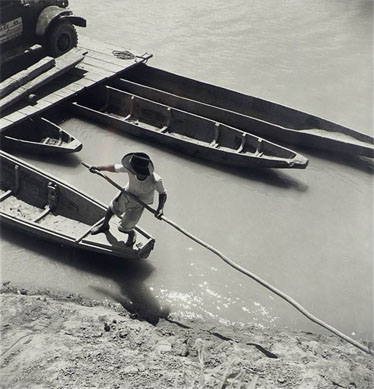 UM PRESENTS
'Pan American Modernism: Avant-Garde Art in Latin America and the United States'
Featuring the work of 50 Latin American artists and 21 artists from the United States, Pan American Modernism: Avant-Garde Art in Latin America and the United States, which runs June 22 through October 13 at the Lowe Art Museum, explores the rich visual dialogue that exists between objects produced by artists working in 13 countries in North, South, and Central America between 1919 and 1979. | more