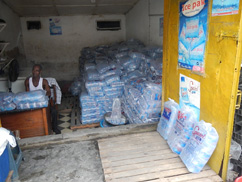 COLLEGE OF ARTS AND SCIENCES
Study Examines Sachet Water Consumption in Ghana
A new study by Justin Stoler, assistant professor of geography and regional studies in the College of Arts and Sciences, examines the demographics of sachet water usage in the capital of the West African nation of Ghana and analyzes the roles that poverty, environment, and social justice play in relation to urban water security. | more

INFORMATION TECHNOLOGY
UM to Migrate Email to New Cloud-Based System
The University of Miami has entered into an agreement with Microsoft to migrate its email to a new cloud-based system that will better meet the needs of faculty, staff, and students. Over the next 12 to 18 months, all current UMail email users on all campuses will be migrated to Microsoft Office 365. Your email address will not change. | more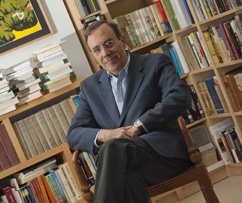 INSTITUTE FOR CUBAN AND CUBAN-AMERICAN STUDIES
Exiled Cuban Author and Journalist Carlos Alberto Montaner to Join ICCAS
Well-known exiled Cuban author and journalist Carlos Alberto Montaner, who serves as a political analyst for CNN en Español, will join the University of Miami's Institute for Cuban and Cuban-American Studies as a senior research associate. | more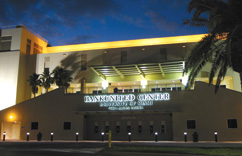 UNIVERSITY
BankUnited Center Ranked One of Florida's Top Venues
The University of Miami's BankUnited Center, an 8,000-seat multipurpose facility that hosts Hurricane men's and women's basketball games, concerts, family shows, and lectures, is one of Florida's top venues in its class, according to Venues Today magazine. The facility has been ranked No. 3 in the state among venues with a capacity of 5,001 to 10,000. | more

PARKING AND TRANSPORTATION
Parking Lots to Remain Open as Frost School Construction Begins
With construction beginning on the Frost School of Music's new facilities, faculty and staff who hold valid purple and preferred parking permits will still be able to enter Purple Zone parking lots in that area from the three primary access points: Robbia Avenue, Miller Drive, and Memorial Drive. | more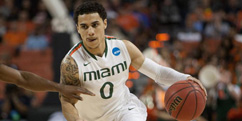 ATHLETICS
Shane Larkin Selected in First Round of NBA Draft
Miami Hurricanes All-American point guard Shane Larkin will begin his NBA career with the Dallas Mavericks. Larkin, who helped Miami win the ACC regular season and tournament championships, was traded to the Mavericks after being selected with the No. 18 overall pick by the Atlanta Hawks during the 2013 NBA Draft, held June 27 in Brooklyn, New York. | more
• Three Named to All-ACC Academic Team | more
• Join the Hurricane Club and Be the First to Get Tickets to See the Hurricanes Take on the Gators | more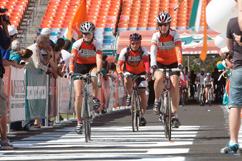 UNIVERSITY
Get Half Off DCC Registration by Joining Team UM Sylvester
The University of Miami will pay half of the $150 registration fee for faculty and staff who sign up to ride in the fourth annual Dolphins Cycling Challenge as part of Team UM Sylvester. The 2013 Dolphins Cycling Challenge, a two-day tri-county cycling event that benefits the lifesaving research and treatment programs at Sylvester Comprehensive Cancer Center, is scheduled for November 2 and 3, with routes ranging from 30 to 170 miles. | more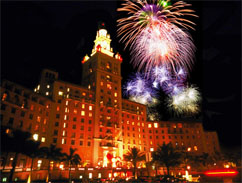 EVENTS
Celebrate Independence Day with the City of Coral Gables
The University of Miami is a co-sponsor of the City of Coral Gables Fourth of July celebration, an event that will include a special concert by the Greater Miami Symphonic Band, concessions, patriotic mascots, and a spectacular fireworks display at the Biltmore Hotel. | more


For a comprehensive listing of the University of Miami's many events—including lectures, exhibitions, workshops, medical grand rounds, seminars, and more, click here.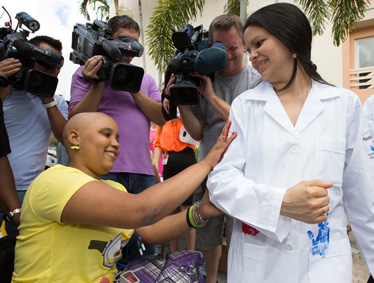 Sylvester Physician Awarded Hyundai Hope On Wheels Grant for Pediatric Cancer Research
Representatives from Hyundai Motor America and South Florida Hyundai dealers gathered at Sylvester Comprehensive Cancer Center on June 25 to award Yolanda Cosme, hematology/oncology fellow, a $75,000 Hyundai Scholar Grant for her work in pediatric cancer research. Much of the applause and strong turnout of local media, however, was for the real stars of the event – the pediatric cancer patients who are facing their disease with great courage and were there for the handprint ceremony. | more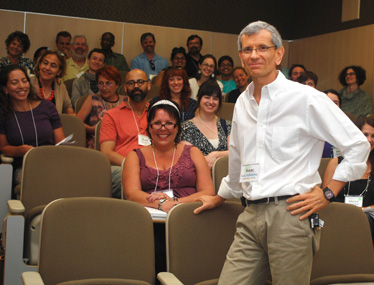 FREEZE FRAME
A Discussion on the Benefits of Community Psychology
Isaac Prilleltensky, dean of the University of Miami's School of Education and Human Development, leads an informal discussion of how community psychology can have a beneficial impact on the broader field of psychology during the Society for Community Research and Action's 2013 biennial conference, held on UM's Coral Gables campus from June 27-29. Themed "Communal Thriving: Pursuing Meaning, Justice, and Well-Being," the three-day summit featured workshops, poster sessions, and scholars who spoke on topics such as "Participatory Policy Research in Times of Swelling Inequality Gaps" and "Principles of Social Change: Community Partnerships Promote Social Justice." | more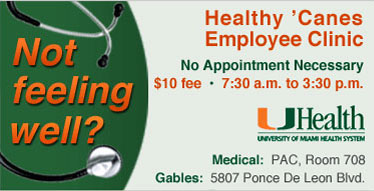 Advance Your Well-Being and Enter a Drawing for an iPad Mini
Win a mini tablet computer simply by advancing your overall well-being. University of Miami faculty and staff who register for the new 2013 Well 'Canes Wellness Incentive Program and complete the PureWellness online health assessment by July 31 will be entered into a drawing for an iPad Mini. | more
Help UM Improve the Web Experience; Participate in an Online Survey of the UM Website
In a move to improve the overall Web experience, the University of Miami is conducting an assessment of the top tier pages of its miami.edu website. Paskill Stapleton & Lord, a higher education marketing and Web development firm, is assisting UM in the assessment. Please take a few moments to participate in this important survey, the results of which will provide the University with valuable feedback on how to improve its website. Responses will remain confidential. To begin the survey, please click here.
UM to Unveil New UPrint Services
Enhanced printing and copying services will soon be available for all University of Miami students. UM's Department of Managed Print Services is collaborating with Canon Solutions America to develop a new and improved UPrint printing solution. | more
2013-14 Parking Permit Application Process Begins for Coral Gables Campus
The application process for permits on the Coral Gables campus has begun. Permits will be sold to specific groups based on an established distribution hierarchy on a first-come, first-served basis. In addition, more than 100 parking spaces are being added to the Coral Gables campus this summer. | more
• Climb the Stairway to Successful Health | more
• Well 'Canes and Guardrails Partner to Provide Free On-Campus Wellness Screenings | more
• Free Blackboard Training | more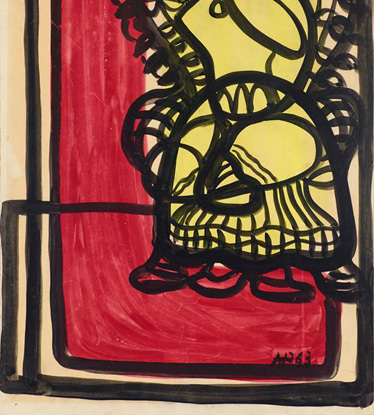 UM PRESENTS
'Pan American Modernism: Avant-Garde Art in Latin America and the United States'
Featuring the work of 50 Latin American artists and 21 artists from the United States, Pan American Modernism: Avant-Garde Art in Latin America and the United States, which runs June 22 through October 13 at the Lowe Art Museum, explores the rich visual dialogue that exists between objects produced by artists working in 13 countries in North, South, and Central America between 1919 and 1979. | more