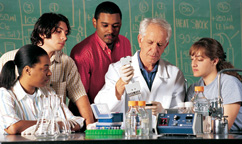 COLLEGE OF ARTS AND SCIENCES
Reclaiming the American Dream Scholarship Program Receives Major NSF Grant
A $600,000 grant from the National Science Foundation will help the University of Miami boost the number of underrepresented students in the field of biology and could serve as a springboard to their pursuit of advanced degrees in STEM (science, technology, engineering, and mathematics) subjects. | more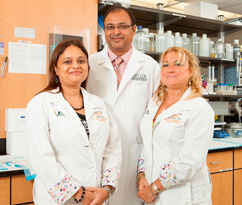 MILLER SCHOOL OF MEDICINE
First Online Industrial Ph.D. Program Launched
Leading the University of Miami into the next frontier of education, the Miller School of Medicine's Department of Biochemistry and Molecular Biology has established a unique degree program that will enable industry and government scientists to remain on the job—and in their labs—while earning a Doctor of Philosophy in Industrial Biochemistry and Molecular Biology. | more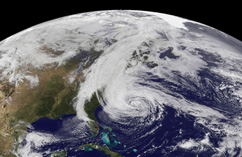 EMERGENCY PREPAREDNESS
With Hurricane Season Well Under Way, Now Is the Time to Prepare
Just as officials at the National Oceanic and Atmospheric Administration predicted, the 2013 Atlantic hurricane season is turning out to be a busy one, even as the height of the six-month period is still weeks away. If you haven't already, now is the time to finalize preparations at home and at work. | more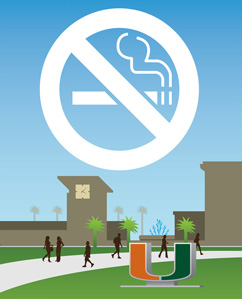 UNIVERSITY
Coral Gables Campus Goes 100 Percent Smoke Free on August 1
Continuing a commitment to provide a safe and healthy environment for faculty, staff, students, and visitors, the University of Miami's Coral Gables campus will go fully smoke free on August 1. Inhaling, exhaling, burning, or carrying any lighted cigarette or electronic cigarette, cigar, pipe or other such device that contains tobacco or other smoke-producing products will be prohibited in all areas of the campus. | more

ATHLETICS
Select-A-Seat Week is July 15-18 at Sun Life Stadium
The Miami Hurricanes' annual Select-A-Seat Week will be held Monday, July 15 through Thursday, July 18 at Sun Life Stadium. UM ticket sales representatives will be on site from 12 to 7 p.m. each day. The four-day event is free to attend. | more
Hurricane Club Surpasses 2012 Membership
Bolstered by its award-winning Building Champions campaign, the University of Miami's Hurricane Club has surpassed its 2012 membership total, eclipsing more than 5,600 active members. | more
• Morris, Johnson Named to Maxwell Watch List | more
• Thompson Named Freshman All-American | more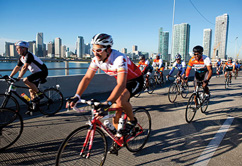 UNIVERSITY
Get Half Off DCC Registration by Joining Team UM Sylvester
The University of Miami will pay half of the $150 registration fee for faculty and staff who sign up to ride in the fourth annual Dolphins Cycling Challenge as part of Team UM Sylvester. The 2013 Dolphins Cycling Challenge, a two-day tri-county cycling event that benefits the lifesaving research and treatment programs at Sylvester Comprehensive Cancer Center, is scheduled for November 2 and 3, with routes ranging from 13 to 170 miles. | more


For a comprehensive listing of the University of Miami's many events—including lectures, exhibitions, workshops, medical grand rounds, seminars, and more, click here.


A Picture-Perfect Summer
Twenty South Florida high school students arrived at the University of Miami on July 6 for The Peace Sullivan/James Ansin High School Journalism and New Media Workshop, presented by the School of Communication. During the three-week workshop, students live on campus and hone their writing, editing, designing, and photography skills by working together to create a publication, video, and website focused on topics affecting South Florida youth. Above: A high school student participates in a photography and video exercise on how to approach strangers for photographs. | more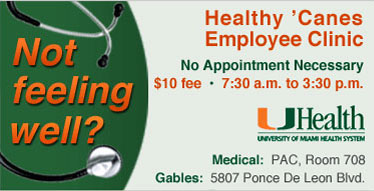 Help UM Improve the Web Experience; Online Survey of UM Website Ends July 16
In a move to improve the overall Web experience, the University of Miami is conducting an assessment of the top tier pages of its miami.edu website. Paskill Stapleton & Lord, a higher education marketing and Web development firm, is assisting UM in the assessment. Please take a few moments to participate in this important survey, the results of which will provide the University with valuable feedback on how to improve its website. Responses will remain confidential. To begin the survey, click here.
Challenge Yourself and Get 100 Points Closer to Earning $300
Get ready to enroll in the first of four monthly Well 'Canes Wellness Incentive Program challenges. On Monday, July 15, log into your Well 'Canes incentive account online and sign up for the Have Fun, Get Fit challenge. | more
Take Advantage of Free Computer Software Training in July
The IT Training Services Group offers free software training to University of Miami employees. Courses include Microsoft Office applications such as Access, Excel, Outlook, and Word. Training is also offered for Adobe's popular Photoshop and InDesign applications. | more
Skin Care 101: Free FSAP Lunchtime Seminar
Learn about the latest developments in skin care and sun protection at this lunchtime seminar, hosted by Jonette Keri, associate professor of dermatology and cutaneous surgery at the Miller School of Medicine. | more
• Well 'Canes to Offer Free Health and Skin Cancer Screenings at Gables One Tower | more
• Advance Your Well-Being and Enter a Drawing for an iPad Mini | more
• Climb the Stairway to Successful Health | more

UM PRESENTS
'From Ancient Art to Modern Molas: Recurring Themes in Indigenous Panamá'
Curated by University of Miami students, From Ancient Art to Modern Molas: Recurring Themes in Indigenous Panamá explores connections within the Lowe's collection of molas, or traditional blouses, and pre-Columbian ceramic and stone objects from the Gran Coclé and Gran Chiriquí cultures. On view at the Lowe Art Museum through April 27, 2014, the exhibition is the fifth installment in the ArtLab @ the Lowe series, which provides hands-on museum experience to students. | more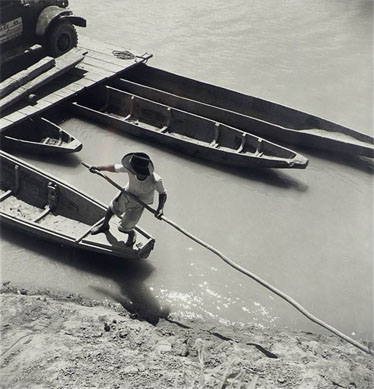 'Pan American Modernism: Avant-Garde Art in Latin America and the United States'
Featuring the work of 50 Latin American artists and 21 artists from the United States, Pan American Modernism: Avant-Garde Art in Latin America and the United States, which runs through October 13 at the Lowe Art Museum, explores the rich visual dialogue that exists between objects produced by artists working in 13 countries in North, South, and Central America between 1919 and 1979. | more