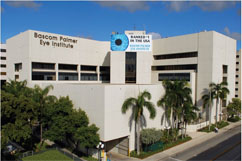 UHEALTH
Bascom Palmer Marks a Decade as No. 1 in Ophthalmology
After a triumphant golden anniversary celebration last year, Bascom Palmer Eye Institute at the University of Miami Miller School of Medicine has achieved another historic milestone. For the tenth consecutive year, the renowned institute is ranked No. 1 nationally in ophthalmology in U.S. News & World Report's annual "Best Hospitals" rankings. | more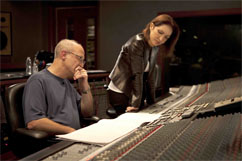 FROST SCHOOL OF MUSIC
Grammy-Winning Artist and UM Alumna Gloria Estefan to Open Festival Miami
Seven-time Grammy Award-winning artist and University of Miami alumna Gloria Estefan will kick off the 30th anniversary season of Festival Miami with a unique jazz-influenced performance on Tuesday, October 1 at 8 p.m. in UM's Maurice Gusman Concert Hall. | more


School of Nursing and Health Studies Awarded RWJF New Careers in Nursing Grant
A group of University of Miami students will soon move closer to achieving their goal of starting a new career in nursing. For the fourth time, UM's School of Nursing and Health Studies has received a prestigious Robert Wood Johnson Foundation New Careers in Nursing grant, which will support ten second-career students in the school's Accelerated BSN program during the 2013-14 academic year. | more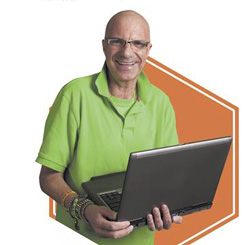 UHEALTH
MyUHealthChart Featured in UHealth Discovery Series
MyUHealthChart, which allows patients to access their medical records securely from any computer, is one of the examples of improved service featured in the new UHealth Discovery Series, an advertising campaign that showcases the UM health system's state-of-the-art clinical care and clinicians, well-known centers of excellence, and positive impact on patients' lives and the community. Read how Anthony Jewell, now in remission from esophageal cancer, has used MyUHealthChart to keep his treatment on track. | more

UNIVERSITY
Coral Gables Campus Goes 100 Percent Smoke Free on August 1
Continuing a commitment to provide a safe and healthy environment for faculty, staff, students, and visitors, the University of Miami's Coral Gables campus will go fully smoke free on Thursday, August 1. Inhaling, exhaling, burning, or carrying any lighted cigarette or electronic cigarette, cigar, pipe or other such device that contains tobacco or other smoke-producing products will be prohibited in all areas of the campus. | more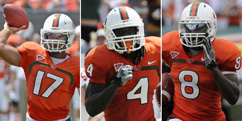 ATHLETICS
Morris, Dorsett, Johnson Named to Prestigious Watch Lists
The University of Miami's Stephen Morris is one of 34 quarterbacks named to the watch list for the 2013 Davey O'Brien Award, which is given annually to the best college quarterback in the nation. Meanwhile, two of Morris's teammates are also on the radar for highly coveted awards at their positions. Wide receiver Phillip Dorsett has been named to the Biletnikoff Award watch list, and running back Duke Johnson has been named to the Doak Walker Award watch list. Johnson is also on the watch list for the prestigious Walter Camp Award.
• Miami Cross Country Releases 2013 Schedule | more

PARKING AND TRANSPORTATION
Parking and Transportation Moves to McKnight Building
The Parking and Transportation Department has moved from the Flipse Building to the McKnight Building at 5807 Ponce de Leon Boulevard, Suite 100. All parking-related services will be available at the McKnight Building, and 'Cane Cards will be issued at the new location. The department's email address (parking.gables@miami.edu) and phone number (305-284-3096) remain the same. | more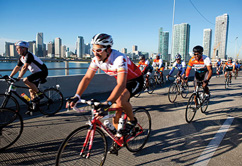 UNIVERSITY
Get Half Off DCC Registration by Joining Team UM Sylvester
The University of Miami will pay half of the $150 registration fee for faculty and staff who sign up to ride in the fourth annual Dolphins Cycling Challenge as part of Team UM Sylvester. The 2013 Dolphins Cycling Challenge, a two-day tri-county cycling event that benefits the lifesaving research and treatment programs at Sylvester Comprehensive Cancer Center, is scheduled for November 2 and 3, with routes ranging from 13 to 170 miles. | more


For a comprehensive listing of the University of Miami's many events—including lectures, exhibitions, workshops, medical grand rounds, seminars, and more, click here.


Renowned Bascom Palmer Ophthalmologist Finally Awarded Undergraduate Degree
David T. Tse, a renowned oculofacial plastic and reconstructive surgeon at Bascom Palmer Eye Institute, never got the chance to join his University of Miami classmates in marching across a stage to accept an undergraduate degree. Two years after Tse arrived at the University in 1969, UM's medical school offered him a slot, and he accepted, leaving with only 12 academic credits to go toward his bachelor of science degree. Tse easily fulfilled that deficit after his first year of medical school, but the chance to accept his undergraduate diploma had been lost—or so he thought. On July 11, nearly 40 years after Tse began his medical career, UM President Donna E. Shalala and Miller School of Medicine Dean Pascal J. Goldschmidt turned back the clock for Tse, awarding him his bachelor's degree during an ophthalmology grand rounds session in front of more than 120 faculty, staff, and members of his family. | more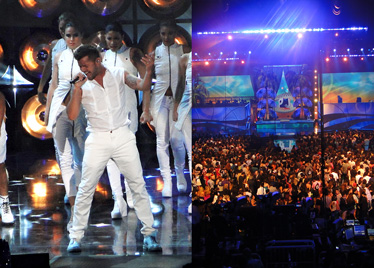 FREEZE FRAME
A Celebration of Youth
Ricky Martin, the pop singer, musician, songwriter, and actor who achieved prominence, first as a member of the Puerto Rican boy band Menudo and later as a solo artist, electrifies the audience at Univision's Premios Juventud Awards Show, held July 18 at the BankUnited Center on the University of Miami's Coral Gables campus. Last Thursday's show marked the ninth consecutive year that the BankUnited Center has hosted the event, which caters to Hispanic youth and covers all angles of pop culture. Other notable performers included Jennifer Lopez, Pitbull, Marc Anthony, Mexican singer-songwriter Thalia, and Prince Royce. | more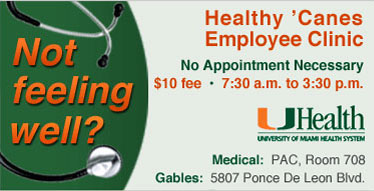 Diabetes Self-Management: Taking a Modern Approach
Learn about the newest treatments for people living with diabetes. This lunchtime seminar, presented by the Faculty and Staff Assistance Program in partnership with UM's Diabetes Research Institute Patient Education Service, will provide an overview of ADA and AACE diabetes guidelines, diabetes self-management recommendations, and treatment technologies. Flexible meal plans, blood glucose monitoring and sensor technologies, and medication and insulin delivery devices will also be reviewed. | more
Well 'Canes and UHealth Dermatology to Offer Free Skin Cancer Screenings
UHealth Dermatology will be on the Coral Gables campus on Wednesday, July 24, offering free, full-body skin examinations for UM faculty and staff in the University Center, Suite 224, from 11 a.m. to 2 p.m. The screenings will be conducted by a board-certified dermatologist and are recommended for everyone, regardless of personal or family history. Appointments are limited. Please click here to reserve your spot. | more
• Take Advantage of Free Computer Software Training in July | more
• Advance Your Well-Being and Enter a Drawing for an iPad Mini | more
• Climb the Stairway to Successful Health | more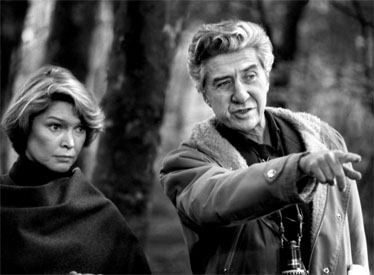 UM PRESENTS
Resnais Retrospective to Include Premiere of French Filmmaker's Latest Work
The films of master French director Alain Resnais are coming to UM's Bill Cosford Cinema. Playing August 1-11, "Déjà Vu: Return to Resnais," is a thought-provoking retrospective celebrating the 65-plus-year career of Resnais, a leader of the New Wave of unorthodox, influential film directors appearing in France in the late 1950s. The series, which consists of five films and six rare shorts, coincides with the exclusive Miami premiere of Resnais' latest film, You Ain't Seen Nothing Yet (August 2-4 and August 9-11). | more