MILLER SCHOOL OF MEDICINE
Miller School Begins Clinical Trial of Brain Cancer Vaccine for Recurrent Cases
In a clinical trial led by Ricardo Komotar, assistant professor of neurological surgery, a revolutionary vaccine once given only to patients with newly diagnosed cases of the most common and aggressive form of brain tumor is being administered to patients whose tumors return. | more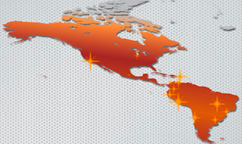 SCHOOL OF BUSINESS ADMINISTRATION
Innovative Executive M.B.A. for the Americas Program to be Launched
The School of Business Administration will launch an innovative weekend Executive M.B.A. program next August. The Miami Executive M.B.A. for the Americas program, pending approval of the Faculty Senate, will focus on four key management themes of importance to individuals and organizations operating in or connecting with high-growth markets, particularly those of the Americas. | more

UNIVERSITY
Hard Copy Receipts No Longer Required by Central Offices for eCheck and eBERF Reimbursements
In a significant improvement to the University's expense reimbursement process, printed and paper copies of receipts to support reimbursements via the eCheck and eBERF processes are no longer required by Central Offices. Instead, Disbursements and the Office of Research Administration will accept scanned images attached in Ariba, the Division of Finance and Treasury has announced. | more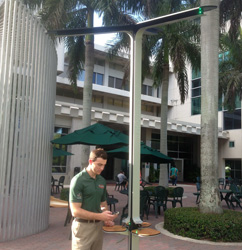 GREEN U
Solar Charging Station Keeps Wireless Devices Powered Up
A solar-powered charging station for wireless devices has been installed at the University of Miami's Richter Library courtyard near Starbucks, providing an on-the-go, off-the-grid source of juice for smartphones and tablets. | more

PARKING AND TRANSPORTATION
UM to Restrict Access to Memorial Drive as Part of Traffic Easing Efforts
In a move to reduce traffic and increase pedestrian and bike safety on Memorial Drive, the University of Miami will begin restricting access to the roadway effective Monday, August 19, allowing entry only to visitors, faculty and staff with a business/academic need, authorized personnel, and delivery, service, and emergency vehicles. | more

UNIVERSITY
Leadership Miami Deadline Extended
The deadline for submitting an application to join the Leadership Miami Class of 2013-14 has been extended to Friday, August 23. Leadership Miami brings together Miami-Dade County's emerging leaders to learn how our community works and to gain an understanding of its future needs. | more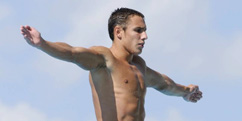 ATHLETICS
UM Diver Sam Dorman Wins First National Championship
University of Miami diver Sam Dorman captured his first career national championship Tuesday, winning gold in the 1-meter event on the opening day of competition at the 2013 AT&T National Diving Championships hosted by the University of Iowa. | more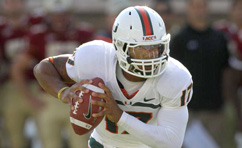 Countdown to Kickoff: Secure Your Season Tickets for Hurricanes Football
This year's Miami Hurricanes football team promises to be one of the greatest shows on turf, as senior quarterback Stephen Morris and sophomore running back Duke Johnson prepare to light up the scoreboard. With less than two weeks to go before the squad's season opener against the FAU Owls, UM employees can still get great prices on tickets by using the employee discount. | more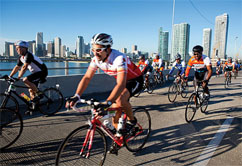 UNIVERSITY
Get Half Off DCC Registration by Joining Team UM Sylvester
The University of Miami will pay half of the $150 registration fee for faculty and staff who sign up to ride in the fourth annual Dolphins Cycling Challenge as part of Team UM Sylvester. The 2013 Dolphins Cycling Challenge, a two-day tri-county cycling event that benefits the lifesaving research and treatment programs at Sylvester Comprehensive Cancer Center, is scheduled for November 2 and 3, with routes ranging from 13 to 170 miles. | more


For a comprehensive listing of the University of Miami's many events—including lectures, exhibitions, workshops, medical grand rounds, seminars, and more, click here.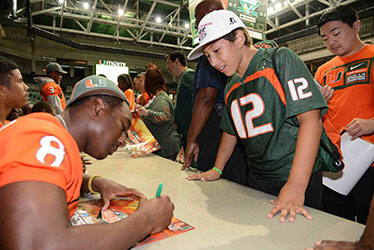 Student-Athletes, Fans Interact at Popular BankUnited CanesFest
Clad in Hurricane orange and green, thousands of loyal University of Miami fans streamed into BankUnited Center on August 17 for CanesFest. While the annual event features student-athletes from several UM athletic teams, it was the UM football players that most of the 4,400-plus fans came out to see. Star players such as quarterback Stephen Morris and running back Duke Johnson signed autographs. Head coach Al Golden, offensive coordinator James Coley, and defensive coordinator Mark D'Onofrio also signed autographs and greeted fans. The Hurricanes open their season at Sun Life Stadium on Friday, August 30, at 8 p.m. against Florida Atlantic. The squad's home schedule features opponents such as the Florida Gators and ACC rivals Georgia Tech, Wake Forest, and Virginia Tech. Above: Duke Johnson, last year's ACC rookie of the year, signs an autograph for a young 'Canes fan. For more on Hurricanes Athletics, click here.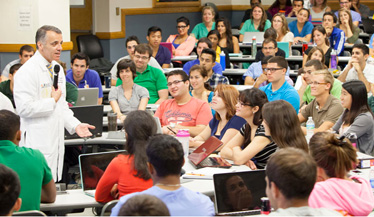 FREEZE FRAME
Miller School Welcomes Future Physicians
Students of the Miller School of Medicine's Class of 2017 listen intently as Dean Pascal J. Goldschmidt welcomes them to their first day of class on August 12. "Your job as physicians will be to keep people in good health while being able to deal with medical problems when things don't go right," Goldschmidt, who is also CEO of UHealth, told the class. Composed of 83 men and 67 women and ranging in ages from 19 to 36, the class had the highest average GPA and Medical College Admission Test scores in the school's history. | more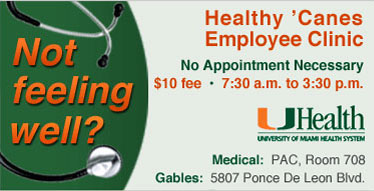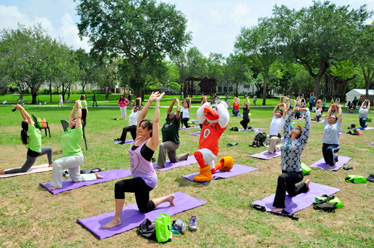 Well 'Canes Yoga Wednesday
Bring your yoga mat and participate in 45 minutes of stretching and relaxation on the Foote University Green, located in front of the Richter Library on the Coral Gables campus, on Wednesday, August 21, from 7:30 to 8:15 a.m. | more
Florida Licensing on Wheels (Mini-FLOW) Coming to Gables Campus
Save time and renew or obtain your new Florida driver's license on campus. The Florida Department of Highway Safety and Motor Vehicles' Mini-FLOW (Florida Licensing on Wheels) will be on the Coral Gables campus August 26, 27, and 28 from 9 a.m. to 3 p.m. in the University Center International Lounge. | more
Refresh Your Mind and Rejuvenate Your Spirit
A refreshed mind and rejuvenated spirit are not the only benefits of relaxation: Improved physical health can also result from releasing tension and reducing stress. Join the Faculty and Staff Assistance Program for Relaxation Training, a one-hour lunchtime seminar that will teach you how to consciously activate your body's relaxation response. | more
• Technology Training Offered for General Purpose Classrooms | more
• Blackboard Video Now Available for Faculty and Students | more
• Psychological Services Center to Begin Mood Improvement Group | more
• Faculty and Staff Assistance Program to Host Open House | more
• Take Advantage of Free Computer Software Training in August | more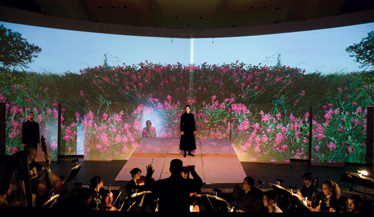 UM PRESENTS
Ring Theatre Announces 2013-14 Season
The time-shifting comedy Cloud 9, a play by Caryl Churchill; Metamorphoses, director Mary Zimmerman's adaptation of Ovid's drama, in a professional collaboration with the Adrienne Arsht Center for the Performing Arts of Miami-Dade County; and Thornton Wilder's 1938 Pulitzer-Prize winning play Our Town are just some of the highlights of the Ring Theatre's 75th season. | more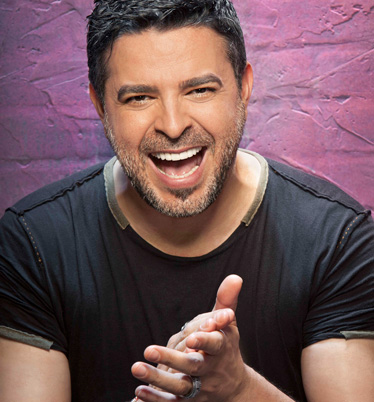 Festival Miami to Fill the Air with Sound of Music; UM Employee Ticket Discount Available
Grammy Award-winning superstar salsa singer, songwriter, and guitarist Luis Enrique is one of the many artists who will perform on the UM campus during the Frost School of Music's acclaimed Festival Miami. Running October 1 through November 1, the annual musical showcase will feature more than 25 concerts and events organized around four themes. This year Festival Miami offers a special UM employee ticket discount through September 6 for select concerts. | more