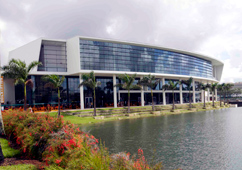 UNIVERSITY
UM Opens a Student Center for the Ages
Two years after it broke ground on the project, the University of Miami unveils today the much-anticipated Student Activities Center—a three-story, 119,000-square-foot facility that's been described as "stunning" and "a game changer." Offices for student organizations, a new Rathskeller, media suite, and 24/7 study center are among its features. A formal opening ceremony for the center will be held today at noon. The official dedication ceremony will be held November 7. | more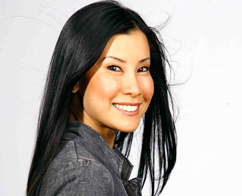 UNIVERSITY
Acclaimed Journalist Lisa Ling to Speak at Fall Convocation
Lisa Ling, the acclaimed American journalist and writer best known for her role as host of "Our America" on OWN: The Oprah Winfrey Network, will be the University of Miami's 2013 Fall Convocation speaker on Monday, September 9, at BankUnited Center. Ling will present "Open Heart, Open Mind." | more

MILLER SCHOOL OF MEDICINE
UM Adds Gene Therapy for Heart Failure to Regenerative Medicine Program
In a major step forward for the University of Miami's growing regenerative medicine program, the Miller School of Medicine/UHealth is taking part in an international clinical trial to determine the effectiveness of genetically targeted enzyme replacement therapy for advanced heart failure. | more

ROSENSTIEL SCHOOL OF MARINE AND ATMOSPHERIC SCIENCE
Epic Ocean Voyages of Coral Larvae Revealed
A new computer simulation conducted at the University of Miami and University of Bristol has revealed the epic, ocean-spanning journeys travelled by millimeter-sized coral larvae through the world's seas. | more

DINING SERVICES
Renovated Mahoney-Pearson Dining Hall to be Unveiled
The refurbished Mahoney-Pearson Dining Hall, featuring a variety of cuisine and high-tech touches such as digital signage and a recharging station for wireless devices, will be unveiled Friday, August 30, at noon during a ribbon cutting ceremony attended by President Donna E. Shalala and other UM administrators. | more

UM ETHICS PROGRAMS
Arsht Research on Ethics and Community Grants Awarded
The University of Miami Ethics Programs have awarded seven grants for the 2013-14 Arsht Research on Ethics and Community Program. The grants, now in their seventh year of funding, are awarded to teams of faculty and student collaborators from UM's Coral Gables, medical, and marine campuses to conduct research projects that address contemporary moral issues with implications for public policy, professional practice, or human rights. | more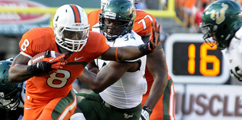 ATHLETICS
Hurricanes Open Season against FAU on August 30; New NFL Bag Policy Implemented at Sun Life Stadium
The Miami Hurricanes and their high-powered offense open the 2013 college football season against FAU at Sun Life Stadium this Friday, August 30. The matchup will be the first of seven UM home games in which the NFL's new bag policy, which places limits on the size and type of bags that may be brought into the stadium, will be in effect.
ATHLETICS
'83 National Championship Squad to be Honored at FAU Game
More than 50 players and coaches from the 1983 national championship Miami Hurricanes football team, which defeated a heavily favored Nebraska squad 31-30 in the Orange Bowl Classic, will be honored at halftime of this Friday's season opener against Florida Atlantic at Sun Life Stadium. | more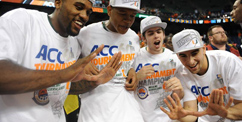 ATHLETICS
UM Hoops to Host Duke, Syracuse, Notre Dame, and FSU
The 2013 Atlantic Coast Conference Champion University of Miami men's basketball will host nine ACC games this season, including nationally televised matchups against Duke on ESPN2 and Syracuse on CBS. | more
• Women's Tennis Announces Fall Schedule | more
• Swimming and Diving Releases 2013-14 Season Schedule | more


For a comprehensive listing of the University of Miami's many events—including lectures, exhibitions, workshops, medical grand rounds, seminars, and more, click here.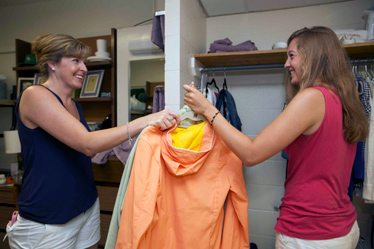 New Year, New 'Canes
Pushing carts loaded down with suitcases, computers, books, and flat-screen TVs, about 4,400 students, including 1,900 freshmen, moved into the five residential colleges and University Village Student Apartments last week in preparation for the start of the 2013-14 academic year. Above: Sydney Zarriello, right, a freshman neuroscience major from Severna Park, Maryland, gets help from her mom, Susan, while moving into Stanford Residential College on August 21. | more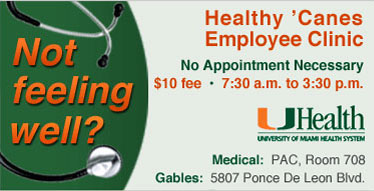 Online Assessment to Allow Faculty and Staff to Provide Input on Benefits
University of Miami faculty and staff will soon receive an online assessment that will allow them to share thoughts with senior leadership regarding their total rewards—from pay and health care plans to educational opportunities, career development and advancement, and work-life options. | more
Hard Copy Receipts No Longer Required by Central Offices for eCheck and eBERF Reimbursements
In a significant improvement to the University's expense reimbursement process, printed and paper copies of receipts to support reimbursements via the eCheck and eBERF processes are no longer required by Central Offices. Instead, Disbursements and the Office of Research Administration will accept scanned images attached in Ariba, the Division of Finance and Treasury has announced. | more
Florida Licensing on Wheels (Mini-FLOW) Coming to Gables Campus
Save time and renew or obtain your new Florida driver's license on campus. The Florida Department of Highway Safety and Motor Vehicles' Mini-FLOW (Florida Licensing on Wheels) will be on the Coral Gables campus August 26, 27, and 28 from 9 a.m. to 3 p.m. in the University Center International Lounge. | more
Take Advantage of Free Computer Software Training this Fall
The UMIT Training Services Group offers free software training for University of Miami employees. Courses include Microsoft Office applications such as Access, Excel, Outlook, and Word. Training is also offered for Adobe's popular Photoshop and InDesign applications. | more
• Well 'Canes Yoga Wednesday | more
• Technology Training Offered for General Purpose Classrooms | more
• Blackboard Video Now Available for Faculty and Students | more
• Psychological Services Center to Begin Mood Improvement Group | more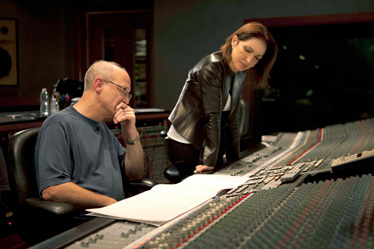 UM PRESENTS
Festival Miami to Fill the Air with Sound of Music; UM Employee Ticket Discount Available
Festival Miami celebrates its 30th anniversary season this year with more than 25 concerts and events organized around four themes: Great Performances, Jazz and Beyond, Music of the Americas, and Creative American Music. Grammy Award-winning artist and UM alumna Gloria Estefan starts off the festival in high gear with an intimate jazz-influenced program on Tuesday, October 1. This year Festival Miami offers a special UM employee ticket discount through September 6 for select concerts. | more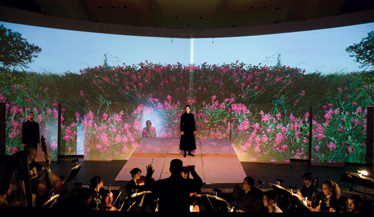 UM PRESENTS
Ring Theatre's 75th Season Begins in September
The time-shifting comedy Cloud 9, a play by Caryl Churchill; Metamorphoses, director Mary Zimmerman's adaptation of Ovid's drama, in a professional collaboration with the Adrienne Arsht Center for the Performing Arts of Miami-Dade County; and Thornton Wilder's 1938 Pulitzer-Prize winning play Our Town are just some of the highlights of the Ring Theatre's 75th season. | more