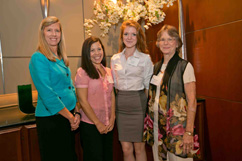 Philanthropist's Gift Benefits the UM Women's Guild Endowed Scholarship Fund
A $100,000 bequest from the late Lamar Louise Curry, a pioneering educator in the Miami-Dade County school system, benefits female students who have returned to the classroom after putting their college education on hold. | more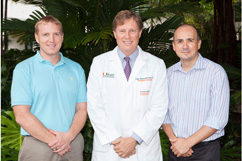 MILLER SCHOOL OF MEDICINE
Department of Defense Awards ALS Drug Development Grant to Miller School Researchers
A new drug development grant from the U.S. Department of Defense will allow researchers at the University of Miami Miller School of Medicine to study potential treatments for amyotrophic lateral sclerosis, a neurological degenerative condition commonly called Lou Gehrig's disease. | more

INFORMATION TECHNOLOGY
UMIT Security Alert: Beware of Phishing Email Scams
The University of Miami, like many colleges and universities, has had several reported instances of phishing emails directed toward faculty, staff, and students. The number of attacks has increased, and while UM Information Technology works hard to block them from reaching your inbox, many slip through. UMIT urges vigilance against these threats. | more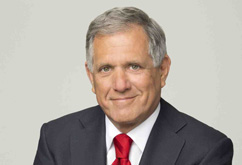 SCHOOL OF COMMUNICATION
CBS President and CEO Leslie Moonves to Speak at UM
Leslie Moonves, the top executive of one of the largest media companies in the world, will spend a day at the School of Communication in November sharing knowledge and viewpoints gathered during his storied television career. | more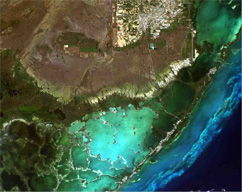 COLLEGE OF ARTS AND SCIENCES
Rising Sea Levels Threaten Everglades Freshwater Plants
University of Miami researchers use satellite images to confirm the long-term impact of saltwater intrusion in the Everglades. | more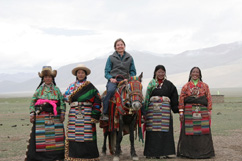 UNIVERSITY
Renowned Anthropologist Cynthia Beall to Speak at UM
Cynthia M. Beall, a renowned physical anthropologist whose research on the Andean, Tibetan, and East African highlanders broadened our understanding and knowledge of human evolution and high-altitude adaptation, will speak at the University of Miami on Monday, October 21, from 9 to 11 a.m. at the Newman Alumni Center. | more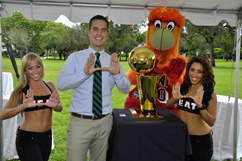 Last Chance to Catch the Heat: Give to the United Way and Get Tickets
Faculty and staff who have made their 2013 United Way contribution and have not yet redeemed their tickets to see the NBA champion Miami Heat will have a final opportunity to secure complimentary tickets to a preseason game at American Airlines Arena. | more
• United Way Silent Auction Hosted by the Department of Finance and Treasury | more
• 2013 TeamUM United Way Campaign Raffle Prize Winners Announced | more
• Candy Gram Sale to Benefit United Way of Miami-Dade | more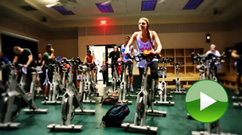 DOLPHINS CYCLING CHALLENGE
Spin to Fight Cancer at the UM DCC Spin-a-Thon
Join UM student Celia Schieffelin as she spins to fight cancer on Wednesday, October 23 at the UM DCC Spin-a-Thon. Schieffelin will be spinning for her mom, Barb, who was diagnosed with colon, liver, and lung cancer that eventually spread to her brain. So far, Schieffelin has raised nearly $11,000 for cancer research and is looking forward to the day she can call her mom a survivor. | more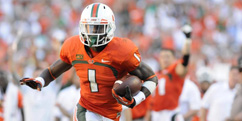 Miami Faces Road Test against North Carolina
Off to their best start since 2004, the 13th-ranked Miami Hurricanes head into a crucial Atlantic Coast Conference matchup against the North Carolina Tar Heels on Thursday, October 17, at Chapel Hill. The game, which gets under way at 7:45 p.m., will be televised live on ESPN. | more

UM vs. Wake Forest Designated Verizon Wireless Employee Day Game
The Miami Hurricanes' home game versus the Wake Forest Demon Deacons on Saturday, October 26 has been designated the 2013 Verizon Wireless Employee Day football game. This year's Employee Day game will again feature Stadium Bucks, discounted parking, and many other promotions. | more


For a comprehensive listing of the University of Miami's many events—including lectures, exhibitions, workshops, medical grand rounds, seminars, and more, click here.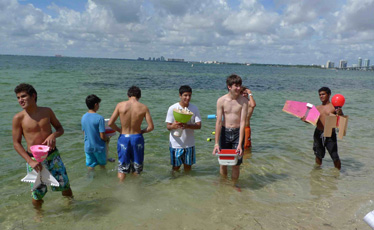 Budding Scientists Design and Build Ocean Drifters to Help UM Scientists
Scientists at UM's Rosenstiel School of Marine and Atmospheric Science have turned to a new generation of researchers to help them track the path of oil spilled at sea: high school students. | more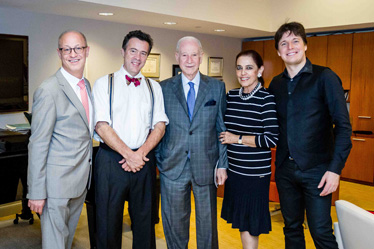 FREEZE FRAME
Phillip and Patricia Frost Honored on Tenth Anniversary of Transformative Gift
University of Miami trustees, President Donna E. Shalala, Dean Shelly Berg, and students, faculty, and staff of the Frost School of Music gathered on October 4 to honor Phillip and Patricia Frost on the tenth anniversary of their $33 million naming gift to the school. | more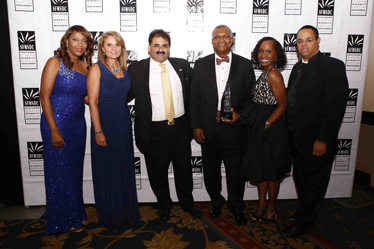 FREEZE FRAME
A Humanitarian Honor
The Southern Florida Minority Supplier Development Council awarded the University of Miami the Doing Well While Doing Good Humanitarian Award at its 38th annual awards gala held at Jungle Island last month. The award honors large corporations, government agencies, and educational institutions for making a difference in the local community. | more


Faculty and Staff Help Support the U:
A Father's Gratitude
E-Veritas continues its new series on some of the dynamic faculty and staff members whose gifts to the institution help support a variety of University-related initiatives. This week we profile Bradley Matthews, a sales account executive in UM's Department of Athletics. Grateful for the care his young son has received at Bascom Palmer Eye Institute for a rare form of eye cancer, Matthews is planning an event to raise funds for cancer research. Read his story. Do you have a story to share? Click here and tell us why you give to the U.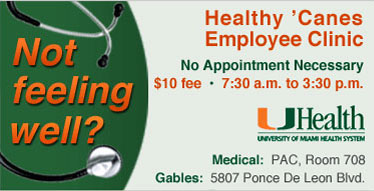 Open Enrollment and Benefits Fairs Begin October 14
Open Enrollment, your annual opportunity to review, enroll, or make changes to your 2014 'Canes Total Rewards, begins today and runs through November 1. Also, the first in a series of benefits fairs, where employees can receive free flu shots and information on their 'Canes Total Rewards, will be held today on the Coral Gables campus. | more
Discover UHealth at Benefits Fairs
A chance to win tickets to three upcoming Hurricanes football games is just one of many reasons to visit UHealth – University of Miami Health System at the UM Employee Benefits Fairs. | more
How the Miami-Dade Transit Fare Increase Affects UM's Transit Discount Program
On October 1 Miami-Dade Transit increased Metrobus and Metrorail fares. This fare increase will help ease rising operational costs for Miami-Dade's transit programs. If you are a participant in the University's Transit Discount Program, you will not be impacted this month, since the University purchased October passes before the increase took effect. You will, however, begin seeing the increase in your November payroll deduction. | more
National Cyber Security Awareness Month: Combating Cybercrime
National Cyber Security Awareness Month is an opportunity to engage and inform the community about cyber security. During October, the UM Information Technology department will share important information, tips, and resources that will focus on different cyber security issues. This week's article focuses on cybercrime. | more
• Are You Ready to Buy Your First Home? | more
• 'Meet the Docs' Session on Flu Season | more
• Well 'Canes Marketplace Now in Season | more
• Climbing the Stairway to Successful Health | more
• Improve Your Leadership Skills with Help from the Office of Workforce Engagement and Development | more
• Have a Bite and Help Fight Cancer | more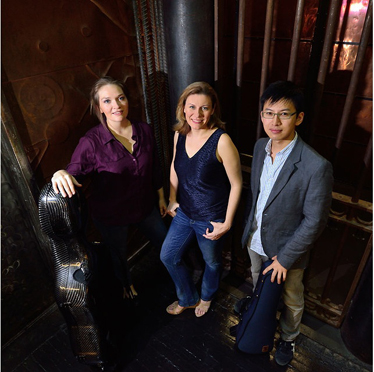 Festival Miami Continues
The works of celebrated composers performed by the Frost Chamber Players, the electrifying chamber group Manhattan Piano Trio, and award-winning Brazilian vocalist Paulinho Garcia are among the highlights of Festival Miami's third week of concerts. The acclaimed music festival runs through November 1 with concerts organized around four themes. | more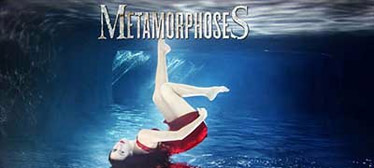 Ring Theatre's 75th Season Continues with 'Metamorphoses'
The Jerry Herman Ring Theatre's 75th season continues with Metamorphoses. Mary Zimmerman's adaptation of Ovid's drama takes the poet's tales to a stunning visual life, juxtaposing the ancient and the contemporary in both language and image. Running through October 27, the play is being presented as a professional co-production with the Adrienne Arsht Center for the Performing Arts of Miami-Dade County. | more