If you are having problems reading this or would like to browse more listings, visit the online version here.

November 10, 2014 | Monday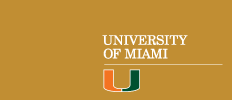 UM NEWS
MOMENTUM2
Lowe Receives $1.5 Million Gift from Beaux Arts
A $1.5 million gift from Beaux Arts, the Lowe Art Museum's founding support group and partner of 63 years, has enabled the creation of the position of Beaux Arts Director and Chief Curator of the Lowe Art Museum. The endowment will also support increased programming, community outreach, facility upgrades, and other projects at the Lowe. | more
UNIVERSITY
Honor Our Troops at Veterans Day Tribute November 11
Faculty and staff are invited to attend a Veterans Day Tribute at The Rock on Tuesday, November 11 at 11 a.m. Help UM honor the brave men and women of the armed forces with keynote speaker U.S. Coast Guard Rear Admiral Karl L. Schultz, director of operations for the United States Southern Command. | more
SCHOOL OF COMMUNICATION
Journalism Students to Produce Infographics for Univision
The School of Communication and Univision Communications, Inc., are partnering to create a groundbreaking student-managed infographics unit for the leading Spanish-language media company's award-winning news division. Under the guidance of Professor Alberto Cairo, one of the world's authorities in information graphics, UM journalism students will provide visual data and information to Univision News' digital platforms—UnivisionNoticias.com and its mobile app—as well as to Univision's new political blog, "Pol16." | more
SCHOOL OF EDUCATION AND HUMAN DEVELOPMENT
Dean Prilleltensky Receives Lifetime Achievement Award in Prevention
An international leader in counseling psychology who has focused on discrimination, child abuse, poverty, illiteracy, and other chronic social ills, Dean Isaac Prilleltensky is the recipient of the Lifetime Achievement Award in Prevention, bestowed by the American Psychological Association's Society of Counseling Psychology, Division 17. He will accept the award at the APA's annual meeting in Toronto next August. | more
SCHOOL OF BUSINESS ADMINISTRATION
Neurofinance Lab Will Explore Physiological Aspects of Decision-Making
In an effort to better understand and predict the financial and business decisions people make, Milica Mormann, a research assistant professor in the finance department, is spearheading the creation of a neurofinance lab to explore the physiological aspects of the choices individuals make—by tracking eye movement, measuring brain activity, and recording and analyzing facial expressions. | more
MILLER SCHOOL OF MEDICINE
Geneticist's Study Named One of Journal's Classics
A publication by Margaret A. Pericak-Vance, the director of the John P. Hussman Institute for Human Genomics and the Dr. John T. Macdonald Foundation Professor of Human Genomics, was selected as one of the top ten "classic" studies of the more than 10,000 papers the American Journal of Human Genetics has published over its 65-year history. Pericak-Vance was first author of the seminal 1991 study, "Linkage studies in familial Alzheimer disease: Evidence for chromosome 19 linkage," which led to major advances in the field of Alzheimer's genetics. | more
COLLEGE OF ARTS AND SCIENCES
The Inside Story: How the Brain and Skull Stay Together
How do embryonic cells assemble into bodies? How do neighboring cells know to become nerve or bone and to align themselves correctly? A new study by UM researchers that describes the signaling systems that tissues in the head-neck region use to communicate with their neighbors sheds light on these questions and may have important implications for the treatment of congenital defects like Spina Bifida and Chiari malformations. | more

UM ATHLETICS

Perryman, Johnson Named Semifinalists for Top Awards
Senior linebacker Denzel Perryman and junior running back Duke Johnson are semifinalists for two of college football's top awards—Perryman for the 20th Chuck Bednarik Award for the Outstanding Defensive Player of the Year and Johnson for the 78th Maxwell Award honoring the Collegiate Player of the Year. | more
Parking Lots to Open Early for Miami-FSU Game
Sun Life Stadium parking lots will open two hours earlier than usual for the November 15 game vs. Florida State. The Green Lot will open at 1 p.m., while all other lots will open at 2 p.m. Kickoff is set for 8 p.m. | more

UNITED WAY

Enjoy Discounted Tickets to Two More Dolphins Games and Benefit the United Way
The Miami Dolphins are offering UM employees, their families, and friends discounted tickets to two more home games—against the Buffalo Bills on November 13 and the Minnesota Vikings on December 21—and will contribute a portion of the proceeds to TeamUM's 2014 United Way campaign. Purchase tickets by clicking here and using the promotion code UNITEDWAY. View the flier for more information.

SPOTLIGHT

From Truth-Seekers to Targets: Ilene Prusher Discusses the Perils of Journalism Today
In a gripping talk at the Sue and Leonard Miller Center for Contemporary Judaic Studies, international journalist Ilene Prusher discussed how extremist terrorist groups have turned reporters like Daniel Pearl and Steven Sotloff, who grew up in Miami, from truth-seekers to targets. "What's clear is that having journalists is a lucrative business," said Prusher, who spent nearly 20 years covering the world's hotspots. | more

SNAPSHOT
Hot Off the Presses: First Issue of Scientifica Debuts This Week
Scientifica, the University's first undergraduate student-run scientific magazine, debuts this week, providing what founder Victoria Pinilla, a junior in the College of Arts and Sciences' microbiology and immunology program, calls "a platform for scientific innovation and curiosity" and an opportunity "to think outside of the box." A diverse group of students, including scientific majors who provided content, art students who led the design team, and business students who handled advertising and other commercial aspects, helped make Pinilla's idea a reality. | more
GREEN U
Before You Toss, Pick the Right Bin
As we celebrate America Recycles Day at The Rock November 12, remember that paper, bottles, plastic, cans, and cardboard go into campus bins with a "Single Stream Recyling" sign, while food, soiled paper, plastic straws, used cups, and lids go into the ones marked "Trash." If you think separating such stuff is a waste, think about the U's December class of baccalaureate candidates. They'll wear caps and gowns made from plastic bottles, an initiative that has kept more than 42 million bottles out of U.S. landfills. So read the signs before you toss. Green U will stop by all buildings soon to ensure they are available. To learn more, visit Green U.
FOR YOUR BENEFIT
Be Smoke Free: Sign Up to Quit Smoking Today
The University's award-winning BeSmokeFree Program is offering group classes for individuals interested in quitting smoking beginning this month. Classes are offered in six-week intervals throughout the year, with upcoming sessions beginning on Wednesday, November 12 at the Coral Gables campus, and Thursday, November 13 at the Miller School campus. Click here for more information and to view a class schedule. | more
Essentials of Leadership: Registration Now Open for January 2015 Series
Beginning in January, University managers have the opportunity to further develop their leadership skills at no cost with Essentials of Leadership, a specialized training program that takes place over six months and comprises interactive modules, leadership discussions, individual assessments, experiential learning activities, and coaching. Interested candidates must be recommended by their supervisors. To learn more, register for an online information session or contact Workforce Engagement and Development at 305-243-3090. | more
Free Meditation Session at the Herbert Wellness Center November 13
In a partnership with Sri Chinmoy Centres International, the Patti and Allan Herbert Wellness Center is offering free meditation sessions throughout the semester, with the next session on Thursday, November 13, at 7:30 p.m. in the Wellness Enrichment Suite. | more
Mindful Living
Being mindful increases engagement with the present and allows for a clearer understanding of how thoughts and emotions impact our health and the quality of our lives. Attend one of next week's seminars, held on all three campuses, to awaken your innate capacity for mindful living and nurture a practice to inspire every facet of your life. Visit http://ulearn.miami.edu to register for one of these classes:

Coral Gables campus: Monday, November 17, 12-1 p.m., McKnight Building, 2nd floor Training Room
Rosenstiel School campus: Tuesday, November 18, 12-1 p.m., Library, Rare Book Room
Miller School campus: Wednesday, November 19, 12-1 p.m., Dominion Parking Garage, room 155 | more
UM PRESENTS

Ring Theatre's Must-See Adaptation of Carmen Opens November 12—in 1950's Cuba
Co-produced by UM and New York's Tectonic Theater Project, this adaptation of the original Bizet opera Carmen is set in 1958 Cuba, in the midst of the Cuban revolution, and features a feisty cigar maker's daughter who falls in love with a Batista officer. Afro-Cuban jazz legend Arturo O'Farrill infuses Bizet's much-loved score into the rhythms and tunes of the Caribbean island and uses Tony-nominated Moises Kaufman's libretto to weave the story. View the schedule and purchase tickets before they sell out. | more

'The Empowerment Project: Ordinary Women Doing Extraordinary Things' Screens November 10
Join the School of Communication on Monday, November 10, from 5 to 6:30 p.m. at Shoma Hall, Room 3053, for a screening of The Empowerment Project: Ordinary Women Doing Extraordinary Things, which documents the incredible journey of five female filmmakers driving across America to encourage, empower, and inspire the next generation of women to pursue their career ambitions. A Q&A with producer/director and School of Communication alumna Sarah Moshman, one of the filmmakers, will follow the screening. The event is free and open to UM students and faculty members. | more

Annual Faculty Exhibition Continues through November 28 at the CAS Gallery | more

MORE NEWS

EVENTS

For a comprehensive listing of the University of Miami's many events—including lectures, exhibitions, workshops, medical grand rounds, seminars, and more, click here.
Visit the e-Veritas Website | About e-Veritas | Contact us/Submit an item for consideration


e-Veritas is an electronic newsletter that provides a brief roundup of campus information, news announcements, and events targeted to UM faculty and staff. e-Veritas is distributed by University Communications to all University employees every Monday (except for holidays) throughout the year. | more
---
Editor, e-Veritas
Maya Bell
Executive Director, Web and Digital
Robert Yunk
Assistant Vice President for Communications and Marketing
Todd Ellenberg
Vice President for University Communications
Jacqueline R. Menendez
Published by University Communications, Copyright © 2014 University of Miami