If you are having problems reading this or would like to browse more listings, visit the online version here.

November 17, 2014 | Monday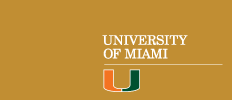 UM NEWS
MOMENTUM2
$2M Gift Will Advance Research at UHealth Sports Performance and Wellness Institute
Showcasing the groundbreaking work that it conducts almost on a daily basis, the UHealth Sports Performance and Wellness Institute announced a $2 million gift from longtime philanthropists Petra and Stephen A. Levin last week that will allow Lee Kaplan, chief of the Division of Sports Medicine, to advance the Institute's research as its first endowed chair.
SCHOOL OF BUSINESS ADMINISTRATION
Retired Admiral Urges Leaders to Build Bridges, Not Walls
Delivering the Cobb Leadership Lecture, James G. Stavridis, the former Supreme Allied Commander at NATO who is now dean of The Fletcher School of Law and Diplomacy at Tufts University, told a rapt audience that building bridges, not walls, is the key to security in the 21st century. | more
UNIVERSITY
President Shalala Receives AIDS Nursing Association's Public Service Award
The Association of Nurses in AIDS Care has honored UM President Donna E. Shalala with its 2014 Public Service Award for her leadership on behalf of the millions of nurses in the U.S. and the millions of Americans living with and at risk for HIV. "Her outstanding career is marked by a longstanding and unwavering commitment to anti-discrimination and ensuring equitable access to education and health," said ANAC Executive Director Kimberly Carbaugh. | more
COLLEGE OF ARTS AND SCIENCES
Rediscover the World on Geographic Information Systems Day
The Department of Geography, in conjunction with UM Libraries, will help the campus community rediscover the world through Geographic Information Systems, which allow users to visualize, question, analyze, and interpret data to understand spatial relationships, patterns, and trends at a daylong GIS Day celebration on Wednesday, November 19. | more
SCHOOL OF COMMUNICATION
Alumnus' Gift to Launch Speaker Series on the First Amendment
James Hoffman, A.B. '80, has pledged $50,000 to create the James Hoffman Family Endowed Speaker Series to fund an annual lecture on the First Amendment to the U.S. Constitution. "It is essential that students are forever mindful of these rights that guarantee our democracy," the Denver-area businessman says. | more
COLLEGE OF ARTS AND SCIENCES
For Congressman, Mindfulness Holds the Key to Personal and Economic Success
Ohio Congressman Tim Ryan believes that mindfulness, or "paying attention to the present moment on purpose, without judging," can change the future of America, a view he shared at a UMindfulness lecture last week. | more

IN MEMORIAM

Beloved 'Cane Linda Sher-Collado Passes Away
Linda Sher-Collado, a longtime reservationist at the University Center/Student Activities Center who was beloved by students and the community, passed away Friday. A memorial viewing is scheduled for Monday, November 17, from 5 to 7 p.m. at the Van Orsdel Funeral Home, 4600 S.W. 8 Street, Coral Gables, Fla. 33134. | more

UM ATHLETICS

Savanah Leaf Named Academic All-District
A standout on and off the volleyball court, Savanah Leaf was named to the 2014 Capitol One Academic All-District First Team for District Four. The senior outside hitter, who leads the ACC and ranks tenth in the nation with 4.71 kills per set, earned a 3.89 cumulative GPA while double majoring in psychology and human development. | more
Fentress Nominated for Burlsworth Trophy
Safety Nantambu-Akil Fentress, who ranked sixth on the Hurricanes with 33 tackles going into the Florida State game, has been nominated for the 2014 Burlsworth Trophy, given annually to the most outstanding collegiate player who, like the award's namesake, began his football career as a walk-on. | more

UNITED WAY

Last Chance to Enjoy Discounted Dolphins Tickets and Benefit the United Way
The Miami Dolphins are offering UM employees, their families, and friends discounted tickets to one more home game—against the Minnesota Vikings on December 21—and will contribute a portion of the proceeds to TeamUM's 2014 United Way campaign. Purchase tickets by clicking here and using the promotion code UNITEDWAY. View the flier for more information.

Buy Raffle Tickets for Dolphins Game or Unique Necklace and Help the United Way | more

SPOTLIGHT

From Abstract to Concrete: Ebola Simulation Prepares Nursing Students for the Real World
The School of Nursing and Health Studies was transformed into the Emergency Department of a Miami-Dade County hospital the past two Saturdays, as seniors donned the protective gear recommended by the Centers for Disease Control and Prevention to treat patients infected with Ebola. The "patients" were actually volunteers who helped students and Coral Gables firefighters practice the infection-control and disease-screening techniques they will need in the real world. | more

UM Honors Generations of Veterans During Tribute to Troops
He may not have known it 70 years ago, but Murray Birchansky helped shape world history when he fought with the 386th Field Artillery Battalion to liberate Northern France. Decades later, Chris Kuhn, now president of UM's Veteran Students Organization, would do his part to make the world safer, serving in the U.S. Navy during Operation Enduring Freedom. Veterans of two very different wars generations apart, Birchansky and Kuhn came together as brothers last week when UM observed Veterans Day by honoring former and current servicemen and women. | more

SNAPSHOT
Beaux Arts Costume Ball Lavishes the Lowe with Good and Evil in the Garden
With these creepy clowns claiming the prize for best costume, more than 275 costumed and black-tie revelers celebrated well into the night to raise funds for the Lowe Art Museum and Beaux Arts projects at the 62nd annual Beaux Arts Ball, which pulled off its Midnight in the Garden of Good & Evil theme with head-turning splendor. | more
Robot Helps Spread the Word: Recycle!
Unlike some robots that sort bottles, plastic, cans, and cardboard from trash, WM-02, Waste Management's remote-controlled android, prefers to talk about the environmental benefits of converting reusable materials into new products. The interactive, mechanical device did just that last Wednesday, when Green U and Student Government's Energy Conservation Organization Agency celebrated America Recycles Day at The Rock with games, giveaways, and information about UM's Single Stream Recycling program.
FOR YOUR BENEFIT
Well 'Canes Incentives Program Adds New Ways to Earn $300 in 2015
The Well 'Canes Incentives Program has added a host of new activities to make earning your $300 incentive even easier in 2015. Among them: getting a flu shot and skin cancer screening, signing up for the Edna C. Shalala Run/Walk and the Team UM Dolphins Cycling Challenge, attending free Faculty and Staff Assistance Program seminars, and getting personal retirement guidance. Click here for a complete list of incentive activities. | more
Retirement Plans to Transition from Fiscal to Calendar Year
Effective January 1, the University's 403(b) retirement plans will transition from fiscal year (June to May) to calendar year (January to December) plans. As a result, the University's Faculty Retirement Plan (FRP) and Retirement Savings Plan (RSP) will experience a shorter year, resulting in an adjustment of the annual IRS compensation limit from $260,000 to $151,666. There is, however, no action required from plan participants. | more
Dining on Campus Can Help You Save Time and Money
Faculty and staff who regularly dine on campus can save up to $130 a year with Dining Services' meal plans, and enjoy healthy, new options at the Hecht-Stanford and Mahoney-Pearson Dining Halls. Plans can be purchased for 15, 20, and 30 meals and do not expire. | more
Mindful Living
Attend one of this week's seminars, held on all three campuses, to awaken your innate capacity for mindful living and nurture a practice to inspire every facet of your life. Visit ULearn to register for one of these classes. | more

Herbert Wellness Center Adjusts Schedule for Thanksgiving Break | more

UM PRESENTS

Soldier of Change Discusses His Journey from the Closet to the Forefront of the Gay Rights Movement
Former U.S. Army Major Stephen Snyder-Hill, who was booed by a national TV audience over his timely question from Iraq about gays serving in the military, will discuss his new book, Soldier of Change: From the Closet to the Forefront of the Gay Rights Movement, at 5 p.m. on Thursday, November 20 at the Student Activities Center. For more information and to RSVP, click here. | more

See Liv Ullmann Live and on the Big Screen in Autumn Sonata
The Norton Herrick Center for Motion Picture Studies will host a special evening with legendary actress and director Liv Ullmann at a screening of Autumn Sonata (1978) at the Cosford Cinema at 6 p.m. on Sunday, November 23. Ullmann will participate in a Q&A session after the film, which will be projected on 35mm as part of the Herrick Center's Cosford Classics series. Read more about the Ingmar Bergman film, and order tickets now, as they are limited.

MORE NEWS

EVENTS

For a comprehensive listing of the University of Miami's many events—including lectures, exhibitions, workshops, medical grand rounds, seminars, and more, click here.
Visit the e-Veritas Website | About e-Veritas | Contact us/Submit an item for consideration


e-Veritas is an electronic newsletter that provides a brief roundup of campus information, news announcements, and events targeted to UM faculty and staff. e-Veritas is distributed by University Communications to all University employees every Monday (except for holidays) throughout the year. | more
---
Editor, e-Veritas
Maya Bell
Executive Director, Web and Digital
Robert Yunk
Assistant Vice President for Communications and Marketing
Todd Ellenberg
Vice President for University Communications
Jacqueline R. Menendez
Published by University Communications, Copyright © 2014 University of Miami