UM NEWS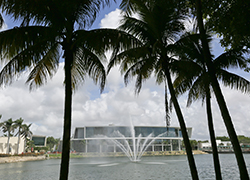 UNIVERSITY
Cobb Fountain Turns Pink This Evening for Breast Cancer Awareness Month
While orange and green are the official colors of the University, pink takes center stage on the Coral Gables campus this month as Zeta Tau Alpha sorority, in collaboration with Sylvester Comprehensive Cancer Center, launches its annual "Think Pink" breast cancer awareness campaign, including its inaugural ZTA Think Pink Cobb Fountain Lighting ceremony with President Julio Frenk and his wife, Dr. Felicia Knaul, this evening, October 5 at 7:30 p.m. at the Lakeside Patio Stage. | more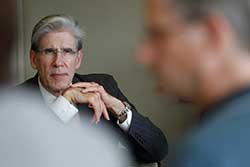 OFFICE OF THE PRESIDENT
President Frenk Continues Listening Exercise with Staff
University of Miami President Julio Frenk has scheduled a series of meetings with staff as part of his continuing listening exercise. Two meetings have been scheduled with staff on the Miller School of Medicine campus on Tuesday, October 27, while a meeting for staff from the Coral Gables and Rosenstiel School campuses has been scheduled on the Coral Gables campus for Monday, November 9. The UM community is encouraged to share their ideas and comments with President Frenk in the virtual mailbox.Visit president.miami.edu/listen to learn more about the listening exercise.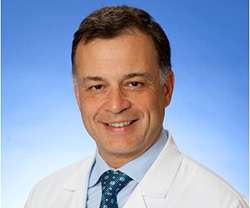 MILLER SCHOOL OF MEDICINE
Allan Levi Named Chair of the Department of Neurological Surgery
Allan D. Levi, whose career has been described as a model of excellence in every aspect of academic neurosurgery—from clinical care and research to teaching and administration—has been named chair of the Department of Neurological Surgery at the Miller School of Medicine. | more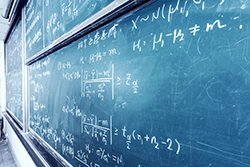 COLLEGE OF ARTS AND SCIENCES
New Master's Degree in Mathematical Finance Will Offer Rigorous Curriculum
With a competitive financial industry that often requires advanced degrees for many positions, the College of Arts and Sciences has launched a new master's degree in mathematical finance that will equip students with the analytical skills necessary to excel in the areas of quantitative finance and risk management. The program enrolls its first class in Fall 2016.| more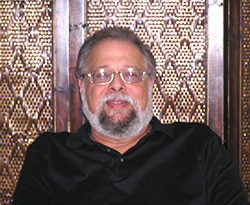 IN MEMORIAM
Eugene Rothman, Miller Center Senior Fellow, Passes Away
Eugene Rothman, who touched the lives of countless students, faculty, and administrators in his role as associate director of academic development for the George Feldenkreis Program in Judaic Studies and senior fellow at the Sue and Leonard Miller Center for Contemporary Judaic Studies, passed away on Saturday, September 26. He was 73. | more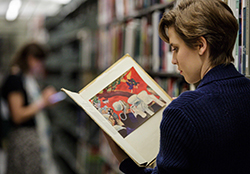 UNIVERSITY OF MIAMI LIBRARIES
'Book Traces' Unearths One-of-a-Kind Texts in the Stacks
When students and faculty searched the Richter Library's Stack Tower and Weeks Music Library during the recent Book Traces event, they unearthed early community members' memories and observations, critiques, scribblings, and adornments that have remained in the margins of those texts for more than 100 years. | more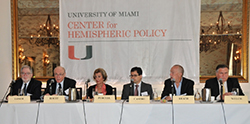 CENTER FOR HEMISPHERIC POLICY
Experts Discuss Reforms to Spur Economic Growth in Latin America
Despite a significant decline in poverty rates over the past decade and an economic boom spurred by exports of commodities, Latin America at the moment is still the slowest growing economic region in the world. That was one of the assessments presented at "Modernizing Latin Americas' Economies: Needed Reforms Spur Growth," a panel hosted by the University of Miami's Center for Hemispheric Policy on September 25. | more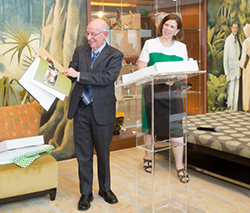 OFFICE OF THE REGISTRAR
Data Custodian Jim Gorostola Retires after 35 Years at the U
From a punch card method that would take hours to complete to an online process done in the blink of an eye, Jim Gorostola helped foster an evolution in the way students have registered for classes at the University of Miami. Now, after 35 years of helping to ensure a smooth registration process for countless students, the longtime data custodian has retired. | more

ATHLETICS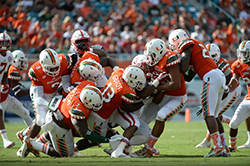 Employee Day Football Game Promotion Offers Choice of Two Games
Tickets are now available for the 2015 Employee Day Football Games, featuring your choice of two matchups: The Miami Hurricanes versus the Virginia Tech Hokies on Saturday, October 17 and the Hurricanes versus the Georgia Tech Yellow Jackets on Saturday, November 21 at Sun Life Stadium. The Employee Day games will again feature the popular Stadium Bucks, discounted parking for all participants, and a host of other employee-related promotions. | more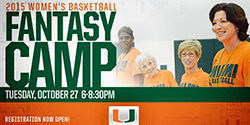 Fulfill Your Hoop Dreams at Miami Women's Basketball Fantasy Camp
Ever wanted to master the crossover dribble or fine-tune your jump shot? Learn basic basketball drills and participate in team-building activities on Tuesday, October 27, when head coach Katie Meier and Hurricanes women's basketball host the sixth annual Miami Women's Basketball Fantasy Camp at the BankUnited Center Fieldhouse, starting at 6 p.m. Men and women of all ages and skill levels are welcome at this free event, but registration is required. | more

Compliance Corner: Unsure of What Benefits are Permissible? Always Check
While the University is permitted to provide certain benefits to prospective student-athletes, UM boosters and employees should refrain from providing any benefits to our student-athletes and prospective student-athletes unless and until they have contacted the compliance office for guidance on what benefits are permissible. | more

EVENTS
For a comprehensive listing of the University of Miami's many events—including lectures, exhibitions, workshops, medical grand rounds, seminars, and more, click here

SPOTLIGHT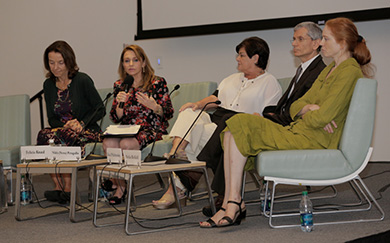 Dr. Felicia Knaul Leads Panel Discussion of Lancet Study on Women and Health
The findings of a major commission on women and health took center stage on the University of Miami's Coral Gables campus last Friday when Dr. Felicia Knaul, professor of public health sciences at the Miller School of Medicine and director of the Miami Institute for the Americas at the College of Arts and Sciences, led a panel discussion of a Lancet study that found women are contributing around $3 trillion to global health care, but nearly half of this is unpaid and unrecognized. | more

SNAPSHOT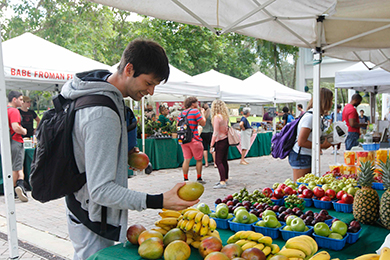 Food Fare Favorite Makes a Delectable Return to the Gables Campus
Under clear blue skies, the Well 'Canes Marketplace returned to the University of Miami's Coral Gables campus last Wednesday, delivering its familiar bounty of healthy treats from local vendors. But if you missed it, don't fret. The Marketplace will be held every Wednesday from 9 a.m. to 2 p.m. at the Foote University Green, and debuts on the Miller School campus this Thursday, October 8. | more

GREEN U CORNER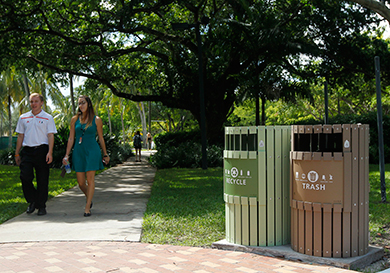 Milk Jugs: They Do the Environment Good
While milk may do a body good, the plastic containers often used to store the protein-rich drink can be just as healthy for the environment. Case in point: the ten new recycling and trash bins located along green pathways on UM's Coral Gables campus. Each was repurposed from used milk jugs in a process that kept more than 3,300 of the plastic receptacles from ending up in landfills. The bins, which were rolled out two weeks ago, were designed by UM Facilities Design and Construction, Facilities Management, and Green U in collaboration with the company Max-R. Learn more at miami.edu/recycle.

FOR YOUR BENEFIT
Open Enrollment Begins Next Monday
Open Enrollment, your annual opportunity to make changes to your 'Canes Total Rewards package, begins Monday, October 12, and will take place in Workday. Unless you make changes in Workday, your current benefits, with the exception of flexible spending account elections, will roll over to 2016. Visit miami.edu/benefits for more information.

UMIT's National Cyber Security Awareness Month Tip: Protect Your Digital Life by Staying Safe Online
The cyber world, or as we typically call it, the Internet, is increasingly ingrained in our everyday lives. Our digital and personal lives are inherently tied, and in order to keep our personal data personal it's important to protect our digital life as well. Here's what you need to know to stay safe online. | more

Register for Second Session of Herbert Wellness Center's Group Fitness Classes
Registration opens Monday, October 12, for the second session of the Patti and Allan Herbert Wellness Center's group fitness classes, including reformer Pilates and instructional classes in dance, martial arts, tennis, and youth and adult aquatics. | more


UM PRESENTS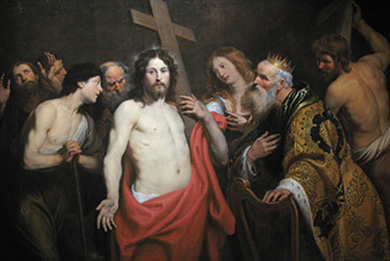 'Dürer to Rubens: Northern European Art from the Bass Museum' to Debut at the Lowe
Beginning with a public reception on Thursday, October 8, the Lowe Art Museum will host a selection of outstanding Renaissance- and Baroque-era works in a range of media—including oil on canvas, tempera on panel, enamel on porcelain, and textiles—from the permanent collection of the Bass Museum of Art, which is closed to the public for a year while it undergoes interior renovations. | more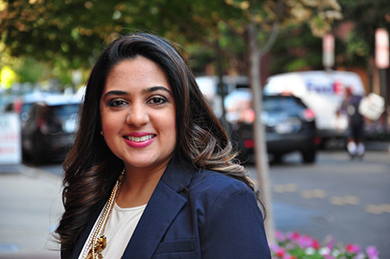 Religious Freedom 2015: Promises and Perils, Local and Global
Join College of Arts and Sciences alumna Asma T. Uddin, '02, at the CAS Gallery on Wednesday, October 21, at 6 p.m., for "Religious Freedom 2015: Promises & Perils, Local & Global." The guest speaker at the UM Forum on Religion and Public Life, Uddin is legal counsel for the Becket Fund for Religious Liberty, a Washington, D.C.-based public interest law firm whose recent cases include the Supreme Court landmark ruling in Burwell v. Hobby Lobby. RSVP by Friday, October 16 | more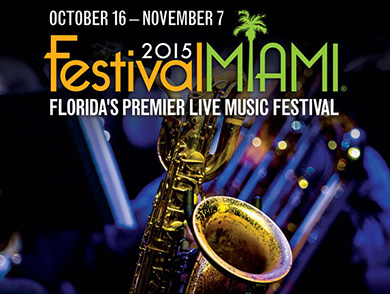 Festival Miami Kicks Off October 16 with Stellar Lineup
The Frost School of Music and sponsor UHealth—University of Miami Health System will present an extraordinary lineup for Festival Miami, Florida's premier live music festival, which will feature more than 20 performances between October 16 and November 7 by some of the biggest names on the global music scene and outstanding Frost student and faculty artists at UM's Maurice Gusman Concert Hall. | more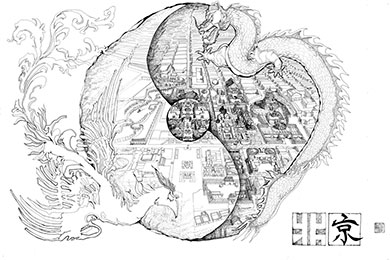 Hometown Maps: Where in the World Do Architects Come From?
Since 1977, students in the School of Architecture have begun their studies by creating graphic layouts of the place they are most familiar with—their hometowns. Now maps from some former and four current students will be on display in the first-floor reading room of the Richter Library, where an opening reception will be held at 4 p.m. on Tuesday, October 6.| more

MORE NEWS