UM NEWS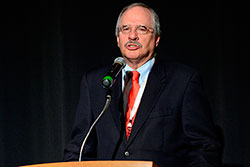 ROSENSTIEL SCHOOL OF MARINE AND ATMOSPHERIC SCIENCE
Miami Takes Center Stage as 'Ground Zero' for Climate Change
Welcoming the researchers, students, and government officials gathered for the Intergovernmental Panel on Climate Change's conference co-sponsored by the Rosenstiel School of Marine and Atmospheric Science last Friday, Provost Thomas J. LeBlanc succinctly summed up what brought them all to the University: "We think of Miami as ground zero on climate change," he said. "Miami, in some ways, is a model for every coastal city." | more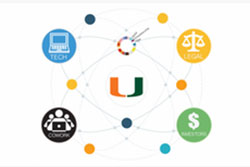 THE LAUNCH PAD
Global Entrepreneurship Week Kicks Off with Resources Fair
The Launch Pad at Toppel is kicking off Global Entrepreneurship Week with its annual Miami Entrepreneurs Resources Fair at 4 p.m. on Monday, November 16 at the Whitten University Center, followed by a 7 p.m. talk on "The Birth of Internet Travel" by Bob Diener, founder of Hotels.com and getaroom.com in Storer Auditorium. Events celebrating innovators and job creators who launch startups continue through November 19, and are free and open to the public. | more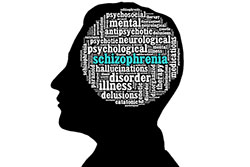 COLLEGE OF ARTS AND SCIENCES
Schizophrenia Researchers Tap into Values and Culture to Reduce Caregiver Stress
Researchers led by Amy Weisman de Mamani, associate professor in the Department of Psychology, have developed a novel, culturally informed intervention that helps members of ethnically diverse families grappling with schizophrenia cope with the stress of caring for a loved one with the debilitating mental disorder. | more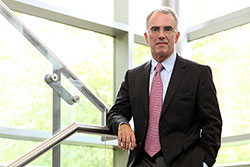 SCHOOL OF LAW
Miami Law Alumnus Named Microsoft General Counsel
Microsoft Corporation has elevated Miami Law alumnus Horacio Gutierrez to the post of general counsel. Gutierrez, who joined the tech giant after earning his J.D. from the University of Miami in 1998, will head the company's team of legal, regulatory, and corporate affairs professionals around the world. | more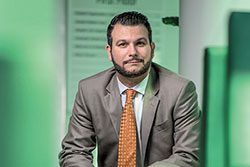 UNIVERSITY OF MIAMI INFORMATION TECHNOLOGY
UMIT Makes 'Life Easier for Higher Education'
An article in EdTech magazine about universities and colleges that are saving money, gaining efficiencies, and improving services by consolidating IT services features UM Information Technology CIO Steve Cawley and IT Director Rocky Pedroso, above, who discuss how consolidating UM's multiple service desks and ticketing systems has ended a lot of confusion. | more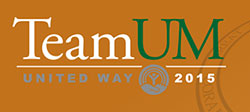 UNITED WAY
TeamUM Announces United Way Raffle Winners
Seventeen of the 2,300-plus faculty and staff who contributed to the United Way by the October 30 deadline for entry into the TeamUM United Way raffle were randomly selected last week for prizes ranging from free parking to airlines tickets. While it's too late for the raffle, it's not too late to help UM meet its $1.18 million goal by making your United Way contribution on Workday today, shopping at the Rosenstiel School's holiday bazaar on Tuesday, November 17, and trying your hand at dropping UM leaders in a dunk tank on the Foote Green on Wednesday, November 18, between 10 a.m. and 2 p.m. | more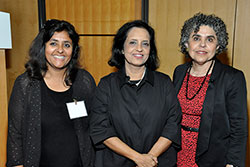 SCHOOL OF BUSINESS ADMINISTRATION
From Wall Street to Prison, Inside Trader Talks About 'Getting It Right'
A stock trader who once earned $50 million a year, Roomy Khan spent a year in prison for insider trading activities she still laments

—

and warned business students against during a Q&A with Anita Cava, professor of business law and director of the school's Business Ethics Program. | more

COLLEGE OF ARTS AND SCIENCES
Arts and Sciences Unveils Fully Online Master of Public Administration
The College of Arts and Sciences will begin its first fully online degree program, a Master of Public Administration, in January. Designed to prepare students for a public service career in the public, nonprofit, or private sectors, the M.P.A. program combines a contemporary curriculum, innovative instruction, and research with service to help students develop their technical, ethical, and leadership skills. | more

UNIVERSITY
Alumni, Associate Dean Honored by Hispanic Bar Association
Three attorneys with connections to the University of Miami—U.S. Attorney Wifredo Ferrer, Raquel Matas, associate dean of the School of Law, and Martha R. Mora—were recognized for their service last week during a regional celebration of the Hispanic National Bar Association. | more

ATHLETICS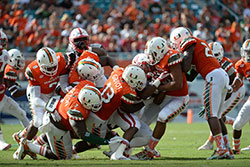 Employee Game Day Tickets Available for UM-Georgia Tech on November 21
Employees who haven't ordered tickets yet are eligible for up to four tickets to the 2015 Employee Day football game on Saturday, November 21, when the Miami Hurricanes face the Georgia Tech Yellow Jackets at Sun Life Stadium. The Employee Day game will again feature popular Stadium Bucks, discounted parking, and a host of other employee-related promotions. | more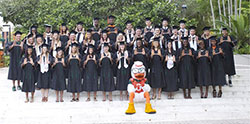 Student-Athletes' Graduation Success Rate Among Best in the Nation
Proving their prowess in the classroom as well as on the field, Hurricanes student-athletes have posted an NCAA Graduation Success Rate of 89 percent—6 percent higher than the national average and the 16th-best score among Football Bowl Subdivision schools. Six teams—men's diving, women's swimming and diving, women's golf, rowing, and volleyball—registered perfect scores. | more

Women's and Men's Hoops Take to the Hard Court
Coach Jim Larrañaga's men's basketball team battles Louisiana at the BankUnited Center at 7 p.m. on Monday, November 16, before heading to the Caribbean November 19-22 for the Puerto Rico Tipoff, while the Lady 'Canes take their 2-0 record on the road to Norfolk, Virginia, where they face Old Dominion on Tuesday, November 17, at 7 p.m.

Berrios Named CoSida Academic All-District | more
Badgley Named Lou Groza Semifinalist | more

EVENTS
For a comprehensive listing of the University of Miami's many events—including lectures, exhibitions, workshops, medical grand rounds, seminars, and more, 
click here
.
SPOTLIGHT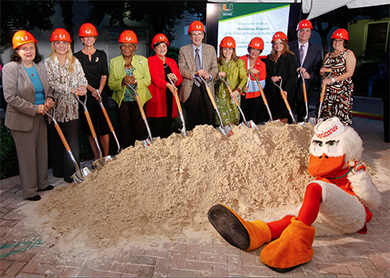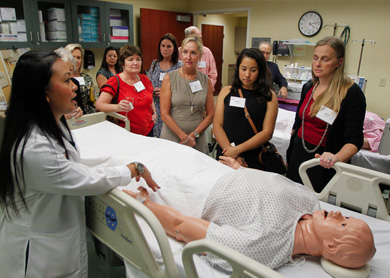 Simulation Hospital Breaks Ground to Transform Education and Patient Care


The School of Nursing and Health Studies officially kicked off the largest endeavor in its 67-year history last week, breaking ground on a 41,000-square foot Simulation Hospital that will transform health care education by replicating the flow of activities in a real hospital with life-like simulator patients and patient actors. As Pamela J. Garrison, a retired nurse and co-chair of the hospital's fundraising campaign, noted, "We all know that simulation saves lives."

| more

SNAPSHOT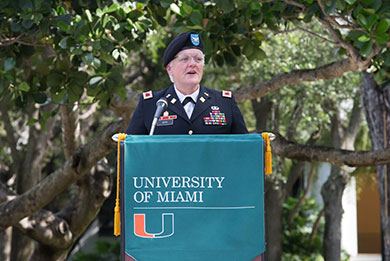 The U Honors Veterans at Annual Tribute and Inaugural Career Fair
U.S. Army Reserve Colonel Alice Kerr, a UM alumna and an executive director in UM's Information Technology department, spoke movingly at the University's Veterans Day Tribute on November 11 about her choice to serve her country and was visibly touched by the many World War II veterans in attendance. Held at the Rock, the annual tribute followed the University's inaugural 
Hiring Heroes
 career fair for veterans, which a day earlier attracted more than 75 veterans with wide-ranging experience to the BankUnited Center Fieldhouse.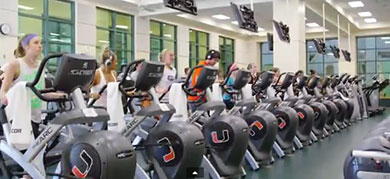 Take It from a Pro: The DCC is a Great Reason to Start a Fitness Program
Riding, running, or walking in the Dolphins Cancer Challenge (DCC) on Saturday, February 20 is a great way to support research at Sylvester Comprehensive Cancer Center and improve your physical fitness. As Tony Musto, director of fitness for the Department of Recreation and Wellness, notes, "Whatever your current condition, there is plenty of time to get in shape for the DCC." | more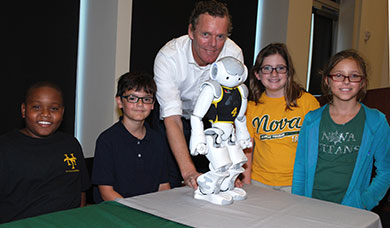 Soccer-Playing Robot Introduces Fifth-Graders to Science and Technology
Fifth-graders from Broward County's Nova Blanche Forman Elementary School, including, from left, Adonis Williams, Niko Santos, Autumn Calcagno, and Hanna Bookman, met UM's soccer-playing robot—and guide Ubbo Visser, associate professor in the Department of Computer Sciences—last week while learning about careers in science, technology, engineering, and math as part of the School of Education and Human Development's Transformative Robotics Experience for Elementary Students (TREE) program.

DIRECCT TALK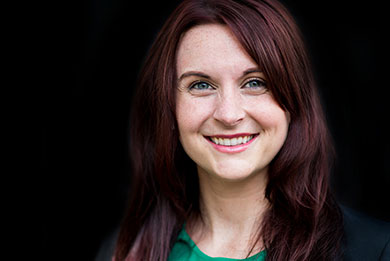 Lauren Gjolaj Demonstrates UM's Commitment to Teamwork
In this week's DIRECCT Talk, Lauren Gjolaj, the director of clinical operations at University of Miami Hospital and Clinics, shows why she and her team are so driven to—and recognized for—providing personalized and efficient care to patients and their families at Sylvester Comprehensive Cancer Center. As she notes, "That's especially important with cancer patients whose time is so precious." | more

FOR YOUR BENEFIT
Staff Vacation Donation Policy Reinstated
Staff vacation donation, previously suspended for compliance updates, has been reinstated. The revised policy allows employees to donate their vacation time to employees who are suffering from a personal or immediate family catastrophic illness or injury, but do not have enough accrued time to remain in pay status during their absence. For more information, contact your HR business partner. | more

Mindful Living
This month's lunchtime seminar, presented by the Faculty and Staff Assistance Program on all three campuses this week, will emphasize the development of a body scan practice. Register through ulearn.miami.edu and attend to awaken your innate capacity for mindful living and nurture a practice to positively inspire every facet of your life.

Coral Gables campus: Tuesday, November 17, 12 to 1 p.m., Whitten University Center, room 2300H

Miller School campus: Wednesday, November 18, 12 to 1 p.m., Clinical Research Building, room 692

Rosenstiel campus: Thursday, November 19, 12 to 1 p.m., Library Media Room | more

UM PRESENTS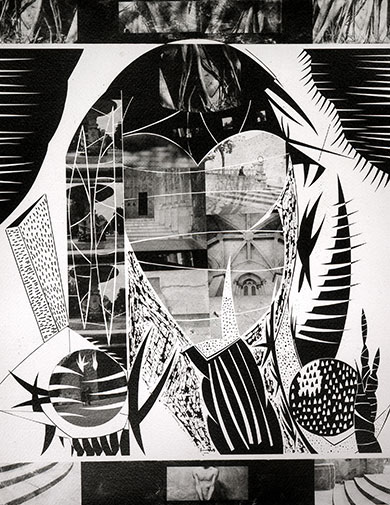 Childhood Stamp Collection Inspires Exploration of History, Memory, and Identity
Prints from María Martínez-Cañas' renowned Quince Sellos Cubanos portfolio, which reimagined iconic images from 15 stamps in the artist's childhood stamp collection, are on display through December 2015 at Richter Library. Join Martínez-Cañas and UM's J. Tomás López, professor of Art and Art History and head of Electronic Media and Photography, whose prints are part of the Smithsonian and other major collections, for a reception and conversation on the exploration of history, memory, and identity at 6:30 p.m. on Thursday, November 19 at the Roberto C. Goizueta Pavilion. | more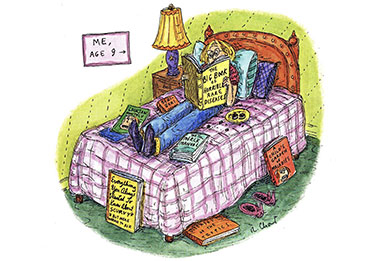 New Yorker Cartoonist to Mix Art and Humor with Bubbles & Brunch
Award-winning New Yorker cartoonist and author Roz Chast will discuss a relevant topic—Can't we talk about something more pleasant?—and sign her acclaimed graphic memoir of the same title at the Lowe Art Museum's annual Bubbles & Brunch breakfast on Sunday, December 6. Coinciding with Art Basel Miami Beach, the breakfast begins at 10 a.m. at the Lowe, followed by the talk at 11:30 a.m. at the BankUnited Center Fieldhouse. Tickets are $15 and may be purchased online. | more

Practice 'Mindfulness and the Art of Self-Reflection' at the Lowe November 18 | more

MORE NEWS