UM NEWS
MILLER SCHOOL OF MEDICINE
New Therapy Provides Hope to Patients with Hepatitis C and Kidney Disease
Led in part by David Roth, the Miller School's director of kidney transplantation, an international study of a new antiviral therapy for patients with hepatitis C and chronic kidney disease shows great promise for those who have few treatment options. | more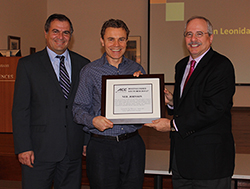 COLLEGE OF ARTS AND SCIENCES
Physicist Selected as ACC Distinguished Scholar
Neil Johnson, professor of physics, has been selected as one of five Atlantic Coast Conference Distinguished Lecturers for the 2015-2016 academic year, an honor that provides outstanding faculty at ACC institutions with research stipends and opportunities to lecture at and build collaborations with other ACC schools. | more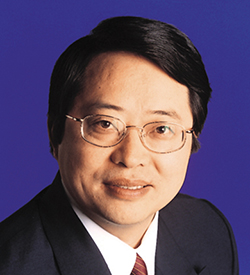 SCHOOL OF BUSINESS ADMINISTRATION
Professor Named Most Prolific Overseas Chinese Strategy Scholar
Yadong Luo, the Emery Findley Distinguished Chair and professor of management, is the world's most prolific Chinese strategy scholar outside of mainland China, according to the Asia Pacific Journal of Management and a study of articles published in the "eight most strategy-relevant journals." | more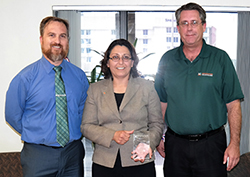 UNIVERSITY OF MIAMI INFORMATION TECHNOLOGY
UMIT Team Honored for Advancing Medical Imaging and Storage
Members of the University of Miami Information Technology's Enterprise Imaging Team recently won Merge HealthCare's 2015 Visionary Award for their contributions to imaging software that facilitate the efficient archiving and distribution of any medical image, regardless of its format or origin. | more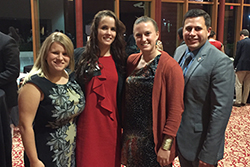 STUDENT AFFAIRS
Global Citizen Receives State Service Awards
Senior Natasha Koermer, a biomedical engineering major who has created sustainable solutions to global engineering and health issues, received the Student Excellence in Service Award and was honored as a Newman Civic Fellow at Florida Campus Compact's annual gala. | more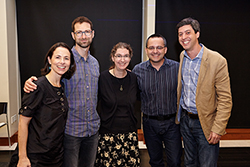 CENTER FOR COMPUTATIONAL SCIENCE
VizUM Celebrates the Growing Art—and Field—of Data Visualization
United by their keen interest in recasting complex data in understandable and visually appealing ways, about 100 students, faculty, alumni, and others celebrated the burgeoning field of data visualization at the second annual VizUM Symposium, which featured leaders of Google's "Big Picture" data visualization research group, among others. | more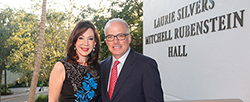 SCHOOL OF LAW
Building E Renamed for Laurie Silvers and Mitchell Rubenstein
Home to some of Miami Law's award-winning clinics, Building E has been renamed the Laurie Silvers and Mitchell Rubenstein Hall in recognition of the couple's generosity to the School of Law, including their latest gift to the Miami Scholars Public Interest Program, which provides full-tuition scholarships to law students with a passion for public service. | more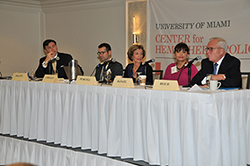 CENTER FOR HEMISPHERIC POLICY
Is Venezuela Coming Apart?
As audience members who found Venezuela's nearly worthless currency under their seats learned at an aptly named panel discussion this month, Venezuela's economy is in shambles, which, some experts said, could help President Nicolás Maduro's opponents seize control of the National Assembly in next month's parliamentary elections. | more

UNITED WAY
Support the United Way by Cheering on the Men's Basketball Team
Support the men's basketball team and the United Way by buying tickets to the game against the Princeton Tigers on Tuesday, December 29, when the Athletics Department will donate a portion of some ticket proceeds to the United Way of Miami-Dade. You can also help UM, which to date has raised nearly $700,000 of its $1.18 million goal, improve the education and health of children and families by making your monthly or lump-sum United Way contribution on Workday by December 31. | more

UNIVERSITY
Tuesday Deadline for Next e-Veritas
Due to the Thanksgiving holiday, the deadline for the November 30 issue of e-Veritas has been moved up to 10 a.m. on Tuesday, November 24.

ATHLETICS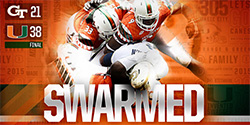 Hurricanes Swarm Yellow Jackets on Senior Day


Mark Walton ran for two touchdowns and caught a pass for another score, Brad Kaaya passed for 300 yards and a touchdown, and Michael Badgley tied a school record with a 57-yard field goal as the Miami Hurricanes celebrated Senior Day by defeating the Georgia Tech Yellow Jackets 38-21 on Saturday at Sun Life Stadium.

| more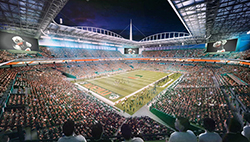 The Search for Head Football Coach 'Well Underway'
Athletic Director Blake James announced last week that the University has formed an advisory committee and retained Korn Ferry, one of the world's most respected and experienced search firms, to assist its search for a new head football coach. | more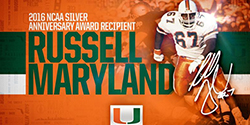 Maryland Earns NCAA Silver Anniversary Award
Legendary Miami Hurricanes defensive lineman Russell Maryland and five other student-athletes have been recognized with the NCAA Silver Anniversary Award for their collegiate and professional achievements. | more
SPOTLIGHT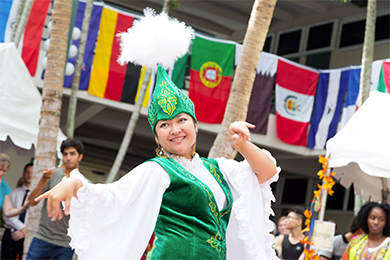 International Thanksgiving Graces the U with 'Smiles and Understanding'


Hundreds of international students, including  Ayagul Abitbekova of Kazakhstan, above, gathered in the Allen Hall courtyard Friday for the Intensive English Program's 32nd annual International Thanksgiving celebration, which featured food, fellowship, and performances from around the world, including a Korean pop dance, a martial arts demonstration, and more than 70 flavorful dishes that celebrated UM's wealth of diversity.  

View the slideshow

.

| more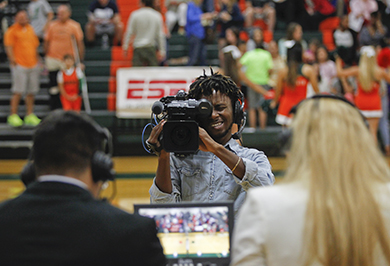 Students Gain 'Heavy Duty' Experience Broadcasting Games for ESPN3
With a $1 million investment in a new video production control room, UM Athletics is now capable of live-streaming two games at once to ESPN's Internet service, increasing exposure to UM athletics, engaging more fans, and providing unparalleled experience to students who are producing the live broadcasts, and learning as they go. | more

SNAPSHOT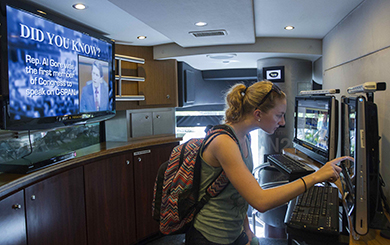 C-SPAN Visits Campus, Goes Live on Climate Change
C-SPAN's customized bus stopped at the Coral Gables campus last Thursday, giving students an opportunity to step aboard and learn about the public affairs network's in-depth coverage of Congress, the White House, federal courts, and the American political process. Before the award-winning bus opened for tours, C-SPAN's flagship call-in program, Washington Journal, interviewed Rosenstiel School of Marine and Atmospheric Science professor Ben Kirtman from the bus's mobile studio about one of the world's most pressing issues: climate change. | more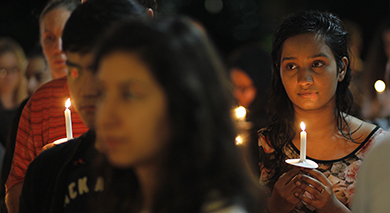 Students Send Light and Love to Victims of Terror
About 200 members of the UM community held a candlelight vigil organized by the Council of International Students and Organizations at the UC Rock last Wednesday to send light and love to victims of recent terror attacks around the globe. | more

DOLPHINS CANCER CHALLENGE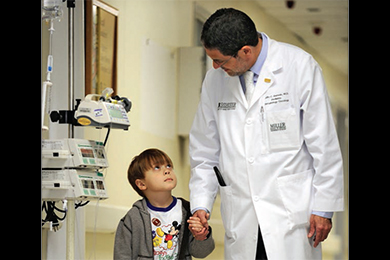 DCC Funds at Work: Sylvester Researcher Making Progress against Childhood Leukemia
Why do some children with leukemia respond well to treatment and others don't? Noted pediatric cancer researcher Julio Barredo is making progress in answering that life-and-death question with vital support from the Dolphins Cancer Challenge, which allocates 20 percent of the funds it raises for research at Sylvester Comprehensive Cancer Center to finding cures for pediatric cancer. Learn more about Barredo's research and the DCC, which will be held on Saturday, February 20. | more

DIRECCT TALK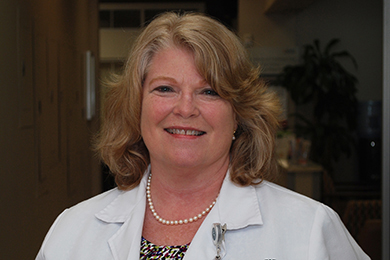 Nurse's Compassion Guides Patients on Their Cancer Journey
In this week's DIRECCT Talk, Karen Scanlon Henry, a hematology-oncology nurse at Sylvester Comprehensive Cancer Center at Kendall, shares the source of her commitment to excellence, compassion, and teamwork—being able to support patients and their families during one of the most vulnerable times of their lives. "Not everyone with cancer gets better," she says, "so we try to make each day of their journey as meaningful as possible." | more

FOR YOUR BENEFIT
Week of Well-Being Wants You in 2016
Faculty, staff, students, and alumni are invited to share their knowledge and expertise by becoming presenters during the fourth annual Week of Well-Being, which will be held April 4-8 on all three campuses and many satellite locations. Become part of the week of lectures, fitness classes, financial workshops, and other activities focused on advancing the well-being of UM faculty and staff by completing and submitting the Presenter Proposal Form by Friday, December 11. | more

Well-Woman Exams Now Available at Healthy 'Canes Employee Clinics
The Healthy 'Canes Employee Clinics, which offer convenient UHealth medical care for minor illnesses on a walk-in basis for just $10 per visit, will begin offering routine gynecological exams, breast exams, and Pap smears in December. This new service will be available from 7:30 a.m. to 3 p.m. on Tuesdays at the Coral Gables location and Wednesdays at the medical campus location. | more

InsideUM Fall 2015 Edition Now Available 
Get up close and personal with UM's sixth president, Julio Frenk, learn how to transform your workspace, and meet some of our proud employee veterans in the Fall 2015 edition of InsideUM.

Mind and Matter, FSAP's Winter Edition eNewsletter, Now Available
The winter edition of Mind and Matter, the Faculty and Staff Assistance Program's quarterly newsletter, offers valuable information on the importance of mental health wellness. To receive the newsletter or seminar announcements via email, visit the Faculty and Staff Assistance Program website or contact Caliope Bootle at cbootle@miami.edu. | more

UM PRESENTS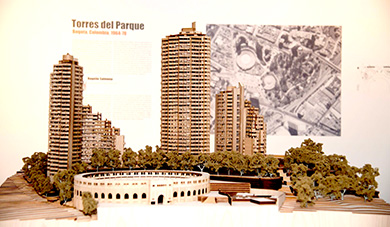 On the Road: Seven Latin American Architects Return to UM
Seven models commissioned by New York's Museum of Modern Art and crafted by School of Architecture students for MoMA's Latin America in Construction: 1955-1980 exhibition have returned to UM and are on display through December 7 at the Korach Gallery, which hosts an Art Basel Kickoff Reception for 7 Latin American Architects on the Road at 6:30 p.m. on Monday, November 30. | more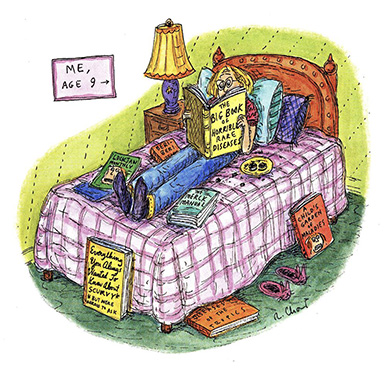 New Yorker Cartoonist Mixes Art and Humor with Bubbles & Brunch
Award-winning New Yorker cartoonist and author Roz Chast will discuss a relevant topic—Can't we talk about something more pleasant?—and sign her acclaimed graphic memoir of the same title at the Lowe Art Museum's annual Bubbles & Brunch breakfast on Sunday, December 6. Coinciding with Art Basel Miami Beach, the breakfast begins at 10 a.m. at the Lowe, followed by the talk at 11:30 a.m. at the BankUnited Center Fieldhouse. Tickets are $15 and may be purchased online. | more

MORE NEWS