UM NEWS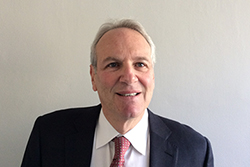 UNIVERSITY
Renowned Physician and Health Care Administrator Tapped to Lead UHealth
Steven M. Altschuler, who served as president and chief executive officer of The Children's Hospital of Philadelphia and The Children's Hospital Foundation for the past 15 years, has been named senior vice president of health affairs at the University of Miami and chief executive officer of UHealth-University of Miami Health System. | more


UNIVERSITY
Save the Date to Chart the Course to Our New Century
With the theme "Charting the Course to Our New Century,'' Julio Frenk will be inaugurated as the University of Miami's sixth president on Friday, January 29, and the community celebration will include a week of events ranging from academic lectures and exhibits to a series of 'Cane Talks tackling the big questions facing society. | more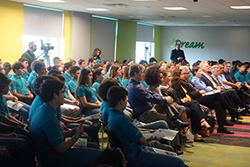 SCHOOL OF ARCHITECTURE
CUCD Talks Climate Change with Kids Too Young to Vote But Not Act
The Center for Urban and Community Design teamed with Miami-Dade County and an innovative builder of net-zero housing to talk climate-resilient neighborhood design with students in the COAST Academy at Cutler Bay Senior High School, who CUCD Director Sonia Chao acknowledged will have to clean up a lot of the mess her generation created. | more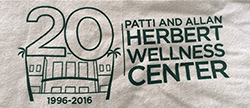 SCHOOL OF COMMUNICATION
Students Create PR Campaign for Wellness Center Anniversary
Applying what they've learned over four years, Colee Splichal's Public Relations Campaigns class created the entire campaign—from the logo to the anniversary party—for the Patti and Allan Herbert Wellness Center's upcoming 20th anniversary celebration. "I had to tell them from the beginning this isn't like any other class you've had," said Splichal, who was enlisted by Wellness Center marketing specialist Mike Piacentino. | more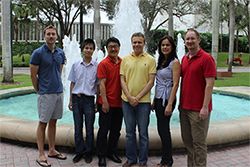 COLLEGE OF ARTS AND SCIENCES
Different Disciplines Unite to Connect the Dots in Big Data


Expanding on the big data collection and complexity science research underway at the College of Arts and Sciences, physicists, computer scientists, biologists, and geographers are working together to analyze the enormous amounts of real-time data that can reveal potential patterns or trends in almost every facet of life, from social to biological, medical, chemical, and even psychological systems.

| more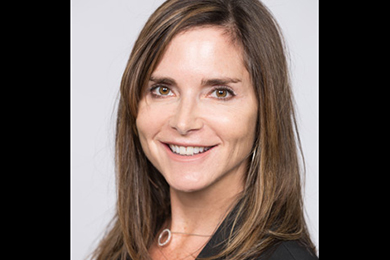 SCHOOL OF LAW
LawWithoutWalls Receives International Curriculum Award
A paper by Professor Michele DeStefano, founder and director of LawWithoutWalls, the part-virtual collaborative model that brings together more than 750 students, faculty, practitioners, academics, entrepreneurs, and venture capitalists to explore legal innovation and practice around the world, received the International Association of Law Schools' Faculty Innovative Curriculum Award. | more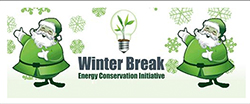 UNIVERSITY
Join the Winter Break Energy Conservation Initiative
Green U, Facilities Management, and the Student ECO Agency encourage faculty, staff, and students to help reduce the University's carbon footprint during the upcoming winter break by following some simple, energy-saving measures. And if you post a funny energy-saving-in-action picture on Facebook, you could win a gift card from Whole Foods or Starbucks. | more


UNITED WAY
Cheer on Men's Basketball and Support the United Way
Support the United Way by buying tickets to the men's basketball game against the Princeton Tigers on Tuesday, December 29, when the Athletics Department will donate a portion of some ticket proceeds to the United Way of Miami-Dade. You can also help UM, which has raised 62 percent of its $1.18 million goal, improve the education and health of children and families by making your United Way contribution on Workday by December 31. | more

ATHLETICS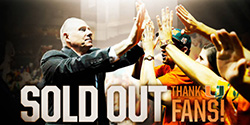 Hoops History: Men's Team Sells Out Season Tickets for First Time


Don't count on finding season tickets to UM men's basketball in your holiday stocking. For the first time in Miami Athletics history, season tickets for home games at the BankUnited Center have sold out, an accomplishment not even UM's national championship football and baseball programs can claim.

| more

Men's and Women's Hoops Face Big Ten/ACC Challenges This Week
Off to an impressive 5-1 start, the nationally ranked Miami Hurricanes men's basketball squad travels to Nebraska to take on the Cornhuskers in a Big Ten/ACC Challenge matchup that will be televised live on ESPNU at 9 p.m. on 
Tuesday, December 1
. Then at 7 p.m. on 
Wednesday, December 2
, the undefeated women's team squares off against Illinois at the BankUnited Center, as part of the Big Ten/ACC Women's Basketball Challenge. Keep up with the latest on Hurricane Hoops at 
hurricanesports.com
.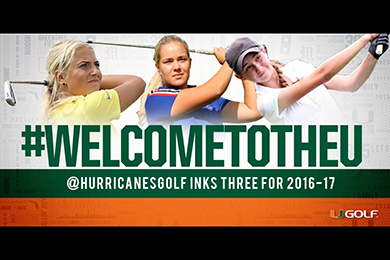 Women's Golf Inks Three Standout Student-Athletes
Macarena Aguilera, Renate Grimstad, and Filippa Möörk, three high school standouts with a tremendous amount of national and international experience, have signed national letters of intent to continue their academic and athletic endeavors with the Hurricanes women's golf team, beginning in the fall of 2016. "With these three recruits and the three existing players, we will be six players deep for next season," said head coach Patti Rizzo. | more

EVENTS
For a comprehensive listing of the University of Miami's many events—including lectures, exhibitions, workshops, medical grand rounds, seminars, and more, 

click here.
SPOTLIGHT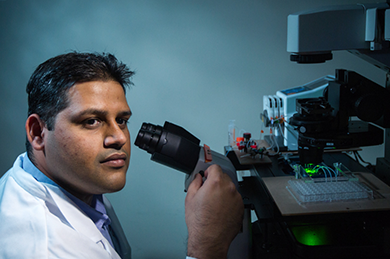 Organs on Chips: Researcher Creates Human Organs That Mimic Real Ones
Imagine a heart beating outside the human body. Imagine that it acts just like the real thing but can be handled and studied like other objects. What possibilities would that create for physicians, scientists, pharmaceutical researchers, and other scholars? Ashutosh Agarwal, assistant professor in the Department of Biomedical Engineering, is ready to answer those questions with his creation, "Human Organs on Chips." | more

SNAPSHOT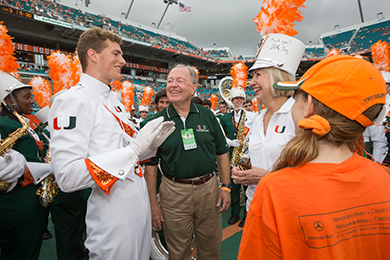 The Band of the Hour Trumpets Its Thanks to the Newmans


The Frost School of Music recognized longtime and beloved supporters Robert and Judi Newman for equipping the Band of the Hour with new uniforms and instruments at a special halftime presentation during the November 21 game against Georgia Tech at Sun Life Stadium.

| more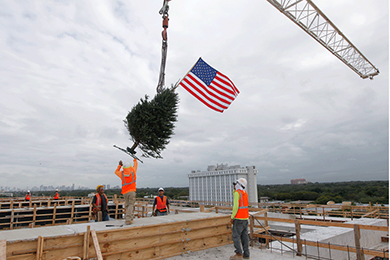 UHealth at Coral Gables 'Tops Off' The Lennar Foundation Medical Center
Eleven months after The Lennar Foundation Medical Center, home of UHealth at Coral Gables, broke ground on the University of Miami's Gables campus, construction on the facility came to a brief halt—for a traditional "topping off" ceremony marking the placement of the last beam on the five-story building's rooftop. | more

DOLPHINS CANCER CHALLENGE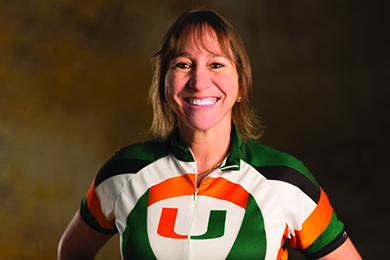 DCC With Me: Cyclist Loves 'Amazing Feeling' of Crossing the Finish Line
A grants accountant with the Office of Research Administration, Lisa Siegel will ride in her fifth Dolphins Cancer Challenge on Saturday, February 20, in honor of her grandmother, who died from the disease, her aunt, who is a cancer survivor, and the researchers at Sylvester Comprehensive Cancer Center. "Cancer affects everyone, and our researchers at Sylvester are making tremendous strides," she says. | more

DIRECCT TALK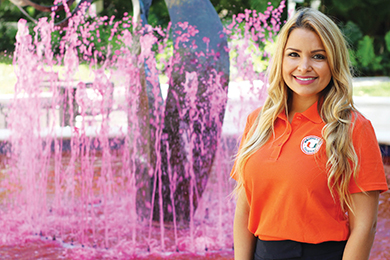 Inspired by Sight-Restoring Surgery, Patient Access Director Becomes Culture Coach
In this week's DIRECCT Talk, Natacha Caballero, the director of Patient Access at Sylvester Comprehensive Cancer Center who joined UM as a temporary employee, discusses the moments that inspired her pride in being "part of such an incredible organization" and her dedication to helping lead the U's culture transformation journey. | more

GREEN U CORNER

Get Your Holiday Party or Other Events Green Certified
Feeling guilty about holiday waste? Apply to Green U's Green Event Certification Program and motivate your department to follow some easy, waste-reducing measures when planning events for 50 or fewer people, including ordering from a green menu, donating leftovers, and using refillable water dispensers.

FOR YOUR BENEFIT
Learn Relaxation Techniques for Coping with Stress
This lunchtime seminar facilitated by a Faculty and Staff Assistance Program consultant will be offered on all three campuses next week for those interested in learning calming and effective relaxation techniques for managing and reducing day-to-day anxiety and stress at work and at home. Register through ulearn.miami.edu. | more

Employees Encouraged to Update Voluntary Self-Identification
The University of Miami, as required by federal law, invites employees to self-identify their disability status in Workday. Providing any information about a disability is voluntary and will not be used against any employee in any way. Employees are not required to provide a disability status as a condition of continued employment. Employees who voluntarily provided their Protected Veteran status when hired are also encouraged to verify and update this information. Read more about this federal regulation and learn how to view and update your personal information.

Week of Well-Being Wants You in 2016
Faculty, staff, students, and alumni are invited to share their knowledge and expertise by becoming presenters during the fourth annual Week of Well-Being, which will be held April 4-8. Help advance the well-being of UM faculty and staff by completing and submitting the Presenter Proposal Form by Friday, December 11. | more

 Well-Woman Exams Now Available at Healthy 'Canes Employee Clinics | more

UM PRESENTS
New Work by UM's MFA Candidates Honors Art Basel Miami Beach
The Department of Art and Art History will feature new works by UM's Master of Fine Arts students at the University of Miami Art Gallery in the Wynwood Building from Tuesday, December 1 through Friday, January 22, with an opening reception for the artists on Friday, December 4, from 6 to 10 p.m. | more

On the Road: Seven Latin American Architects Return to UM; Reception on November 30 | more

MORE NEWS