UM NEWS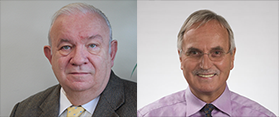 UNIVERSITY
Senate Taps Two Faculty for Top Honors
The Faculty Senate has unanimously voted to honor School of Law Professor Richard L. Williamson with the James W. McLamore Outstanding Service Award and, for the first time, to bestow a Special Faculty Senate Award posthumously, honoring the accomplishments of Eckhard Podack, the distinguished cancer researcher and educator at Sylvester Comprehensive Cancer Center who passed away October 8. | more

UNITED WAY
With the End in Sight, TeamUM Needs Your Help
With just 24 days left in the 2015 United Way TeamUM campaign, nearly 3,000 faculty and staff, or about 21 percent, have contributed nearly $800,000 of the U's $1.18 million goal. If you haven't done your part to help the University improve the health and education of children and families in our community—and remain one of only five institutions to exceed the $1 million mark annually—visit Workday to make your lump-sum or monthly contribution. | more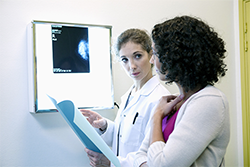 UNIVERSITY
Stress Management Helps Women Survive Breast Cancer Longer
Newly published research from a National Cancer Institute-funded randomized trial at Sylvester Comprehensive Cancer Center shows that women who were taught skills to manage stress early in their breast cancer treatment had improved survival rates and longer intervals of remission 8 to 15 years post-diagnosis. | more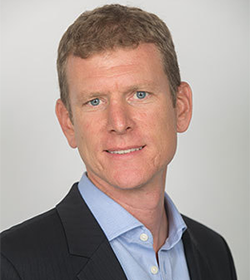 SCHOOL OF LAW
Law Professor Compares Renewable Energy Experiences
A new study co-authored by Felix Mormann, a UM law professor and faculty fellow at Stanford University's Steyer-Taylor Center for Energy Policy and Finance, challenges the conventional wisdom regarding the large-scale deployment of solar, wind, and other low-carbon renewables. | more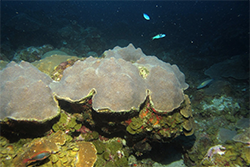 ROSENSTIEL SCHOOL OF MARINE AND ATMOSPHERIC SCIENCE
Deep-Water Corals Provide Insights for Their Shallow-Reef Counterparts
A UM-led research team that analyzed the sediments of deep-water reef communities found an important record of the bottom-dwelling organisms that formed the architecture of coral reef ecosystems and support their high biodiversity today. | more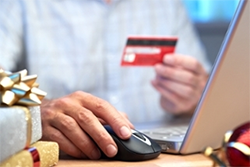 SCHOOL OF BUSINESS ADMINISTRATION
Study Finds Videos Entice Online Shoppers to Spend
Offering guidance to retailers as the holiday shopping season begins, a new marketing study conducted at UM shows that online shoppers are 79 percent more likely to choose more expensive and pleasurable options over cheaper and functional ones when video is used to sell the options. | more

ATHLETICS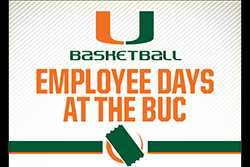 Basketball Employee Days Return to the BUC
With the men's and women's hoops teams both off to hot starts, Basketball Employee Days at the BUC are back, featuring a selection of games at bargain prices. Buy up to four tickets for only $1.50 each and add a pregame tailgate for just $1.50 each to the men's match against either the Charleston Cougars on Saturday, December 19 or Florida State on Saturday, January 9. And for just $1 a ticket, watch the women take on Florida State on Sunday, January 24 or the Louisville Cardinals on Thursday, February 25. | more

Compliance Corner: Holiday Reminders
As the holiday season approaches, the Office of Athletics Compliance reminds faculty and staff of a few rules and regulations prohibiting the provision of extra benefits to and the recruitment of student-athletes or prospective student-athletes. | more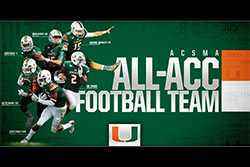 Six Hurricanes Named to ACSMA All-ACC Team
Cornerback Artie Burns, wide receiver Stacy Coley, quarterback Brad Kaaya, kicker Michael Badgley, running back Joseph Yearby, and safety Deon Bush, all of whom played key roles in the bowl-bound Miami Hurricanes winning season, have been named to the 2015 All-ACC football team by members of the Atlantic Coast Sports Media Association. | more

Holiday Schedule for e-Veritas
The last issue of 
e-Veritas
 in 2015 will publish on 
Monday, December 21
, and the first one of 2016 will publish on 
Monday, January 11
.

EVENTS
For a comprehensive listing of the University of Miami's many events, including lectures, exhibitions, workshops, medical grand rounds, seminars, and more, 
click here
.
SPOTLIGHT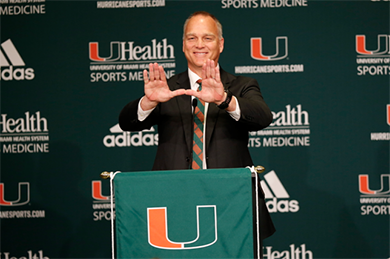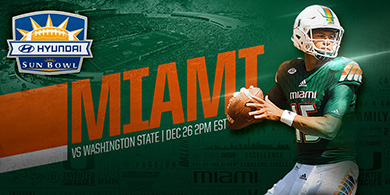 Mark Richt Returns Home to Coach the 'Canes, Who Are Headed to the Sun Bowl
Mark Allan Richt, who played quarterback at the U under legendary coach Howard Schnellenberger and went on to achieve coaching stardom at one of the SEC's most storied programs, was named UM's 24th head football coach on Friday, two days before the 'Canes accepted a bid to the Hyundai Sun Bowl in El Paso where they'll face Washington State on Saturday, December 26, marking their 39th bowl appearance. | more

SNAPSHOT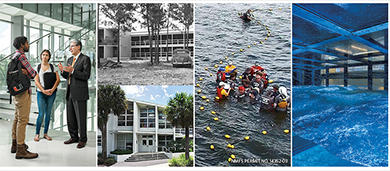 Take MIAMI Magazine on a Tour of the Past, Present, and Future
Follow UM President Julio Frenk's roadmap to the next century, revisit the U's historic "front door," hear the secrets dolphins hold for human health, and plunge into the world's only hurricane simulator capable of generating Category 5 hurricane-force winds with swells and sea spray—all in the Fall 2015 issue of MIAMI–the University of Miami Magazine, now available online and around campus.

DOLPHINS CANCER CHALLENGE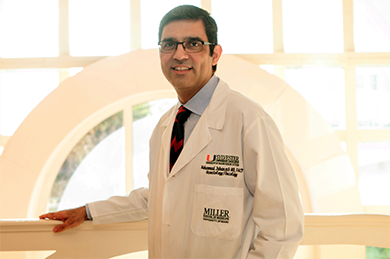 Lung Cancer Specialist says 'DCC with Me!'
As a lung cancer clinician and researcher at Sylvester Comprehensive Cancer Center, Mohammad Jahanzeb understands the importance of the Dolphins Cancer Challenge, which he will ride in with his son on Saturday, February 20. "Survival rates for patients with advanced lung cancer have more than tripled in the past five years, thanks to new targeted strategies that go beyond traditional chemotherapy," he says. "The research work of our colleagues at Sylvester—supported by the DCC—and elsewhere is really paying off." | more

DIRECCT TALK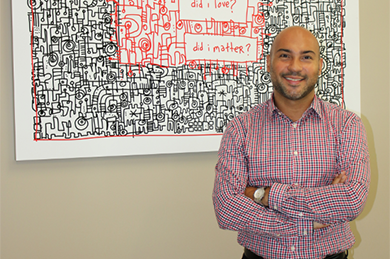 Toppel Center Director Transforms Lives through Art
In this week's DIRECCT Talk, Christian Garcia, associate dean and executive director of the Toppel Career Center, explains how 85 pieces of inspirational art help the center inspire not only visitors but staff. "Sometimes you have to take a chance on transforming your workspace," he said. "With one change you can truly make a positive impact on cultural transformation." | more

FOR YOUR BENEFIT
Information Sessions Begin This Week for Essentials of Leadership January 2016 Series
Managers at the University have the opportunity to develop their leadership skills with Essentials of Leadership, a customized program aligned with the UM Common Purpose and Values and leadership traits and behaviors. Information sessions begin this week and enrollment for the next series runs through January 3. To learn more, attend an info session, visit Essentials of Leadership Program, or contact Workforce Engagement and Development at 305-243-3090. | more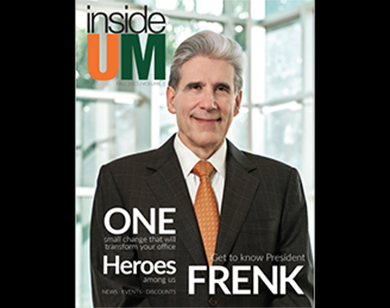 InsideUM Fall 2015 Edition Now Available
Get up close and personal with the University's sixth president, Julio Frenk, learn how to transform your workspace, and meet some of our proud employee veterans in the 
Fall 2015
 edition of InsideUM. 

Learn Relaxation Techniques for Coping with Stress
This lunchtime seminar facilitated by a Faculty and Staff Assistance Program consultant will be offered on all three campuses this week for those interested in learning calming and effective relaxation techniques for managing and reducing day-to-day anxiety and stress at work and at home. Register through ulearn.miami.edu. | more

Employees Encouraged to Update Voluntary Self-Identification
The University of Miami, as required by federal law, invites employees to self-identify their disability status in Workday. Providing any information about a disability is voluntary and will not be used against any employee in any way. Employees who voluntarily provided their Protected Veteran status when hired are also encouraged to verify and update this information. Read more about this federal regulation and learn how to view and update your personal information.

UM PRESENTS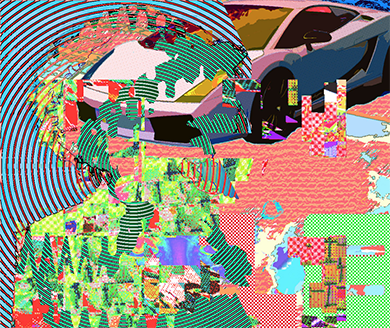 Graduating Bachelor of Fine Arts Students Show Their Stuff
The work of graduating Bachelor of Fine Arts students Silvana Arguello (graphic design), Erin Holmes (ceramics), Natasha Lopes (sculpture), Gabriel Madan (printmaking), and Alexandrea Scott-Van Deusen (graphic design) will be on display at the College of Arts and Sciences Gallery, at the Wesley Foundation, from Tuesday, December 8 through Friday, December 18. For more information contact Milly Cardoso at 305-284-3161 or m.cardoso1@miami.edu.

MORE NEWS