UM NEWS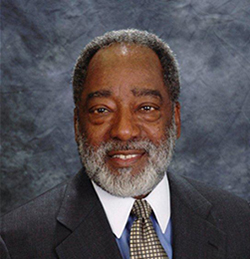 UNIVERSITY
Civil Rights Champion H.T. Smith to Speak at Fall Commencement


UM trustee and alumnus H.T. Smith Jr., who withstood "the withering cold of Jim Crow" to become one of Miami's most distinguished lawyers and civic leaders, will share his advice with more than 1,000 graduating students at the 2015 fall commencement ceremony at the BankUnited Center at 10 a.m. on

Thursday, December 17

.

| more

Fall 2015 Commencement: Dates and Regalia Information | more

OFFICE OF THE PRESIDENT
President Frenk Takes Steps to Make the U More Inclusive, Diverse
Reiterating his commitment to making the U a stronger, more welcoming community for all, President Julio Frenk is taking more concrete steps to ensure all students, particularly students of color and lesbian, gay, bisexual, transgender, queer, and questioning (LGBTQ) students, feel a sense of belonging and inclusion at the University of Miami. | more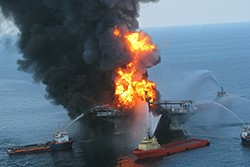 ROSENSTIEL SCHOOL OF MARINE AND ATMOSPHERIC SCIENCE
Researchers Awarded $6M to Study Oil in the Gulf
The Gulf of Mexico Research Initiative Research Board, which was established with a $500 million commitment from BP following the Deepwater Horizon explosion, has awarded UM researchers more than $6 million to study the effects of oil on the Gulf of Mexico ecosystem and public health. | more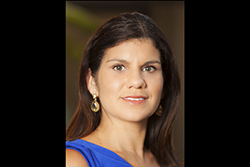 COLLEGE OF ARTS AND SCIENCES
Religion Professor Named GTU Alumna of the Year
Michelle Gonzalez Maldonado, professor of religious studies and assistant provost for undergraduate education who specializes in Latin American and feminist theologies and Afro-Caribbean studies, has been named 2015 Alumna of the Year by her alma mater, the Graduate Theological Union in Berkeley, California. | more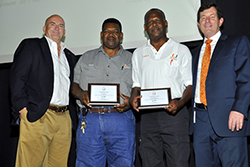 UNIVERSITY
Business and Finance Honors Longstanding Members
With 80 years of combined service, Facilities Management's Clifford Benjamin and Vernell Berry, who began their careers at UM in 1975, were the longest serving of the 61 employees recognized at the Division of Business and Finance's annual Long Service Awards Ceremony hosted by Joe Natoli, senior vice president for Business and Finance and chief financial officer. More than 250 guests honored employees who marked between 10 and 40 years of service in 2015. View the photo gallery and list of the honorees.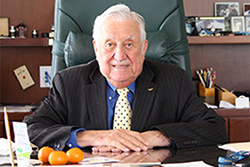 SCHOOL OF LAW
U.S. Bankruptcy Judge Endows Chair in Bankruptcy
Judge A. Jay Cristol, a 1959 Miami Law graduate who is still fascinated by bankruptcy law after 30 years on the U.S. Bankruptcy Court for the Southern District of Florida, has pledged $2 million to create the Judge A. Jay Cristol Endowed Chair in Bankruptcy. He previously gave a leadership gift to what is now the Eleanor R. Cristol and Judge A. Jay Cristol Bankruptcy Pro Bono Assistance Clinic. | more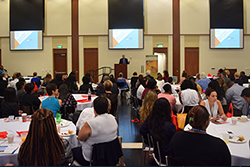 SCHOOL OF NURSING AND HEALTH STUDIES
El Centro Hosts Child Welfare Training
Spearheaded by faculty members Anthony Roberson and Rosa Gonzalez-Guarda, The Center of Excellence for Health Disparities Research co-hosted the Miami Dade Community Based Care Alliance Child Welfare Conference at UM last week, when dozens of judges, case managers, attorneys, and other child welfare advocates received training on therapeutic approaches to addressing substance abuse, domestic violence, and mental health issues among children and families interacting with the criminal justice system. | more


UNITED WAY
Cheer on the Men's Basketball Team and Help the United Way


Support the men's basketball team and the United Way on 

Tuesday, December 29

, when Athletics will donate some ticket proceeds from the UM-Princeton Tigers game to the United Way of Miami-Dade. There's also just 17 days left to make your monthly or lump-sum contribution to help TeamUM, which to date has raised $885,000, meet its $1.18 million United Way goal by the 

December 31 

deadline.

| more

ATHLETICS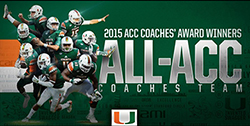 Nine 'Canes Selected to All-ACC Coaches Team
Nine student-athletes from the bowl-bound Miami Hurricanes football squad, which won four of its last five games, have been named to the 2015 All-Atlantic Coast Conference team by the league's 14 head coaches. | more

Motley Named to Naismith Trophy Watch List
Junior guard Adrienne Motley, whose stellar play (16.1 points per game and 50.4 shooting percentage) has catapulted the Hurricanes women's hoops team to a 10-0 start and national ranking, has been named to the early season watch list for the 2016 Naismith Trophy Women's College Player of the Year award. | more

Holiday Schedule for e-Veritas
The deadline for the last issue of  
e-Veritas
 in 2015, which will publish on 
Monday, December 21
, has been moved up one day to 
Tuesday, December 15
. The first 
e-Veritas
 in 2016 will publish on 
Monday, January 11, 
with a normal Wednesday deadline
.

EVENTS
For a comprehensive listing of the University of Miami's many events—including lectures, exhibitions, workshops, medical grand rounds, seminars, and more, 
click here
.
SPOTLIGHT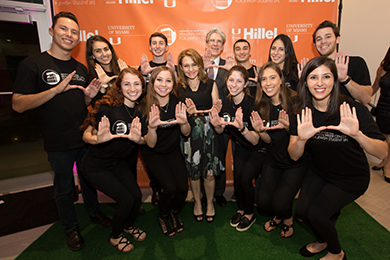 A Place to Call Home: Hillel Dedicates Expanded Braman Miller Center for Jewish Student Life
On the fourth night of Hanukkah last week, students, alumni, parents, donors, and others celebrated the newly renovated Braman Miller Center for Jewish Student Life at the University of Miami Hillel, which, made possible by two of Miami's most philanthropic families and Hillel International, creates a space where students can deepen connections with fellow Jewish students and Jewish culture. | more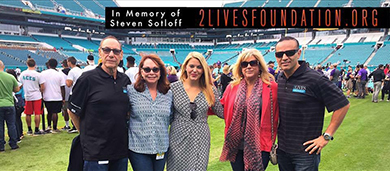 Steven Sotloff's Legacy Endures with Scholarship to UM Journalism Student
A year after South Florida journalist Steven Joel Sotloff lost his life at the hands of Islamic State militants, his parents stood on the field of Sun Life Stadium, home to their son's beloved Dolphins, to award the first Steven Joel Sotloff Memorial Endowed Scholarship to UM sophomore Carlen Dickerson, a model student "whose passion and curiosity reflect Steven's." | more

SNAPSHOT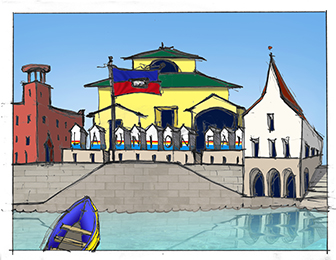 Drawings Help Build Success from the Bottom Up in Haiti
Bridging the gap between designers and ordinary citizens, School of Architecture Professors Jaime Correa and Steven Fett produced clear, direct, and simple "primitive drawings" to depict the future of Haiti's post-earthquake Arcahaie region. They'll present their paper, "Success from the Bottom Up – Lessons Learning in Haiti's Arcahaie Region," at the Association of Collegiate Schools of Architecture's annual meeting next spring. | more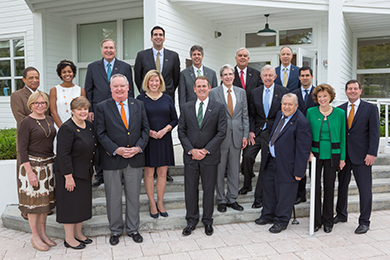 UM and Coral Gables Leaders Meet at the U's Historic Front Door
With the University of Miami and City of Coral Gables celebrating their founding 90 years ago by real estate developer George Merrick, leaders from both institutions held their annual joint Development Agreement meeting last Thursday in a place befitting their anniversary milestones—the restored 1300 Campo Sano building that served as the U's first registration and administration center. | more

DOLPHINS CANCER CHALLENGE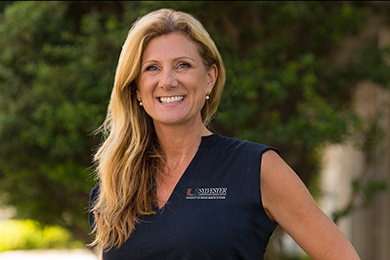 Cancer Survivor Invites Runners and Cyclists to 'DCC with Me!'
Alumna Andria Hanley was pregnant with her second child when she underwent a lumpectomy and mastectomy for breast cancer. Sixteen years later, she is cancer-free and looking forward to "hearing the cheers from cancer patients and survivors" when she runs in her first Dolphins Cancer Challenge

to support research at Sylvester Comprehensive Cancer Center

on Saturday, February 20. "The Sylvester team does amazing work, and we are really fortunate to have those expert doctors and researchers here in our backyard," she says. | more

FOR YOUR BENEFIT
Weather the Winter by Exercising Outside
Staying active during South Florida's warm winter isn't very hard, especially when the Patti and Allan Herbert Wellness Center offers several resources to help take your workout outdoors. | more

Sessions Continue This Week for Essentials of Leadership
Managers at the University have the opportunity to develop their leadership skills with Essentials of Leadership, a customized program aligned with the UM Common Purpose and Values and leadership traits and behaviors. Information sessions continue this week and enrollment for the next series runs through January 3. To learn more, attend an info session, visit Essentials of Leadership Program, or contact Workforce Engagement and Development at 305-243-3090. | more

UM PRESENTS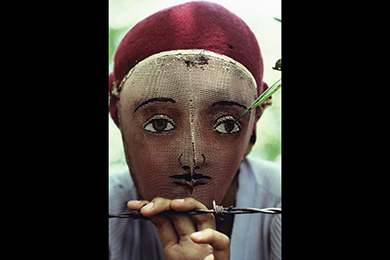 Join the Conversation with Magnum Photographers
The Lowe Art Museum will host "A Conversation with Magnum Photographers: Carolyn Drake, Thomas Hoepker, Susan Meiselas, Martin Parr, and Alec Soth" as part of The Arnold and Augusta Newman Lecture Series in Photography at 7 p.m. on Wednesday, December 16, in the Shalala Student Center Ballroom. The photographers, all members of the legendary international Magnum Photos cooperative, will sign books of their work after their panel discussion. Admission is $15 and tickets can be purchased online. | more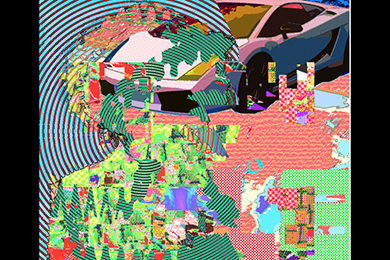 Graduating Bachelor of Fine Arts Students Show Their Stuff
The work of graduating Bachelor of Fine Arts students Silvana Arguello (graphic design), Erin Holmes (ceramics), Natasha Lopes (sculpture), Gabriel Madan (printmaking), and Alexandrea Scott-Van Deusen (graphic design) will be on display at the College of Arts and Sciences Gallery, at the Wesley Foundation, through Friday, December 18.

MORE NEWS