UM NEWS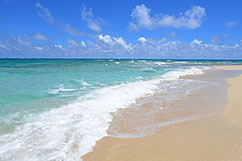 COLLEGE OF ENGINEERING
Scientists Recommend Monitoring Beach Sand, Along with Water
In a landmark paper, an international panel of scientists led by UM's Helena Solo-Gabriele, professor of engineering, recommends monitoring the sand at recreational beaches to minimize health risks for beachgoers, a consensus reached at the "Trends in Environmental Microbiology and Public Health" conference in Portugal last year. | more

UNIVERSITY
Four UM Researchers Cited Among the Most Influential in Their Fields
Four UM scholars are included in Thomson Reuters' Highly Cited Researchers 2014, which recognizes scientists whose published works are most cited by fellow researchers. Earning the "mark of exceptional impact" were Philip Harvey, professor of psychiatry; A. "Parsu" Parasuraman, chair of the Department of Marketing; Shigui Ruan, professor of mathematics; and Brian Soden, professor of atmospheric sciences. | more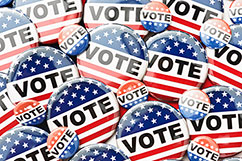 COLLEGE OF ARTS AND SCIENCES
The Pitch of a Candidate's Voice Influences Voters


As the 2016 election season heats up, two new studies led by UM's Casey Klofstad, associate professor of political science, show that the tone of a candidate's voice can influence whether he or she wins office. The analyses of real-life elections and data from experiments showed that candidates with lower-pitched voices are generally more successful at the polls.

| more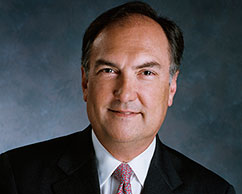 MILLER SCHOOL OF MEDICINE
Eduardo Alfonso Assumes Presidency of Hemisphere's Ophthalmology Association
Eduardo C. Alfonso, chairman of Bascom Palmer Eye Institute and holder of the Kathleen and Stanley J. Glaser Chair in Ophthalmology, was recently installed as president of the Pan American Association of Ophthalmology, which is dedicated to the prevention of blindness through lifelong education and cultural exchange among ophthalmologists in the Western Hemisphere. | more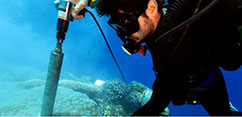 ROSENSTIEL SCHOOL OF MARINE AND ATMOSPHERIC SCIENCE
Carbon Dioxide-Spewing Volcano Drives Reef from Coral to Algae
Scientists from NOAA and the Cooperative Institute for Marine and Atmospheric Studies at the Rosenstiel School of Marine and Atmospheric Science have documented a dramatic shift from vibrant coral communities to carpets of algae in remote Pacific Ocean waters where an underwater volcano spews carbon dioxide. | more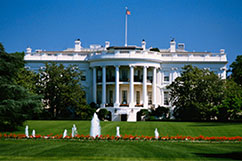 SCHOOL OF BUSINESS ADMINISTRATION
Dean Attends Unveiling of White House's Diversity Initiative
Gene Anderson, dean of the School of Business Administration, was among the nation's top business school deans and members of the Association to Advance Collegiate Schools of Business invited to the White House to advance a series of best practices for expanding opportunities for women in business and adapting to the changing workforce. | more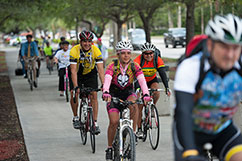 UNIVERSITY
Increase Your Pedal Power; Join a UM Bike Train
Biking to work saves gas, burns calories, and avoids traffic snarls that can derail your commute. Plus it's fun, especially when you bike with others. Now you can join a UM Bike Train, a group of pedal-powered 'Canes who live along your route and travel to campus when you do. | more

ATHLETICS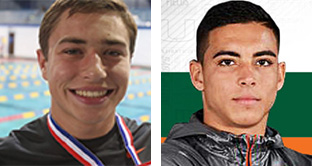 Two UM Divers Win National Titles
UM's 
David Dinsmore
 won the men's 10-meter title to close out the AT&T USA Diving National Championships in Orlando last Thursday, two days after rising sophomore 
Briadam Herrera
 took first place in the 1 meter, claiming the first national title of his budding career.

Compliance Corner: Renew Your Commitment to a Model Athletics Program
As another academic year approaches, the Athletics Compliance Office asks faculty and staff for their assistance in maintaining an athletics program that complies with all NCAA, ACC, and University rules and regulations. Need a refresher about what is impermissible? View Renewed Commitment. | more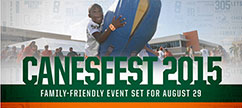 Hurricanes Hold CanesFest on August 29
Coaches and student-athletes will be on hand at the annual CanesFest celebration on Saturday, August 29, when fans can tour UM athletic facilities, acquire autographs from their favorite athletes, participate in the inflatable field goal kick challenge, run through the helmet the football team runs through on game day, and much more. | more

EVENTS
For a comprehensive listing of the University of Miami's many events—including lectures, exhibitions, workshops, medical grand rounds, seminars, and more, 
click here
.
SPOTLIGHT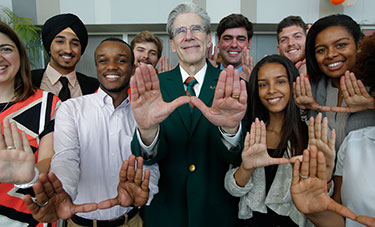 The Julio Frenk Era Begins as the U's Sixth President Takes the Helm
Julio Frenk, a physician, former dean at Harvard University, and the former minister of health for Mexico, stepped into his new role Sunday as the sixth president of the University of Miami. He comes to the top-tier research university motivated to continue the institution's "upward trajectory" and build upon its critical role of sharing knowledge, providing service, and preparing young people to succeed as global citizens. | more

SNAPSHOT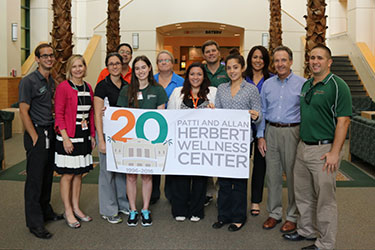 Herbert Wellness Center Gears Up for 20th Anniversary Celebration
The Patti and Allan Herbert Wellness Center, which has defined wellness for the UM community since opening in 1996, will celebrate its milestone anniversary with special events and programs over the next six months, beginning with "UM's Largest Yoga Class" on Tuesday, September 22 and culminating with its "20th Anniversary Celebration" on Tuesday, February 2. | more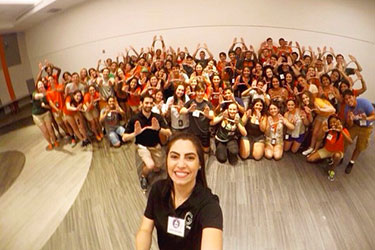 Commuter Students Get a Great Start
About 100 incoming commuter students took part in this summer's annual Great Start program, a pre-orientation overnighter designed to acquaint freshmen who will commute to the University with the campus, its traditions, academic resources, and each other. This year's sessions were led by program coordinators Alicia Santana, a psychology and Spanish major, and Will Singer, a finance major, pictured above wearing black, who fondly remember their own Great Starts. "It's a lot of fun," Santana said. "And a lot of work to organize."

GREEN U CORNER

Think Idling Just Wastes Gas? Think Again
Idling in parking lots doesn't just waste gas; it is harmful to human health, as overexposure to carbon monoxide aggravates heart disease and can cause headaches and impaired vision. Just an hour of idling burns about a fifth of a gallon of gas and releases nearly four pounds of CO2. Idling is also harder on engines than restarting the vehicle, so avoid idling on campus. You'll save your health, your vehicle's health, and up to $60 per year. For more information, view the Idle Reduction Educational Kit.

FOR YOUR BENEFIT
Mindful Living
This month's lunchtime seminar, offered this week by the Faculty and Staff Assistance Program on all three campuses, will focus on developing a contemplative practice. Attend to awaken your innate capacity for mindful living and nurture a practice to positively inspire every facet of your life. Register through ulearn.miami.edu. | more

Register for Essentials of Leadership September Series by August 21
Managers at the University have the opportunity to develop their leadership skills with Essentials of Leadership, a UM Human Resources-sponsored program of interactive modules, discussions, individual assessments, experiential learning activities, and coaching. Enrollment for the September series runs through Friday, August 21. | more

UM PRESENTS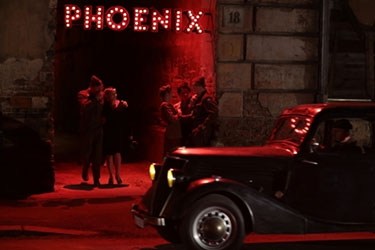 Phoenix: A Hitchcockian Tale of a Betrayed Woman's Search for Answers
In this spellbinding mystery set in post-World War II Germany and playing at the Bill Cosford Cinema through Thursday, August 20, acclaimed director Christian Petzold tells the story of a German-Jewish, ex-nightclub singer who survived a concentration camp but, disfigured by a bullet, relies on her reconstructed face to see if her ex-husband betrayed her to the Nazis. | more

Ring Theatre Opens the Season with Tennessee Williams
The College of Arts and Sciences' Department of Theatre Arts kicks off its 2015-2016 season at the Jerry Herman Ring Theatre with interim artistic director Peter Ellenstein at the helm and Tennessee's Treasures, a collection of Pulitzer Prize-winning playwright Tennessee Williams' short plays, premiering September 23 and running through October 3. | more

Buy Festival Miami Tickets Now and Receive $5 Off Each Ticket | more

MORE NEWS