UM NEWS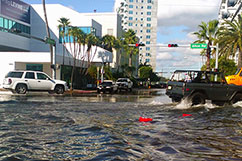 ROSENSTIEL SCHOOL OF MARINE AND ATMOSPHERIC SCIENCE
UM Joins NSF's New $12M Urban Water Sustainability Research Network
A consortium of researchers from 14 U.S. academic institutions, including the University of Miami's David Letson and Kenny Broad, received a $12 million award from the National Science Foundation to address challenges that threaten urban water systems in the United States and around the world. | more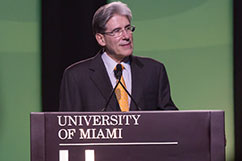 UNIVERSITY
Have a Question for President Frenk? Ask Him September 10 or Send It to #AskFrenk
Faculty, staff, alumni, and students will have the opportunity to let UM's new president, the former Harvard dean and minister of health in Mexico, know what's on their minds at the Town Hall Meeting with President Julio Frenk on Thursday, September 10, at 6 p.m. Tickets for the town hall, which will include a Q&A session, are available on a first-come, first-served basis through the BankUnited Center. | more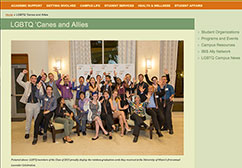 UNIVERSITY
LGBTQ 'Canes and Allies Have New Web Home
New to the Web this fall is miami.edu/lgbtq, featuring programs, events, and campus resources for lesbian, gay, bisexual, transgender, queer, and questioning (LGBTQ) students. The site also links to the IBIS Ally Network, a group of UM faculty, staff, and students who have completed intensive training on ways to help LGBTQ students thrive on campus. | more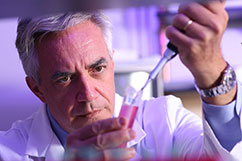 MILLER SCHOOL OF MEDICINE
Diabetes Research Institute Successfully Transplants First Patient in BioHub Trial
The Diabetes Research Institute has successfully tested a novel technique in its FDA-approved clinical trial for transplanting insulin-producing cells, an important step toward the development of a bioengineered mini organ designed to mimic the native pancreas and restore natural insulin production in people with type 1 diabetes. | more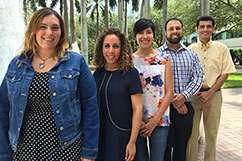 COLLEGE OF ARTS AND SCIENCES
UGrow Exposes Grad Students to Alternative Career Opportunities
Engaging the national conversation about the changing landscape of postgraduate education, the College of Arts and Sciences and the Graduate School have created UGrow: Graduate Opportunities at Work, an on-campus internship for doctoral students interested in career opportunities beyond teaching in academia. | more

SCHOOL OF LAW
Cyber Civil Rights Initiative Joins Miami Law
Founded three years ago to combat what is often referred to as "revenge porn," The Cyber Civil Rights Initiative has settled into a new home at Miami Law, offering UM students the opportunity to apply their skills to a cutting-edge issue with CCRI's "secret weapon," Miami Law Professor Mary Anne Franks. | more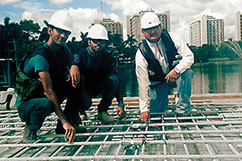 COLLEGE OF ENGINEERING
Lake Osceola Bridge a Living Laboratory for Students
Students got some real-world experience recently when they "got their hands dirty" at the construction site of the Lake Osceola bridge that will span the lake and give pedestrians an easier route across campus. | more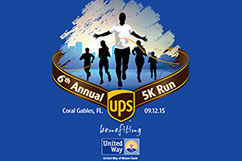 UNITED WAY
Join TeamUM and Receive Free Registration for UPS 5K Run
The University is again sponsoring the UPS 5K Benefiting the United Way of Miami-Dade, and the first 30 people to sign up for TeamUM will have their $30 registration fee waived. Be among the first 1,500 participants to sign up for the run that begins at Coral Gables City Hall on Saturday, September 12, and get a free T-shirt, too. | more

IN MEMORIAM
Community Leader Stanley Arkin Passes Away
Stanley H. Arkin, a lifelong Hurricane, UM trustee, and civic leader who chaired the board of governors at Bascom Palmer Eye Institute's Anne Bates Leach Eye Hospital for 20 years, passed away August 22, leaving an enduring mark on the institutions and community he loved. He was 82. | more

ATHLETICS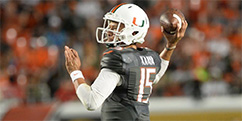 Hurricanes Open Their Season Saturday against the Wildcats
Sophomore star quarterback Brad Kaaya will call the offensive signals, and Butkus Award candidate Raphael Kirby will anchor the defense when the 'Canes face the Bethune-Cookman Wildcats in their home opener on
Saturday, September 5
at 6 p.m. in the newly renovated Sun Life Stadium. Visit the
Hurricanes' team page
for the latest news, including ticket information, preseason camp reports, and student-athlete profiles.

Dorman, Leaf, and Wagner Recognized as UM Student Athletes of the Year
Three student-athletes have been recognized for achieving excellence in competition and in the classroom. National champion diver Sam Dorman earned the UM Male Student-Athlete of the Year Award, while volleyball star Savanah Leaf and tennis phenom Stephanie Wagner, both All-Americans, share the University of Miami Donna E. Shalala Female Student-Athlete of the Year Award. | more

Women's Hoops Announces 2015-16 Non-Conference Schedule | more

EVENTS
For a comprehensive listing of the University of Miami's many events—including lectures, exhibitions, workshops, medical grand rounds, seminars, and more, 
click here
.
SPOTLIGHT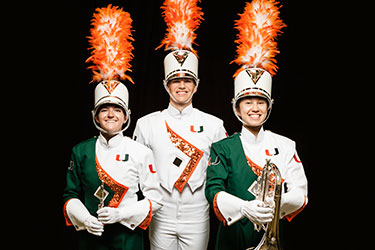 Longtime Supporters Give Band of the Hour a New Look and Sound
The Frost School of Music has received a major gift from UM alumna Judi Prokop Newman and her husband, Robert Newman, for 115 new marching band instruments and a full set of sleek, new uniforms. The Frost Band of the Hour will debut the instruments and uniforms at the Hurricanes' season opener against Bethune-Cookman September 5. | more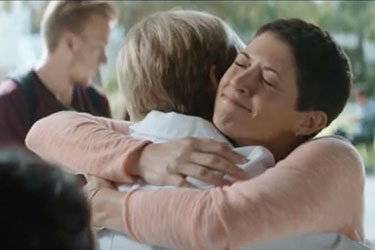 Sylvester Comprehensive Cancer Center Image Campaign Focuses on Precision Medicine
The Sylvester Comprehensive Cancer Center at the University of Miami Miller School of Medicine has launched an exciting sequel to the image campaign that ran earlier this year, one that positions Sylvester at the forefront of groundbreaking precision medicine. View the commercial. | more

SNAPSHOT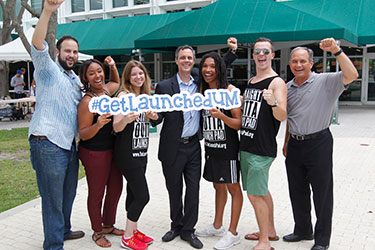 The Launch Pad Celebrates Seven Years of Empowering Decision-Makers
A new idea walks into The Launch Pad at Toppel almost every day. Not by themselves, but in the laptops, sketchpads, hearts, and minds of students and alumni yearning to start or strengthen new ventures—many of whom gathered outside the University Center last week to celebrate the unique resource center's success. | more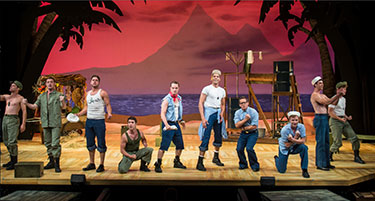 Theatre Arts Students Make a Splash in Utah's South Pacific
Summer's not over for three theatre arts students who landed roles in the venerable Utah Shakespeare Festival's revival of South Pacific, the Rogers and Hammerstein musical about love and prejudice in World War II. Playing seebees and sailors through September 4 are, from far right, 2014 graduate Brandon Beaver and students Jonah Robinson and Tyler Sparacio. Not pictured is Christine Kellogg, head of dance in the Department of Theatre Arts, who choreographed and assistant directed South Pacific, and four other festival shows this summer.

FOR YOUR BENEFIT
Weight Watchers Begins September 3 on the Gables Campus
The 12-week fall session of Weight Watchers begins at noon on Thursday, September 3 at Gables One Tower. If you can't make the first meeting, join the session on any Thursday for 11 weeks thereafter at the same time and place. For more information, contact Kathy Michelson at 786-586-1145 or weightwatcherkathy@yahoo.com. | more

Registration Opens for Herbert Wellness Center Group Classes
Registration for the Patti and Allan Herbert Wellness Center's variety of group classes, including meditation, cooking, CPR and First Aid certification, tennis, and dance, is now open to members and non-members alike who may try the first class for free, without registering. | more

Fall Edition of 'Mind and Matter,' FSAP's Quarterly eNewsletter, Now Available
Offering valuable information on the importance of mental health wellness, the fall edition of Mind and Matter, produced by the Faculty and Staff Assistance Program, is available online. | more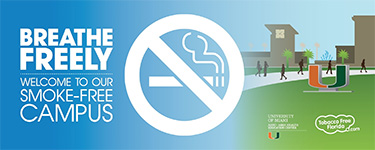 Be Smoke-Free in September 2015


The next sessions of the University's award-winning 

BeSmokeFree

 group classes for people interested in quitting smoking begin 

Wednesday,

 

September 16

 on the Coral Gables campus, and 

Tuesday,

 

September 15,

 and 

Thursday, September 17, 

on the Miller School of Medicine campus. View a 

class schedule. | more

UM PRESENTS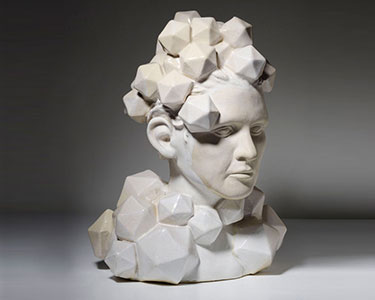 MFA Students Showcase Their Talents in Two Exhibitions
View the creativity of six Master of Fine Arts candidates at the University of Miami Art Gallery at the Wynwood Building, 2750 NW 3rd Avenue, from Tuesday, September 8 through Sunday, September 27, and the artistry of six incoming MFA graduate students at the CAS Gallery on the Coral Gables campus through Friday, September 18, with a reception for the new MFA students on Friday, September 4 from 5 to 8 p.m. | more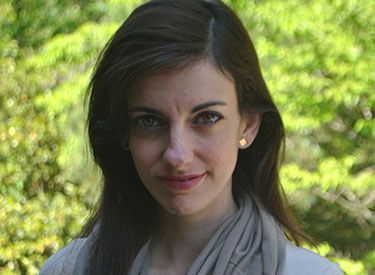 Fiction Writer Kicks Off USpeak's Flash Fiction & Poetry Performance Series


Chantel Acevedo, a member of the creative writing faculty and an award-winning fiction writer and poet, opens USpeak's Flash Fiction & Poetry Performance Series, 

sponsored by the 

Department of English's Creative Writing Program and the 

Mangrove Literary Journal

, at 7 p.m. on 

Monday, August 31

, at Books & Books, 265 Aragon Avenue, Coral Gables.

| more

Employees Receive $5 Off Festival Miami Tickets | more

MORE NEWS