UM NEWS

UM Launches United Way Campaign to 'Strengthen the Quality of Life'
The University officially launched its 2015 campaign for the United Way of Miami-Dade last week, with the goals of raising more than $1 million, increasing faculty and staff participation and, as the U has for nearly four decades, doing its part to improve the education, financial stability, and health of children and families in our community. | more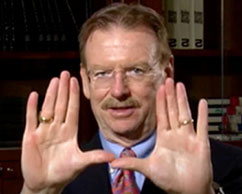 UNIVERSITY
Pete and Jeri Piechoski Make $1 Million Commitment to Athletics
Alumnus Michael J. "Pete" Piechoski, a member of the University of Miami Board of Trustees and the Athletic Director's Advisory Committee, and his wife, Jeri, have made a $1 million commitment to Hurricanes Athletics. Piechoski, who earned his accounting degree from UM in 1976, said he is  

"thrilled to be able to invest in the University that invested in me." 

| more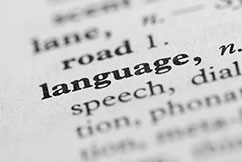 COLLEGE OF ARTS AND SCIENCES
Researchers Dispel Notion that Languages Develop Arbitrarily
In a new study, researchers from the University of Miami and the University of Wisconsin-Madison found that the words developed for such things as, for example, dog or cat, are based more on iconicity—the resemblance between word structure and meaning—than previously believed. | more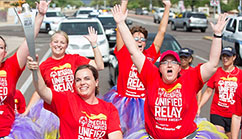 SCHOOL OF COMMUNICATION
'Canes Document the Special Olympics in Photos and Videos
Led by two professors who are seasoned Special Olympics volunteers, UM students documented this summer's World Games in Los Angeles, beginning with the first Unified Relay Across America that brought the torch from the east coast to California over 46 days. "The most amazing opportunity," senior Kyle Holsten said of the experience. | more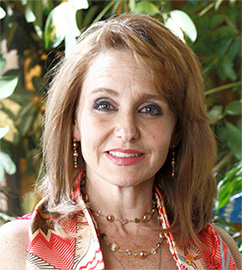 Miller School of Medicine
Researchers Propose New Approach to Care for Chronic Illness


Led by UM's Felicia Knaul, researchers from the University of Miami and Harvard University addressed the challenges of effective universal health coverage by focusing on solving one of the most pressing issues in low- and middle-income countries: the care for chronic illnesses. Published in the September issue of 

Health Affairs, 

their report includes recommendations for strengthening health care systems based on a "diagonal approach."

| more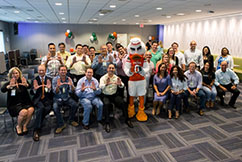 SCHOOL OF BUSINESS ADMINISTRATION
Dean Anderson Connects with Alumni
Nearly 40 alumni who work at Ryder, including Sheldon Burke, the company's enterprise network architect who cleaned bathrooms part time while studying for his M.B.A., met with Dean Gene Anderson recently as part of the School's commitment to increasing connections with the business community and its many University of Miami alumni. | more

ATHLETICS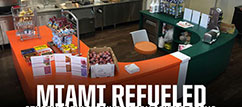 Nutrition Center Opens for Student-Athletes
The wave of upgrades and additions at UM athletics facilities continued last week in the Hecht Athletic Center, with the debut of the Hurricanes' nutrition center, featuring "grab-and-go" selections for student-athletes to refuel before and after practice or on their way to class. | more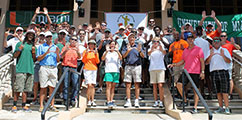 Hurricane Great Alonzo Highsmith to Host Hall of Fame Golf Tournament


Alonzo Highsmith, an explosive fullback on the 1983 Hurricanes football squad that captured UM's first national championship with a stunning 31-30 Orange Bowl victory over Nebraska, will host the 23rd annual UM Sports Hall of Fame Celebrity Golf Tournament to benefit the Hurricane Club on 

Friday, October 23

 at the Biltmore Golf Course in Coral Gables.

| more

EVENTS
For a comprehensive listing of the University of Miami's many events—including lectures, exhibitions, workshops, medical grand rounds, seminars, and more, click here.
SPOTLIGHT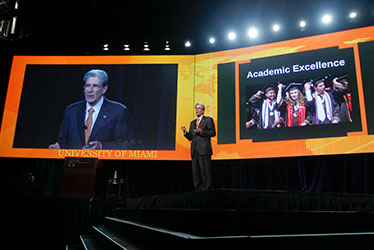 President Frenk Introduces His Listening Exercise at Town Hall Meeting
They came from every corner of the U—students and scholars, scientists and supervisors, trustees and alumni—to learn more about the future of the institution they love and the man tabbed to lead it to greater heights. Using a format popularized by political candidates, new University of Miami President Julio Frenk gave thousands attending or watching a live stream of his Town Hall a clear sense of his vision and the opportunity to pose questions that have been weighing on their minds since the former Harvard dean and minister of health of Mexico officially took the helm as the U's sixth president on August 16. | more

SNAPSHOT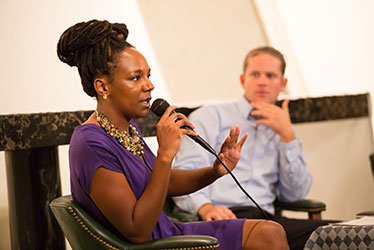 'Superwoman' Talks about Bringing Down the Confederate Flag
As Brittany "Bree" Newsome climbed a 30-foot flagpole on the grounds of the South Carolina State Capitol to remove the Confederate battle flag, she knew it was a dangerous act. Not because her climbing gear might fail, but because others opposed to her bold act might retaliate. During the forum "Courage to Be: Bringing Down the Flag," held on the UM campus last week, Newsome and James Tyson, a fellow activist who assisted her, discussed their motivations. | more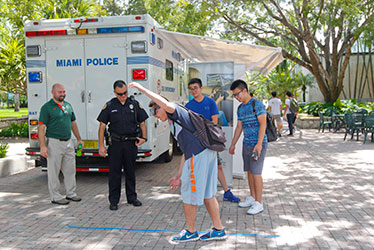 Trying to Walk the Straight and Narrow
Wearing special goggles that impair balance, UM students tried their hand at performing field sobriety tests at the UM Police Department's annual Safety Fair at the UC Rock last Thursday. During the fair, which is designed to raise awareness about the dangers of impaired and distracted driving, UMPD promoted 
U Guardian
, a new safety app for smartphone users, and the Florida Department of Transportation promoted its 
"Put It Down"
 campaign against texting and driving. The sobriety tests were compliments of the Miami Police Department, which demonstrated its BAT mobile, a specially equipped vehicle used to test and identify impaired drivers.

GREEN U CORNER

Fill Up on Philanthropy with UM Dining Services
Did you know that patronizing UM eateries helps the homeless? The UM Dining Services Food Recovery Network ensures excess food from special events, end-of-semester stock, and seasonal hurricane supplies isn't wasted. Now in its fifth year, the program has donated more than 20 tons of excess food—about 27,160 meals—mostly to the Miami Rescue Mission. Need more food for thought? The residential dining halls partner with Greener Fields Together to support local farms and sustainability practices, and Dining Services offers green catering options for UM functions. For more information, contact Amanda Goodwin.

FOR YOUR BENEFIT
Celebrate National Yoga Month at UM's Largest Yoga Class
Celebrate National Yoga Month at UM's Largest Yoga Class
Channel your inner yogi at UM's Largest Yoga Class, a campus-wide event celebrating National Yoga Month at 5:30 p.m. on Tuesday, September 22 at the Patti and Allan Herbert Wellness Center's Centre Court, on the first floor. | more

Herbert Wellness Center's Cooking Classes Open September 16 with Summer's Bounty: Fruits and Vegetables
Members and non-members alike can register for the Patti and Allan Herbert Wellness Center's instructional cooking classes, which begin Wednesday, September 16, with Summer's Bounty: Fruits and Vegetables. Classes include personalized cooking lessons by chef Mercedes Varela-Mendez, a meal, and plenty of leftovers. | more

Apply for Leadership Miami by September 16
Make Miami a better place to live and work as a member of the Leadership Miami Class of 2015-2016. The University is looking for enthusiastic individuals interested in joining the Greater Miami Chamber of Commerce leadership program, which offers participants the opportunity to develop their leadership skills through a dynamic series of lectures, interactive seminars, small group discussions, and exercises. | more

UM PRESENTS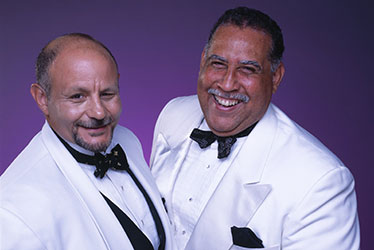 The Legendary Mills Brothers to Close Festival Miami


The Mills Brothers, the chart-topping duo that has attracted adoring audiences and a Grammy Lifetime Achievement Award, will close Festival Miami on

Saturday, November 7,

when John Mills II and Elmer Hopper, who spent 21 years with The Platters, sing the songs the junior Mills performed for over a decade with his father, Donald.

 UM employees who purchase tickets by Thursday, October 1 may take $5 off up to four tickets to The Mills Brothers or 18 other concerts that begin October 16. | more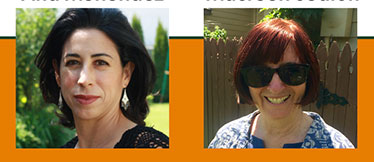 One Writer and One Poet Perform One Night on the Ibis Stage
Visiting Professor Ana Menéndez, a former 
Miami Herald
 columnist and the author of four books, and Poet Professor Maureen Seaton, who has authored 17 poetry collections and the memoir 
Sex Talks to Girls,
 will share the stage at the next Ibis Literary Reading and Performance Series, beginning at 7 p.m. on 
Thursday, September 17
 at the College of Arts and Sciences Gallery at the Wesley Foundation, 1210 Stanford Drive, Coral Gables. The series is free and open to the public.

MORE NEWS