UM NEWS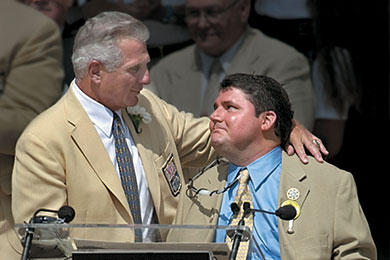 Sports Legends Dinner Celebrates 30 Years of Scientific Breakthroughs
Thirty years after NFL Hall of Famer Nick Buoniconti promised his newly paralyzed son, Marc, they would one day see a cure for spinal cord injuries, father and son are ever-closer to that goal, thanks in part to the 30th Annual Great Sports Legends Dinner they'll host next week in New York City. | more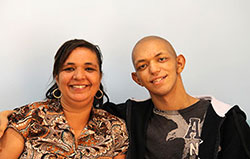 SCHOOL OF LAW
Health Rights Clinic Lightens Young Cancer Patient's Heavy Burden
As Carlos Nuñez continues his treatment for a brain tumor at Sylvester Comprehensive Cancer Center's pediatric oncology clinic, he and his mom can concentrate on his health rather than their finances, thanks to the dogged efforts of a second-year Miami Law student and high school intern who overturned a denial of Nuñez's disability payments and health insurance. | more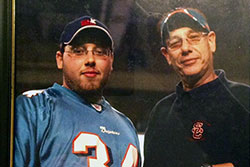 SCHOOL OF COMMUNICATION
Throwing Good Against Evil: Gift Honors Steven Sotloff's Legacy
The legacy of Miami journalist Steven Sotloff, who was murdered while shedding light on injustice in the Middle East, will live on at the School of Communication, where his parents' 2LIVES: Steven Joel Sotloff Memorial Foundation has established the Steven Joel Sotloff Memorial Endowed Scholarship Fund to support journalism students at UM. | more

COLLEGE OF ARTS AND SCIENCES
The Goldilocks Effect: Study Suggests the Universe Was 'Cooked' Just Right
As the story of Goldilocks and the Three Bears says, moderation is often ideal. Now a new study by UM physicist Neil Johnson and his collaborators suggesting the universe started "neither too fast nor too slow" has translated "not too hot or too cold, just right" to the quantum world and the generation of quantum entanglement—the binding within and between matter and light. | more

UNIVERSITY
ZTA, President Frenk, and Dr. Knaul to Turn Cobb Fountain Pink
Orange and green may be UM colors, but pink will take center stage on the Coral Gables campus next month as Zeta Tau Alpha sorority, in collaboration with Sylvester Comprehensive Cancer Center, launches its annual "Think Pink" breast cancer awareness campaign, including its inaugural ZTA Think Pink Cobb Fountain Lighting featuring President Julio Frenk and his wife, Dr. Felicia Knaul, at 7:30 p.m. on Monday, October 5 at the Lakeside Patio Stage. | more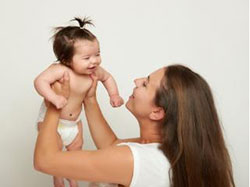 COLLEGE OF ARTS AND SCIENCES
Babies Time Their Smiles to Make Their Moms Smile
In a new study with a unique approach, a team of computer scientists, roboticists, and developmental psychologists employed a toddler-like robot to confirm what most parents already suspect—that babies smile to elicit a smile. But the researchers, including UM psychology professor David Messinger, found a twist: babies seem to elicit smiles while smiling as little as possible. | more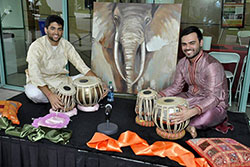 SCHOOL OF BUSINESS ADMINISTRATION
Experts Share Insights on Doing Business in India
Some 250 business students recently sampled Indian food, listened to Indian music, and heard panelists from the aviation, health care, and power industries discuss the highs and lows of doing business in India, an increasingly important driver of world economic growth and soon to be the world's most populous nation. | more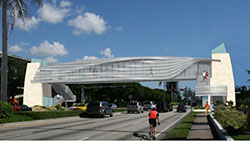 UNIVERSITY
Construction Begins on County's Pedestrian Bridge over US 1
With new fencing and signs in place, Miami-Dade County has begun construction on the footers for the pedestrian bridge it plans to install over US 1, between the University Metrorail station and the shopping center near Gables One Tower, by next summer. The county will maintain traffic and pedestrian access during the construction process, and the University reminds all pedestrians to mind the new signage and use the crosswalk at Mariposa Court to cross US 1.

ATHLETICS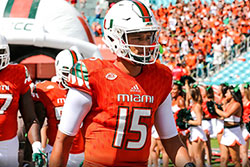 Thursday Night Lights: Hurricanes Battle the Bearcats on ESPN
With his 16-game streak of throwing at least one touchdown pass on the line, sophomore quarterback Brad Kaaya leads the Hurricanes into Ohio to battle the Cincinnati Bearcats on Thursday, October 1, at 7:30 p.m. on ESPN. Visit the Hurricanes team page to keep up with all the action.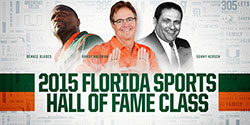 Three 'Canes Elected to Florida Sports Hall of Fame
Miami Hurricanes head diving coach Randy Ableman, former All-American safety Bennie Blades, and longtime 'Canes broadcaster Sonny Hirsch will be among the nine Florida sports celebrities inducted into the Florida Sports Hall of Fame on Tuesday, November 17 at the Seminole Hard Rock Hotel & Casino Hollywood. | more

EVENTS
For a comprehensive listing of the University of Miami's many events—including lectures, exhibitions, workshops, medical grand rounds, seminars, and more, click here

SPOTLIGHT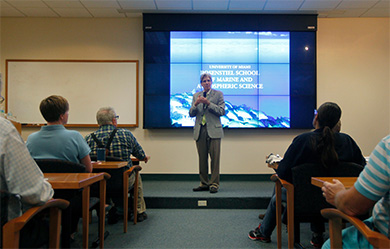 Let the Listening Process Continue
As promised during the recent Town Hall, University of Miami President Julio Frenk is continuing his ambitious listening exercise initiative, visiting schools and colleges, talking with faculty, staff, and students, and meeting with other constituencies for their valuable insights, comments, and thoughtful recommendations about the University and its future. Last Friday, Frenk was at the Rosenstiel School of Marine and Atmospheric Science, where he met with faculty following a brief tour of the Virginia Key-based campus. | more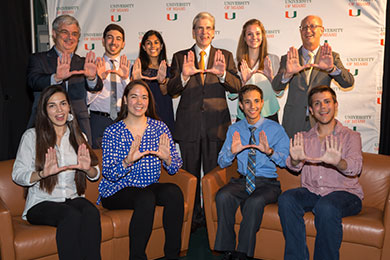 University Welcomes 'Outstanding Students with Big Dreams' as Stamps Scholars
The University recently welcomed eight new Stamps Scholars from high schools across the nation and an array of disciplines who, thanks to the generosity of Penny and E. Roe Stamps and their Stamps Family Charitable Foundation and UM, will receive the full cost of tuition and extensive enrichment opportunities to advance their leadership skills and musical talents. | more

SNAPSHOT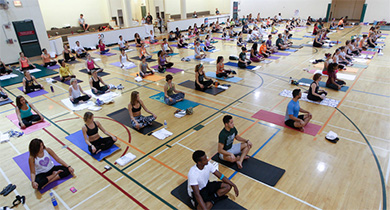 Bending Over Backwards to Stay Healthy: Yoga Class Provides Body and Soul Experience
Dozens of students, faculty, and staff unfurled their mats, stretched their spines, and twisted their torsos last Tuesday during UM's "Largest Yoga Class,'' an hour-long session held at the Herbert Wellness Center during the Partnership for a Healthier America's HealthyCampus Week, when the Wellness Center and UM Dining teamed up with other departments and divisions to highlight and promote the University's many health and wellness initiatives. | more

FOR YOUR BENEFIT
Well 'Canes Marketplace Returns to Gables Campus and Debuts at the Miller School
The Well 'Canes Marketplace will return this Wednesday, September 30, to the Foote University Green on the Coral Gables campus and debut on the Miller School's Schoninger Research Quadrangle on Thursday, October 8. Support local vendors, meet fellow students, faculty, and staff and delight your senses with the sights and smells of baked goods, artisanal cheeses, local honey, marinades, ceviche, pasta, and more, every Wednesday on the Gables campus, and every other Thursday at the Miller School. | more

Sign Up to Learn How to Save a Life at First Aid Certification Course on September 28
Members and non-members alike still have time to register for the Patti and Allan Herbert Wellness Center's First Aid Certification Course at 5:30 p.m. on Monday, September 28 in the Herbert Wellness Center's second-floor classroom. | more

Talking to Your Kids About Money
Offered on all three campuses next week, this Faculty and Staff Assistance Program lunchtime seminar, featuring Charmaine Williams, financial education outreach specialist with Consolidated Credit Counseling Services Inc., is for those interested in teaching their kids the value of money and smart money management techniques. | more

Free 2D and 3D Mammograms Offered in National Breast Cancer Awareness Month
Well 'Canes is offering free mammograms for faculty and staff over age 35 who are enrolled in a UM/Aetna medical plan every Wednesday in October at Sylvester Comprehensive Cancer Center in Miami and on Thursday, October 16, at Sylvester at Deerfield Beach. Giveaways, chair massages, and a chance to win a FitBit activity tracker also will be offered. Learn more and schedule an appointment now. | more

Open Enrollment Begins October 12
Open Enrollment, your annual opportunity to make changes to your 'Canes Total Rewards package, begins Monday, October 12 and will take place in Workday. Unless you make changes in Workday, your current benefits, with the exception of flexible spending account elections, will roll over to 2016. Visit miami.edu/benefits for more information.

Employees' Retirement Plan Annual Funding Notice Now Available Online | more

UM PRESENTS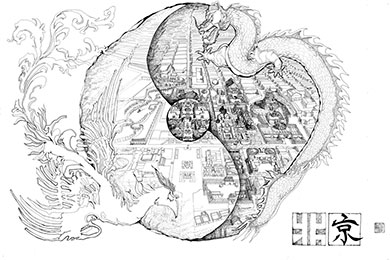 Hometown Maps: Where in the World Do Architects Come From?
Since 1977, students in the School of Architecture have begun their studies by creating graphic layouts of the place they are most familiar with—their hometowns. Now maps from some former and four current students will be on display in the first-floor reading room of the Richter Library, where an opening reception will be held at 4 p.m. on Tuesday, October 6. RSVP by October 1 at 305-284-4026 or richterevents@miami.edu | more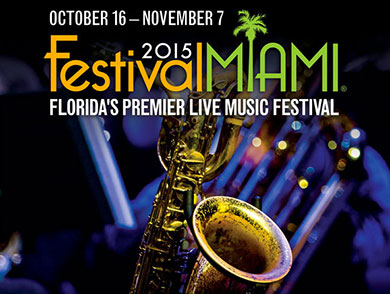 Last Call for Employee Discounts on Festival Miami Tickets
Festival Miami, Florida's premier live music festival, which opens at UM's intimate Gusman Concert Hall on Friday, October 16 with piano sensation Simone Dinnerstein and closes Saturday November 7 with the Mills Brothers' chart-topping hits, is offering UM employees $5 off on up to four tickets per performance with promo code EMP515, but hurry. The offer expires at midnight on Thursday, October 1. | more

MORE NEWS