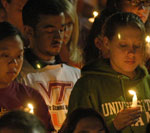 University of Miami mourns Virginia Tech victims at candlelight vigil

They lit candles and heard music. Some joined hands. Others embraced and cried. Then, they listened as student Shajena Erazo read all 33 names one by one: a 22-year-old biology, English, and psychology major who was only a month from graduation; an 18-year-old freshman who started a service project to rehabilitate homes in her Illinois town; a 76-year-old engineering science and mechanics lecturer who survived the Nazi Holocaust.
Hundreds of University of Miami students, faculty, and staff members gathered Wednesday night at the University Center Rock for a candlelight vigil honoring the victims of the massacre at Virginia Tech University in Blacksburg, Virginia.

read more >
The entire University of Miami community was shocked and saddened to hear of the terrible tragedy on the Virginia Tech campus.
I have sent condolences to President Charles Steger and the Virginia Tech community on behalf of our University family. The Student Government and Faculty Senate President Stephen Sapp also have reached out to their counterparts at Virginia Tech. The University has offered the services of its student Counseling Center and Employee Assistance Program.
The Virginia Tech Hokies baseball team has asked the UM Hurricanes to play its scheduled series in Blacksburg on Saturday. At the first game, Coach Jim Morris will present a check on behalf of the students, faculty, and staff at the University of Miami for $10,000 to support the Hokie Spirit Memorial Fund.
Monday's tragic events at Virginia Tech University have made us mindful of the importance of timely and effective communications to the University community in a time of crisis.
The University of Miami's emergency response plans are constantly reviewed and updated throughout the school year. In light of recent events, let me remind everyone about our comprehensive crisis communication plans and other resources, which are posted on www.miami.edu/prepare. Please take the time to familiarize yourself with the important information below and the ways in which the University will stay in touch in the event of an emergency.
University of Miami Police are available for any emergencies around the clock by calling 305-284-6666 on the Coral Gables campus. On the Miller School campus, call Security at 305-243-6000, and on the Rosenstiel campus, call 305-421-4766. Nearly 80 emergency blue light phones, which connect directly to police and security, are strategically located throughout the Coral Gables and Miller School campuses.


The Department of Telecommunications can quickly disseminate an urgent voice message to all University community land and cellular phone numbers that have been supplied to MyUM. If you have not provided your information, please take the time now to update your contact information on www.miami.edu/myum. We are immediately reviewing the possibilities so that we can upgrade our systems to add text-messaging.


Information is updated on a recorded message on the University Emergency Hotline, 305-284-5151. In a time of crisis, trained staff are available to answer questions live. Other hotlines are: 305-243-6079 for the Miller School of Medicine and South campuses, 305-421-4888 for the Rosenstiel School campus, and for outside the South Florida area, 1-800-227-0354.


When a situation warrants, mass emails containing emergency information will be sent out. Please make sure the University has your current information by verifying your profile on www.miami.edu/myum.


The Coral Gables campus's residential colleges are equipped with a loudspeaker system that can relay emergency messages.


Messages in a time of crisis are immediately posted on the University's homepage, www.miami.edu.


To review all of the emergency preparedness measures, visit www.miami.edu/prepare


Each year an Emergency Preparedness Letter, which includes a magnet with emergency contact information, is sent to all students, faculty, and staff.
As always, our counseling center is available for students and is available after hours as needed. Any parents or students with any specific questions are urged to contact the Vice President of Student Affairs' Office at 305-284-4922.
Our thoughts and prayers are with our fellow Virginia Tech colleagues and students in this time of mourning.
Donna E. Shalala
President