1950s
Mickey Demos, M.D. '57, recently published a memoir, Life in Mani Today: The Road to Freedom, about his move from Miami to southern Greece 12 years ago with his wife, Else. Demos is still practicing medicine at age 80 and is the only urologist in his area of southern Greece.
Bruce Steir, M.D. '57, also published a memoir, Jailhouse Journal of an OB/GYN. Now retired, Steir completed his internship and residency in OB/GYN, and served five years as a medical officer in the U.S. Air Force.
1970s
Paul Wetter, M.D. '75, clinical professor emeritus at the Miller School of Medicine and chairman and executive director of the Society of Laparoendoscopic Surgeons, was awarded the 2011 Alliance for CME (ACME) Medical Specialty Society Great Idea Award for his work in developing ORReady, a worldwide initiative to improve surgical outcomes and save lives.
Peter Webb, M.D. '76, a dermatologist in San Mateo, California, appeared on KPIX-5, CBS, speaking on skin and stress as part of a 30-minute program for Sutter Health. The full segment is online at www.mylifestages.org.
Carol Rose, M.D. '78, recently retired from University of Pittsburgh Medical Center/School of Medicine, where she practiced and taught anesthesiology.
Donald Temple, M.D. '78, received his 23rd consecutive George Paff Teaching Award from the Miller School of Medicine in a ceremony held April 13, 2011. He is associate professor of medicine and director of the William J. Harrington Medical Training Programs for Latin America.
1980s
Frederic J. Guerrier, M.D. '81, who practices family medicine in the Tampa Bay area, was named Physician of the Year by the Pinellas County Medical Association.
William Chester, M.D. '82, who practices anesthesiology in Rockville, Maryland, led a team of 14 physicians, dentists, nurses, and medical assistants on a mission to perform small surgical procedures, such as cleft palette and cataract surgeries, in rural Kenya in January 2011. The medical mission was carried out under the Paul Chester Children's Hope Foundation (PCCHF), an organization named in memory of his son.
Hugo Ribot, M.D. '86, celebrated the one-year anniversary of the Georgia Advanced Surgery Center for Women (GASC) on May 27, 2011. Ribot is founder and medical director of the center, located in Cartersville, Georgia, outside of Atlanta. GASC is Georgia's first and only outpatient surgery center for performing all major and minor gynecological procedures.
Monica Broome, M.D. '89, has been recognized as a fellow by the Academy of Communication in Healthcare. She is director of the Communication Skills Program at the Miller School. 
1990s
Jason "Seth" James, M.D. '99, recently spearheaded an effort to develop and implement a universal screening protocol for postpartum depression at Baptist Hospital of Miami. He also was the 2010 American College of Obstetricians and Gynecologists "Issue of the Year" recipient for conducting research in postpartum depression.
Ali Hendi, M.D. '99, published the Atlas of Skin Cancers: Practical Guide to Diagnosis and Treatment in February 2011. He is a board-certified dermatologist and skin cancer specialist in the Washington, D.C., area.
2000s
Farzanna Haffizulla, M.D. '00, started a hybrid private medical practice in Davie, Florida, that combines house calls, office-based clinical care, and telemedicine. She teaches honors organic chemistry to premed students at American Heritage School in Plantation and is medical director at Advocate Home Health. Her husband, Jason Haffizulla, M.D. '00, has a private medical practice in Tamarac and is medical director at Regents Park Rehabilitation Center. He serves on the board of trustees at University Hospital and Medical Center in Tamarac and is involved in ambulatory clinical research.
Alex Rico, M.D. '03, was honored at the Miller School's George Paff Teaching Awards ceremony on April 13, 2011, where he was voted top instructor by the Class of 2012. Rico, who was assistant professor of clinical medicine at the Miller School, began last summer as site director for the internal medicine clerkship at the University of Central Florida College of Medicine at Orlando Regional Medical Center.
Erica James, M.D. '04, has joined Tucker Ellis & West LLP as an associate in the firm's Cleveland, Ohio, office. She is a member of the trial department and is focusing her practice on medical and pharmaceutical liability. James completed a residency in family medicine and is a board-certified family physician. She earned her J.D. from Case Western Reserve University in 2010, where she concentrated in health law.
In Memoriam
Joan Osherhoff-Harris, M.D. '57, one of the Miller School's first female students, passed away on January 7, 2011. She was in private practice with her husband and served at Mount Sinai Medical Center in Miami Beach from 1960 to 1988, when she retired.
Joseph G. Milstein, M.D. '58, died on March 4, 2011. Dr. Milstein moved to Los Angeles in 1959 and was a revered OB/GYN at Cedars of Lebanon Hospital and Cedars-Sinai Medical Center until 1996.
Raymond J. Sever, M.D. '60, passed away at his home in Temple Terrace, Florida, on November 30, 2010. Sever was chief resident at Bascom Palmer Eye Institute. He joined the faculty at University of Florida Medical School and then established the Florida Eye Center.
Don Dennis Weiffenbach, M.D. '62, passed away on December 8, 2010, at his home in High Springs, Florida. He was in general practice for 12 years and practiced emergency medicine in Lake City, the Florida Keys, and St. Augustine until his retirement in 1999.
Kenneth Rothenberg, M.D. '67, died on April 8, 2011. He served as
staff anesthesiologist at Englewood Hospital, Englewood, New Jersey, and was a great supporter of student scholarships, contributing $100,000 to the John K. Robinson Fund through the Aaron and Sylvia Rothenberg Family Foundation. Dr. Rothenberg is survived by his wife, Gillian; sisters Trisha Roth, M.D. '69, and Lois Weiss; and children Paul, Class of 2013, Adam, David, M.B.A. '06, Anne, Fiona, and Heather.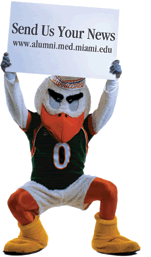 Send Us Your News and Letters
Send letters to to the editor to magazineletters@med.miami.edu. Enjoy reading about your classmates in Class Notes? Take a moment to share some news about yourself in a future issue of Medicine magazine. Submit your news online to: www.alumni.med.miami.edu. We will print your news in the first available issue.