Jackie Liberto knows a lot about great health care. "Your daughter's heart is abnormal"—that is not the news a young mother wants to hear about her newborn baby. No explanation, no hope, no help. Jackie was not a satisfied customer.
Not only did she discover that her daughter would in fact be just fine in spite of the cardiac anomaly, she decided to commit her life and career to improving health care for her family and for millions of patients she will never know.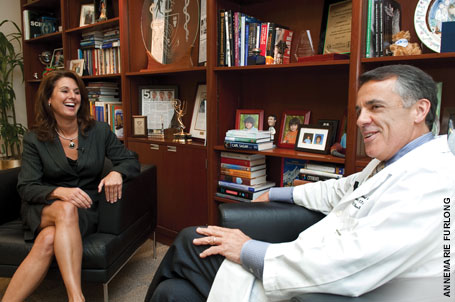 Jackie Liberto enjoys a chat with Dean Goldschmidt. Liberto, assistant vice president of strategic operations and clinical informatics, has been instrumental in engineering the organization that brings together nurses, doctors, administrators, and staff.
Her education in engineering taught her how to effectively develop models that, when applied to health care, optimize systems and lead to better outcomes, while increasing safety and patient satisfaction. Jackie was on a mission—and after many years that mission landed her a critical role in the building of UHealth, the University of Miami Health System, and implementing UCare, our service initiative to put the patient above all else.
At UM, Jackie was instrumental in engineering the health system that unites our experts: nurses, doctors, administrators, and staff within one great research, patient-centered, and education family. In spite of limited resources, she implemented a technologically advanced electronic medical record and revenue cycle system, nurtured a culture of patient-centricity, instituted data-driven patient satisfaction surveys, and optimized quality markers of health care. She accomplished these tasks across the medical campus with formidable tenacity, courage, and talent. A champion multi-tasker, Jackie manages to make these significant strides for UHealth while, at the same time, making her family a priority and serving as a role model for her daughters.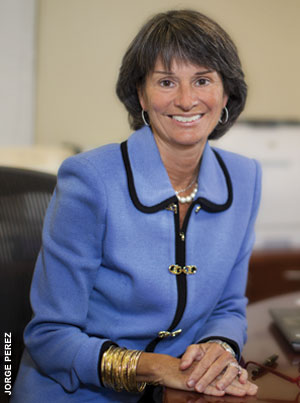 As associate vice president and COO for UHealth's Hospital Division, Michele Chulick is in charge of all UM clinical facilities.
When she was 18 and working in the Management Engineering Department of William Beaumont Hospital, in Royal Oak, Michigan, Jackie met Michele Chulick, who was rising in the ranks of hospital administration and who would become a pillar of UHealth's administration. With her undergraduate nursing degree from Duke University, a master's degree in business administration from Wayne State University, and an extraordinary work ethic, Michele was clearly headed for a stellar career.
Joining Beaumont Hospital early on, Michele held multiple administrative and operational positions, directed information services, and oversaw hospital expansion. She became the consultant everybody wanted to work with. Her prior experience with KPMG provided her with the expertise she used to accomplish critical improvements in Beaumont's systems, such as in supply and distribution.
She was recruited to the Miller School at the request of William O'Neill, M.D., executive dean for clinical affairs and chief medical officer of UHealth, to help us build a fully integrated health system. Now associate vice president and COO for UHealth's Hospital Division, she is in charge of all UM clinical facilities—three hospitals and a myriad of clinics. Her clear vision has guided the progress of our health system and afforded us unprecedented opportunities.
A devoted mother of two, Michele is unflappable even in the most challenging situations. She believes that doing what is right for the patient is the right thing to do and never fails to demonstrate her integrity. She has a keen sense for identifying and promoting talented people. That's why she entrusted Jackie Liberto with the opportunity of her lifetime. That's also how she noticed Maria Cabrera, RN, M.S.N., director of perioperative services at Sylvester Comprehensive Cancer Center/University of Miami Hospital and Clinics, a nurse who has a perfect understanding of how a patient should be treated.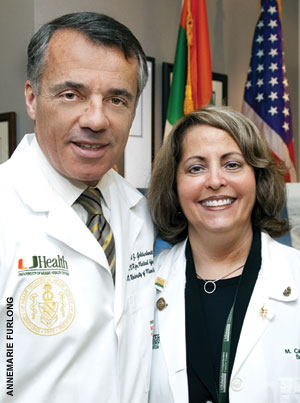 Dean Goldschmidt and Maria Cabrera, RN, M.S.N., director of perioperative services, is UHealth's first "fire starter", in recognition of her commitment to exceptional patient care.
If you have Maria as your nurse champion, you are indeed lucky! She has devoted her life to improving the patient experience. With her calm and reassuring presence and her supportive words, she always treats patients like she would want her family treated, a vow she made many years ago when she watched her grandmother suffer the excruciating pain of pancreatic cancer while almost nothing was done about it at the hospital.
It is not surprising that Maria never considered any career but nursing. Now she is UHealth's first "fire starter", a recognition for truly exceptional commitment to patient-centric care.
Maria and her sister Celia were among the first Hispanic students at Jackson Memorial Hospital School of Nursing. They were always assigned the sickest patients, and typically would end their day about three hours later than their peers. At the end of their training, they graduated among the top five in their class. Maria still recalls what a professor of nursing confided at graduation: "Maria," she said, "I want to tell you one thing that I've learned from you. With you and your sister on an impossible mission, we really thought that you would not survive. But you know what? You've made us better people."
Maria found her first job at the University of Miami Hospital and Clinics/National Children's Cardiac Hospital, where everyone noticed the awesome care she gave patients. Within three months, Maria was promoted to head nurse. Around that time, patients were being admitted with fever and peculiar skin lesions called Kaposi's sarcoma and were likely the first AIDS patients. Maria cared for them without wearing gloves. She knew they needed a lot of loving care and she saw gloves as barriers. She treated them like they were one of her four children.
Her youngest, a son, graduated from UM and is studying to become a CIA agent. Two of her three daughters graduated from UM. One daughter has a degree in criminal justice and plans to practice law; the other has a degree in psychology and is now a registered nurse. Maria's third daughter, who is studying to become a veterinary assistant, is now considering a career in nursing.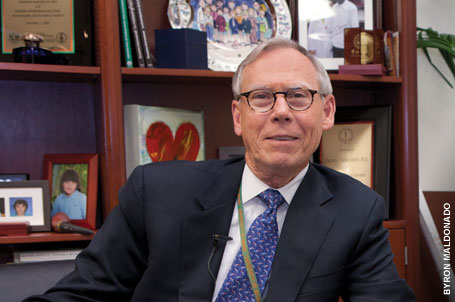 Bill Donelan, UHealth vice president for medical administration and chief operating and strategy officer, has been a leading force in the founding and success of the health system.
As Maria grew professionally, she developed admirable leadership skills and was known for the high value she placed on teamwork. When we started UHealth's UCare initiative in 2008, less than 20 percent of the first OR cases of the day started on time, and there was no strategy to improve. Maria got to work, and during the first six months first-case on-time starts went up to 55 percent. Still not satisfied, she conducted a SWOT analysis—evaluating strengths, weaknesses, opportunities, and threats—and adopted process improvement tools to boost results to near perfection.
To sustain that success, she employed positive reinforcement, instituting rewards and recognition for those who exceeded benchmarks. She never fails to show her appreciation. As it turns out, Maria was changing the culture. She was applying the UCare philosophy even before UCare was implemented.
But what do you expect from an individual who considers one of her best memories the time she spent in the burn unit at Jackson Memorial Hospital caring for a 56-year-old Haitian woman who had leprosy? The woman's skin was sloughing, and her body had to be coated with a black petrolatum ointment. With tears in her eyes, she told Maria she thought she was going to die. Maria was the only nurse who touched the patient, the only nurse who showered her and washed her hair, the only nurse who received a kiss on the cheek from the overwhelmed woman, who said simply, "Thank you for caring." Recalling the encounter, Maria remembers that her dad taught her to never be fearful of touching people. Now it comes easily and directly from the heart.
William Donelan knows a lot about nursing—he was raised by a nurse. His mother had to raise him alone from infancy when his father passed away, and he spent a lot of time with his maternal grandparents on their family dairy farm in North Carolina. He has focused his career on health care, starting with a job as a clerical supervisor in the faculty practice plan of Duke University School of Medicine and rising to build and operate the Duke Health System, one of the most prestigious in the U.S. That wealth of experience is now invaluable to UHealth, where he is vice president for medical administration and chief operating and strategy officer.
Bill's talents are immense. He has a unique ability to find other people who also have unique abilities and can benefit and excel from his mentorship. He's also curious about everything. He has an innate drive to figure out how complex systems work and to improve them with discipline and ingenuity. He understands people and inspires them with his steadfast support, leading to sustainability and success.
In his 37-year career, Bill Donelan has seen it all. We were blessed to be able to bring him to Miami to construct our health system, which was integral to improving our medical school. His superb skills have helped us better manage our relationship with our affiliate hospital, Jackson Memorial, and collaborate with the new medical school at Florida International University.
One might wonder how someone who grew up in North Carolina and lived near Duke University his entire life could be comfortable in Miami. Perhaps the secret is his wife, Myrna, who comes from a family from Puerto Rico with 11 children and whose mother doesn't speak English. That led Bill to develop a pidgin language to communicate with his mother-in-law; that connection was probably instrumental in his smooth transition to Miami for this health system encore, providing the administrative skills that were necessary to bring everyone in the health system together to play harmoniously in our gigantic academic medical orchestra.
There is no question that Bill's skills and those of the extraordinary individuals on his team form the backbone that allowed us to become the nation's fastest improving medical school, now ranked in the top tier of U.S. academic medical centers.
***********
Little Payton is now a fine 12-year-old with a great heart and an 8-year-old sister, Brooke. Payton learned a lot from her mother, Jackie, and is compelled to help her fellow humans. One day she donated her hair to patients with alopecia, an autoimmune ailment that causes baldness and, sometimes, complete hair loss. This is just one example of the great influence role models have. We are so lucky her mother Jackie—as well as Michele, Maria, and Bill—are such passionate role models for the entire UHealth family. Thank you Jackie, Michele, Maria, Bill, and our entire UHealth team of champions for all that you do!
***********
To watch the interviews and read the full transcripts, go to http://med.miami.edu/deansoffice/deans-perspective/2012-winter.