Surgeons Learn Advanced Techniques at Microsurgery Training Center

wo years ago a woman, profoundly deaf, walked into the office of Felicitos Santos, M.D., at Murgerza Hospital in Monterrey, Mexico, to ask about a revolutionary new treatment that would restore her hearing. The woman was inquiring about cochlear implantation, a surgical procedure in which an electronic prosthesis is wired directly to the auditory nerve.
"Yes, there have been some promising reports about this new procedure," Dr. Santos, an otolaryngologist, informed his patient. "But unfortunately there is nobody in this part of Mexico who is qualified to perform the operation." The woman left his office, crushed with disappointment.
Determined to learn more about cochlear implants, Dr. Santos scanned the Internet, soon stumbling upon a two-day course for practicing surgeons at the University of Miami Ear Institute's Microsurgery Training Center. Dr. Santos attended the course last September. Two months later, back in Mexico, he performed his first implantation. Supervising him in surgery: Fred Telischi, M.D., University of Miami associate professor of otolaryngology, neurological surgery, and biomedical engineering and one of Dr. Santos' instructors at the Microsurgery Training Center.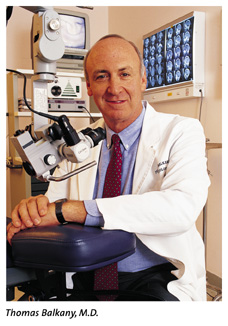 "I needed an assistant; who better to ask than the person who taught you?" Dr. Santos says. "For him to accept my invitation and to travel this far was quite an honor. The procedure went well, and now I'm doing the implants on a routine basis. I owe it all to the University of Miami's training center."
Such testimonials are not unusual. Since the creation of the Ear Institute's Microsurgery Center in 1995, Drs. Telischi, Thomas Balkany, Craig Buchman, Jacques Merlos, Roberto Heros, and other University of Miami School of Medicine faculty have trained close to 600 practicing physicians, fellows, and residents in the most advanced techniques in otologic, skull base, sinus, ophthalmic, and neurological surgery. Typically, physicians who perform a complex procedure for the first time request the assistance of a more experienced practitioner.
Dr. Balkany, director of the University of Miami Ear Institute and an expert in cochlear implantation, has traveled all over the United States and to more than a dozen countries at the request of the center's course participants. Among the countries in which he has performed surgery are Argentina, Mexico, Brazil, Israel, South Korea, and Japan. As a training surgeon, he has assisted on procedures throughout the United States.
"This is one of the reasons we are here," says Dr. Balkany, professor of otolaryngology, pediatrics, and neurological surgery. "Our goal is to translate innovative surgical techniques into practice in the community. The best way we can do that is by training physicians who can return to their communities and serve their patients as well as train other surgeons to share the benefit of these new procedures."
About half of the course participants--roughly 300 since the center was founded--come for training in cochlear implantation. Physicians come from all over the United States and around the globe. Most foreign surgeons come from Central and South America. Many Latin-American surgeons are sponsored by cochlear implant manufacturers, all of which have designated the University of Miami's center as their official training facility.
"We can travel to a Latin American country and perhaps do five cochlear implants during a week-long visit," says Dr. Balkany. "Or we can bring a surgeon here, train him, and have him return to his country where he can do dozens and teach others as well. It just makes more sense to teach others and then have them, in turn, impart that knowledge to colleagues within their own communities."
Unlike hearing aids, which simply amplify sound, implants bypass the defective cochlear hair cells by translating sound into electrical impulses, bringing the world of sound to many deaf patients. New surgical techniques are regularly reported. Manufacturers continually produce smaller, more advanced devices that require specialized training in implantation techniques.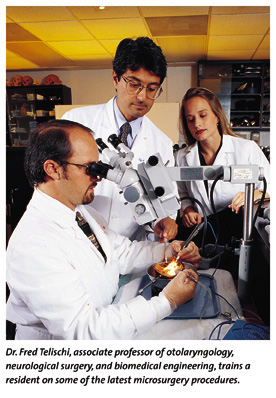 The University of Miami's Microsurgery Training Center is Dr. Balkany's brainchild. In a field of medicine marked by rapid advances, Balkany reasoned, many practicing surgeons receive little, if any, training in the latest surgical procedures. Even now, he says, surgeons in some remote areas around the world rely on books and videotapes to guide them on the new techniques. The center was designed to offer a convenient alternative for those physicians eager to keep abreast of the changes. Most courses are two or three days in length. Some are taught in Spanish.
While the Microsurgery Training Center is one of about a dozen such facilities in the United States, Balkany says the University of Miami's center is focused on advanced procedures, including microsurgery to restore hearing, to remove tumors of the skull base, and to treat chronic ear infections, Meniere's disease, and other balance disorders. Among the growing number of course topics: Endoscopic Sinus Surgery, Facial Nerve Surgery, and Videostroboscopy and Management of the Professional Voice. "The main thrust of our training is on new procedures," Dr. Balkany says. "More than anything, I think this is what sets us apart from other centers."
To that end, the Microsurgery Training Center's teaching lab is outfitted with 13 high-tech work stations, each equipped with a state-of-the-art operating microscope, high speed drills, water, and suction connections. In addition, each workstation is linked by fiber-optic cable, allowing course participants to observe a 3-D image of live surgical procedures conducted by the center's instructional staff within Operating Room 10 at nearby Bascom Palmer Eye Institute.
Dr. Telischi says the 3-D hook up, which is unique among microsurgery training facilities, is vital to the center's teaching methodology. By wearing special goggles (which cost upwards of $1,000 each), course participants see the same three dimensional magnified images as the operating surgeons and can ask questions by way of an interactive voice link. In so doing, participants observe the teaching staff conduct the latest, cutting-edge procedures. The patients, Dr. Telischi quips, benefit from having not one, but perhaps a dozen surgeons overseeing the procedure.
"There's only so much you can do in a lab setting," says Dr. Telischi. "But with this technology, our course participants can see things live, as they are actually happening. There's no better way to learn."
During one routine operation--a mastoidectomy to remove an infection within the temporal bone--Dr. Telischi discovered a quite rare occurrence: Brain tissue had herniated through a defect in the bone and into the ear. The course participants, most of whom had only read about such an occurrence, relished the experience.
"They were amazed," recalls Dr. Telischi. "The patient was fine, but for the trainees this was a once-in-a-lifetime event. Seeing such a case, in a surgical setting, helped prepare them in a way that a lecture alone could never provide."
Dr. Santos, the otolaryngologist from Mexico, says the University of Miami Microsurgery Training Center is helping him to fulfill his mission as a physician, which is particularly important in a part of the world where highly trained surgeons are in increasing demand. "Those of us in the medical profession need to continually look for new ways to help our patients," he says. "By learning the latest surgical procedures I'm able to do that. In a small way, I'm able to make a difference."
-David Villano