EVERY MINUTE COUNTS FOR HEART ATTACK VICTIMS
CANCER RESEARCHERS FIND GENETIC "NEEDLE IN THE HAYSTACK"
NEW DRUG COULD MOVE DIABETICS CLOSER TO INSULIN FREEDOM
OUTSTANDING FACULTY HONORED WITH DEAN'S RESEARCH AWARDS
CELEBRATING 50 YEARS: THE SCHOOL OF MEDICINE'S BOLD START
THE BEST DOCTORS IN AMERICA
UROLOGIST HELPS PATIENTS RESIST THE URGE
PREGNANCY PREVENTION PROGRAM TARGETS CHRONICALLY ILL YOUTH
NEW MOISTURIZER MIXES OIL AND WATER

Every Minute Counts for Heart Attack Victims

training program for paramedics developed by University of Miami cardiologist Donald Rosenberg, M.D., has attracted the interest of Harvard University and hospitals across the country and in Canada.
Because many of the calls received by 911 center around heart attacks, Dr. Rosenberg's program trains South Florida paramedics to assess and treat acute myocardial infarction (heart attacks)-and the program is saving lives.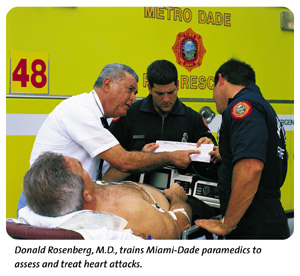 "We know that if we can treat a patient within 70 minutes from the onset of a heart attack, then the mortality rate greatly drops," says Dr. Rosenberg, who is also medical director of the Miami-Dade Fire Rescue Department. "By properly training emergency response personnel to begin treatment on-site rather than waiting until the patient arrives at the hospital to begin treatment, we get a major jump on that crucial time frame. Paramedics from Key West to Palm Beach are using their UM training to effectively diagnose and begin treatment for heart attacks as soon as they arrive at the scene."
The University of Miami program teaches paramedics to assess the situation, administer a ten-point verbal questionnaire while conducting a cardiogram, then electronically transmit that cardiogram to the emergency room physician. Under the physician's guidance, they then administer the clot-busting first dose of Retavase and baby aspirin. In 55 out of the 59 cases in which this system has been most recently employed, the heart attack has been stopped or reversed.
Due to the success of the Miami system, a partnership with Harvard University has been formed, and a joint study has begun in which 50 hospitals in the United States and Canada are participating. This study is measuring the success of the system within specific service delivery areas. Known as TIMI-19 (Thrombolysis in Myocardial Infarction), this study will help take Dr. Rosenberg's life-saving system toward international implementation.

Cancer Researchers Find Genetic "Needle in the Haystack"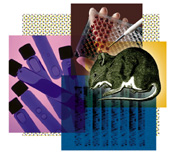 or the first time in Florida, a University of Miami Sylvester Comprehensive Cancer Center researcher has developed "knock out" mice, a tool to study the human immune system and diseases such as cancer. With this scientific advancement, UM/Sylvester joins only a handful of cancer centers nationwide that have the ability to create this means of genetic research.
"It's quite significant because these mice allow scientists to choose which gene they want to study and then remove that gene from a mouse embryo's genetic makeup," says Eckhard Podack, M.D., Ph.D., professor and chairman of the Department of Microbiology and Immunology at the School of Medicine. "By examining what happens when specific genes are lacking, we hope to be able to solve many unanswered questions about cancer."
This process allows scientists to isolate a specific gene known as "needle in a haystack" and study its role in human disease.
Dr. Podack and his laboratory colleagues have "knocked out" a specific protein molecule from 17 mice and are closely watching the injected mice's progress after lymphoma (cancer of the tissues of the lymphatic system) has been transferred to them.

New Drug Could Move Diabetics Closer to Insulin Freedom

new drug showing promise in preventing cell and organ rejection in non-human primates might be the first drug to really work for diabetics awaiting transplanted pancreatic cells-islets, according to a study conducted at the University of Miami's Diabetes Research Institute (DRI).
In Proceedings of the National Academy of Sciences, the DRI reported that diabetic monkeys given monthly doses of anti-CD154 (hu5c8), together with a transplant of insulin-producing islet cells, became insulin-independent and remained so for the duration of the therapy. In three cases, the animals remained insulin-free one year post-transplant, even after discontinuing therapy as much as six months earlier.
"It's been the Holy Grail of islet cell transplantation to identify a safe anti-rejection agent that works in a diabetes model that is closer to human beings than a mouse," explains Norma S. Kenyon, Ph.D., associate professor of medicine and the study's lead author.
"In diabetes, islet cells that produce insulin are destroyed by the patient's own immune system. Islet cell transplantation attempts to give back these insulin-producing cells in an effort to reverse the diabetes. However, not only do traditional anti-rejection therapies bring severe side effects since islet cells are much more delicate than organs, these drugs actually destroy islet function, rendering them essentially useless," explains Camillo Ricordi, M.D., Stacy Joy Goodman Professor of Surgery and Medicine and the scientific director at the DRI.
"This advance could move islet cell transplantation out of the experimental arena and into clinical practice sooner, rather than later."

Outstanding Faculty Honored with Dean's Research Awards

hile excellence in research has long been valued at the University of Miami School of Medicine, Dean John Clarkson has established annual research awards to formally recognize those accomplishments. Award winners receive commemorative plaques and funding to further their research.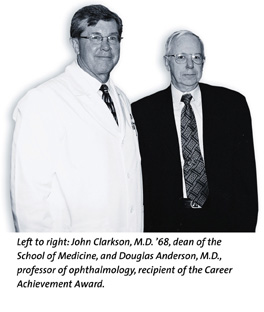 This year's recipients for the award include 13 researchers in five areas.
The Career Achievement Award was presented to Douglas Anderson, M.D., Department of Ophthalmology, and the Senior Clinical Research Award was presented to Brian Berman, M.D., Ph.D., Department of Dermatology; Barbara J. Mason, Ph.D., Department of Psychiatry; and Jay S. Skyler, M.D., Department of Medicine.
The Senior Laboratory Research Award was presented to Mary Bartlett Bunge, Ph.D., The Miami Project to Cure Paralysis; Lincoln T. Potter, M.D., Department of Molecular and Cellular Pharmacology; and Paul Shapshak, Ph.D., Department of Psychiatry.
The Junior Clinical Research Award was awarded to Gregory D. Bossart, M.D., Department of Pathology; Robert Kirsner, M.D., Department of Dermatology; and Lisa Metsch, Ph.D., Department of Epidemiology and Public Health.
The Junior Laboratory Research Award went to Richard Kramer, Ph.D., Department of Molecular and Cellular Pharmacology; Alberto Pugliese, M.D., Department of Medicine; and Matthias Salathe, M.D., Department of Medicine.
The 13 award winners were selected by a committee of preeminent health care professionals and scientists chaired by Gerard Kaiser, M.D., senior associate dean of clinical affairs at the School of Medicine.

Celebrating 50 Years: The School of Medicine's Bold Start

y 1947, Florida was the only southern state without a medical school-largely because people couldn't agree where it should be located. Everyone did agree, however, that a future medical school should be located in a city with a large population base and at an established hospital that could be converted into a teaching hospital.
Although this requirement made Miami a strong candidate due to its size and the fact that Jackson Memorial was the state's largest hospital, not many people took the city's candidacy seriously. Many state political leaders favored the University of Florida as the location of choice.
In May of that year, a bill calling for the creation of a medical school in South Florida was quickly and quietly passed by the Florida Senate, under the assumption that should a medical school become a reality, it would be a South Florida extension of the University of Florida. But the senators did not know that a goal of Bowman F. Ashe, then-president of the University of Miami, was to advance the University into a top academic institution by adding a medical school. This new bill provided him with the opportune time to move forward with his vision. President Ashe acted upon the passed bill in a dramatic way: A full-page advertisement placed in The Miami Herald announced the University's intent to open its own medical school.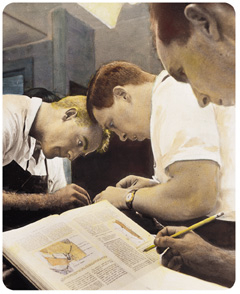 The ad's impact was tremendous. State legislators asked President Ashe to rescind the action. Bowing to the controversy, the senators withdrew the bill within a week of the ad's placement.
President Ashe's vision did not fade, however. Instead, it was quietly repackaged, employing the wiles of a key University of Miami Board of Trustees member, R. Bunn Gautier, Jr.
Reelected to the Florida Senate in 1949, Gautier in 1951 won the support of the Dade County Commission, most of the medical society, the Chamber of Commerce, and community leaders for a bill calling for the payment of $3,000 per year, per student, to a "to-be-created Florida medical school." The bill, never mentioning the school's location or who would oversee it, passed the state Senate.
Simultaneously, President Ashe had secured support from the American Medical Association and the Association of American Colleges of Medicine. Immediately after the bill was voted through, he announced plans to open a school of medicine at the University of Miami by the following autumn. Lawsuits from the University of Florida were filed and countered by the University of Miami; the court ruled in favor of UM in January of 1952. The University of Florida's alumni association appealed to the state Supreme Court.
University officials did not wait for the outcome of the appeal. On September 22, 1952, the doors of the School of Medicine were opened, heralding the beginning for President Ashe's vision of a world-class medical institution.
Editor's Note: This is the first in a series of articles to commemorate the School of Medicine's 50th anniversary, which takes place in 2002.


early one-quarter of the University of Miami's medical faculty were cited in the reference text, The Best Doctors in America, 1999.
This book, the largest peer-reviewed evaluation of the medical profession ever undertaken, reflects the opinion of more than 300,000 doctors throughout the United States who were asked to rate the clinical abilities of other doctors in their areas of specialization.
University faculty in every medical specialty are listed. The most physicians cited in any department were 42 from the Department of Medicine, in divisions ranging from cardiology to infectious diseases. Twenty-eight University pediatricians, 27 cancer specialists from UM/Sylvester Comprehensive Cancer Center, and 14 ophthalmologists from Bascom Palmer Eye Institute also were cited in the book.

Urologist Helps Patients Resist the Urge

ngelo Gousse, M.D., assistant professor of clinical urology, is the first physician in South Florida to be approved by the Food and Drug Administration (FDA) to perform a new surgical procedure to correct urge incontinence. With this type of incontinence, the need to urinate comes on so suddenly that it is often impossible to reach a restroom.
Called neuromodulation, the premise of the new procedure is to use mild electric pulses to stimulate the nerve in the lower back that controls urination.
"This procedure is successful because it goes directly to the source of the problem, the nerves that affect bladder control," says Dr. Gousse, a specialist in female urologic conditions, particularly bladder control problems.
The device used to stimulate the nerve is called Interstim™, manufactured by Medtronic, Inc. of Minneapolis, Minnesota. Implanted just below the skin in the lower back or abdomen during a 30-minute office procedure, the treatment is known as a "last resort" for women who haven't responded to standard therapies, says Dr. Gousse.
"The Interstim's most unique feature is its ability to determine a successful outcome through a test stimulation, before the device is even implanted," he explains.
Clinical trials showed that nearly 80 percent of patients saw a more than 50 percent improvement in their main symptoms after a 12-month follow-up period. Urge incontinence patients saw their number of bladder accidents drop from an average of 7.4 times per day to 1.5 per day.

Pregnancy Prevention Program Targets Chronically Ill Youth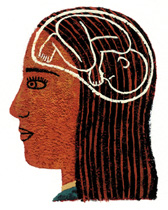 or adolescents, coping with chronic illnesses such as diabetes or sickle cell anemia is challenging. The addition of pregnancy not only complicates the management of these diseases, but also can seriously endanger the health of both patient and unborn child.
A new program developed by the University of Miami Department of Pediatrics and directed by Onelia G. Lage, M.D., assistant professor of clinical pediatrics, is intended to prevent pregnancy among youngsters with these illnesses. Called the Multimedia Approach to Pregnancy Prevention (MAPP), the program's objective is to reach out to youngsters before they begin high school in a way that appeals to their age group and that opens up the lines of communication between them, their parents, and their doctors.
A recent survey showed that 42 percent of Miami-Dade County youths are sexually active. Through the use of an interactive computer program, MAPP researchers hope to encourage chronically ill adolescents to postpone sexual activity and prevent pregnancy. The computer program consists of three 20-minute modules designed to educate youths about their chronic illness and the impact a pregnancy might have on their health and that of an unborn child.

New Moisturizer Mixes Oil and Water
hey say that oil and water don't mix, but scientists at the University of Miami Department of Dermatology and Cutaneous Surgery have bottled a formula in which these ingredients work together to enhance skin moisture.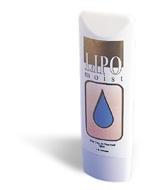 Bob Hsia, Ph.D., professor of dermatology, discovered this new formula, called Lipomoist, five years ago. Since then, he and his research team have been perfecting it, and the results are remarkable, according to users.
What's the secret? Lipomoist's main ingredient is a phospholipid that attracts water, and through a special manufacturing process, these two elements "roll together" to form tiny spheres called liposomes. When liposomes mix with the skin's natural oil, a protective barrier is created in the outermost layer of the skin, lending a smooth, supple, and healthy appearance.
Independent testing has shown that Lipomoist keeps the skin moisturized longer than any other leading brand of moisturizer on the market.
For information about Lipomoist or to order a sample, please call Cari Martinez at 305-243-3646 or fax orders to 305-243-6191.



UM MEDICINE HOME | UM MEDICINE ARCHIVE
SCHOOL OF MEDICINE HOME | UNIVERSITY OF MIAMI HOME