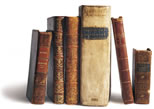 By Jeanne Antol Krull
THE HISTORY OF MEDICINE is as old as civilization itself. Its roots date back to early Egyptian times with the practices of embalming and mummifying to the time of Hippocrates, the Greek physician now revered as the "Father of Medicine." That history is coming alive at the Louis Calder Memorial Library in an extraordinary collection of medical textbooks donated by Martin B. Raskin, M.D., a retired New York obstetrician and gynecologist now living in Lake Worth, Florida.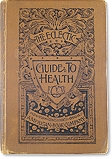 Raskin's collection totals more than 5,000 books and, at 81 years old, he's still adding to it every chance he gets. More than half of the publications are on the shelves in the Emanuel M. Papper, M.D., History of Medicine Reading Room and in the Rare Book Room at Calder; they started arriving back in 1996.
For perspective on the historical significance of the collection, consider that almost half of the books reside in the Rare Book Room. For a book to be called rare at the Calder Library, it had to be published before 1864, the year the Civil War ended. Five of those rare books were published before the 1600s. Not only that, but close to 400 of the titles are listed in the bibliography commonly known as "Garrison & Morton." Now in its 5th edition, the bibliography lists all major significant authors in the development of medicine from ancient times to the 20th century.
Currently the oldest book in the collection, published in 1549, describes medicine and the importance of hygiene in good health. It is an Italian translation of Galen, who is considered one of the most influential ancient medical writers. A physician and philosopher, Galen was born at Pergamum in A.D. 129, but spent most of his career in Rome. The fact that his textbooks were still being translated in the 1500s is a testament to the significance of his medical and philosophical writings.
"This gift is extraordinary in its size, scope, and quality," says Henry L. Lemkau, Jr., J.D., director and chairman of the Department of the Library and Biomedical Communications. "If you're interested in the history of your profession or just have a great love of history, this collection is unrivaled anywhere in the state of Florida and is among the top collections in the United States. For a medical school as young as the University of Miami at 50 years old, to have something like this in our library brings depth and prestige to the institution."
It can make your institution known around the world as well. Since the Raskin collection is catalogued and processed on OCLC, an international database, medical scholars and historians are attracted to Calder, where they may find titles not available anywhere else.

humbing through the pages of Dr. Raskin's textbooks, you will see many languages represented. In Western medicine's earliest days, Latin and Greek were the principal languages. It was years later that some of the books were translated and written in French, Italian, German, and eventually English. You also will find almost every medical discipline represented, making the collection a comprehensive history of medicine and the allied health fields.


Though he collects books on many areas of medicine, Raskin says the textbooks in his specialty, obstetrics and gynecology, are among his favorites. He started collec-ting as a young medical student at the Philadelphia College of Osteopathic Medicine back in the mid-1940s. "I was interested in the history of medicine, and I was interested in the various doctors who wrote about certain things that they discovered, so I got their books. Then I got another and another, and it just grew and grew, but I never thought it would grow this large," says Raskin. He describes himself as a "real good book hunter," and says he would go to bookstores wherever he traveled, attend auctions, advertise for books, and he would even get letters from people who found books for him.
"The pristine condition of these books shows this is truly a man's passion," remarks Lemkau on the quality of the collection. Raskin was equally passionate about medicine. He practiced in Queens, New York, for almost 50 years, delivering close to 5,000 babies. He also was medical director at Baptist Hospital in New York and a professor of obstetrics and gynecology at New York College of Osteopathic Medicine, before eventually retiring to Florida.
Raskin decided to house his collection at Calder after his wife, a retired family medicine physician, underwent successful spinal surgery at the School of Medicine. "It's very easy for us to get to, we like the people at UM, and I felt in a medical school library they would be valuable to people doing medical history studies. They could pick out any type of history they were interested in and there would be a textbook to fill in the blanks."
The Raskin family legacy of medicine has a promising future. His granddaughter is now in medical school in New York. And Raskin hopes his books will have an endless shelf life; he refers to them as an education in perpetuity.