he Stacy Joy Goodman Memorial Foundation established a network of associates, friends, and family around the world to garner support. A contact led Goodman and Shewer to the Diabetes Research Institute in 1997, and a pledge of $2.5 million endowed the Stacy Joy Goodman Professor of Surgery and Medicine. Supporting the research of DRI scientific director Camillo Ricordi, M.D., since its creation, the endowment has allowed scientists to move innovative treatment strategies on a fast track through School of Medicine laboratories and straight to patients who will benefit most.
"Philanthropy makes it possible for the School of Medicine to take huge steps forward in research that will save patients' lives," says John G. Clarkson, M.D. '68, senior vice president for medical affairs and dean. Novel treatment interventions, like the isolation and transplantation of islet cells from a donor pancreas to encourage insulin production in diabetics, require proven success before the National Institutes of Health will fund them. Forward-thinking ideas on campus often require forward-thinking donors.
"Having the strength to continue to fight until a cure is found, so that millions of other fathers will not share his devastating experience is truly remarkable," Ricordi says of Goodman. "But what impressed me the most about Marc was his relentless search for the right place to give his trust and support."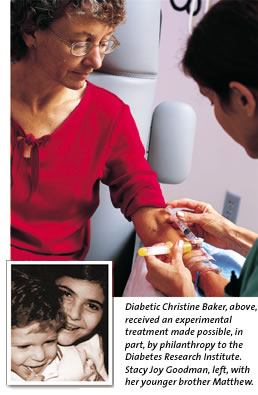 By supporting research that focuses on finding a cure, Goodman discovered a way to channel his grief and spare others from experiencing the same. And while seeking closure for his own family, Goodman's philanthropy led him to embrace another. Encouraged by the compassion with which scientists and clinical researchers at the School of Medicine pursue an end to diabetes, he joined the DRI Foundation board and was recently named chairman. Goodman's son Matthew, with whom Stacy shared an "extraordinary relationefforts at DRI events.
"It's much more than writing a check. It's a passion, a commitment to see this through," Goodman says. "Each day saves another life, another family from the horrors we've experienced."
Personal history with a disease that has affected a loved one is among the most common motivations behind philanthropy to an academic research institution. Driven by a desire to fight back, families and friends adopt the mission shared by centers at the School of Medicine on the quest for a cure. But before clinical applications comes basic laboratory science. A donation that supports research efforts toward finding a cure may not have tangible results for years.
The wait may seem long, but dramatic results do come. Just ask Christine Baker.
When she was 20 years old, Baker's pancreas stopped producing insulin—a change that brought innumerable obstacles. As a traveling sales associate, she faced daily challenges in controlling her blood sugar level in addition to more serious side effects. Frightened by recurrent seizures that struck while she slept, Baker was desperate to find a solution that would help manage her disease. Brought on by sudden drops in glucose levels, like the one that took Stacy Goodman's life, the severe seizures would wake Baker's husband, who had to call for emergency help more than once. Having him at her side saved her life, Baker says. A transplant of islet cells is making that task much easier today.
Baker enrolled in a research trial conducted by scientists at the DRI that brought an experimental treatment directly from laboratory research to clinical application. "It was a Friday night when I got the call," Baker remembers of receiving notice that donor islet cells had become available. "As soon as I got off the phone, I made my flight reservation."
On the morning of September 26, 2002, recharged by two transplants of islet cells, Baker began her day without a dose of insulin for the first time in 35 years.
"It's hard to describe," Baker says of her insulin-free regimen. "It's a feeling of elation. These little cells are working!"
As an endowment, the Stacy Joy Goodman Memorial Foundation's original donation has allowed for consistent research support leading to the clinical applications that today are changing patients' lives. Invested by the University, the initial funds to create an endowed chair generate interest that makes for perpetual giving. The foundation also renewed its commitment last year, pledging an additional $1 million to create a clinical research pavilion bearing Stacy's name.
"It's been amazing to watch the progress in the search for a cure for this disease," says Goodman. "We've taken big steps, but there's a long way to go."
Studies aimed at improving the body's tolerance of donor islet cells are the next challenge for DRI researchers. "What we are learning with present clinical trials will allow us to design protocols that will not require permanent immunosuppression," says Rodolfo Alejandro, M.D., director of the DRI Clinical Islet Transplant Program. "Significant private contributions are needed in order for the field to continue its progress and generate preliminary data that can be used to assure federal funding.

n pursuit of an end to human suffering and cures for diseases, scientists seek the resources necessary to turn that vision into reality. The University of Miami has launched a capital campaign to raise awareness and support of someof its most important programs—clinical research efforts at the School of Medicine among them.
" Money makes things possible," says Victoria Myers, assistant vice president for medical development, who will direct the medical school's branch of the University-wide campaign. "Some of the most important initiatives on our campus were made possible because philanthropy was a factor at the beginning." Gifts that support research and clinical endeavors come in all shapes and sizes, whether a mother is grateful for the care a family physician provided her child or a seasoned veteran wants to advance the science he once pursued as a young investigator. And donations aren't only measured in dollars.
"I haven't had money to give to research, so this is what I can do," says Christine Baker, referring to her partici-pation in a research trial.
Goodman gave time and money to find closure for his family and give hope to others in the same circumstances. Baker put her health in the hands of researchers to help them find out if a cure for diabetes is truly possible. And by targeting disease with original ideas and experimental innovations, physicians and researchers at the School of Medicine put their faith in a community of philanthropists, patients, and visionaries who will be partners in the clinical discoveries that await them.
Deborah Phillips (B.S. '98) is a former editor in the Office of Communications at the School of Medicine. Illustration by Linda Fountain. Photography by Donna Victor.