PHYSICIAN HONORED FOR COMMUNITY CARE

Health Care Hero




hrough the efforts of Robert Schwartz, M.D., families in Miami's Overtown community need look no farther than their own neighborhood for quality clinical care. As chairman of the School of Medicine's Department of Family Medicine and Community Health, Schwartz has dedicated countless hours to many local health care initiatives, including his work with the Jefferson Reaves Sr. Health Center. Though his greatest reward is the gratitude of his patients, last spring Schwartz was honored formally for his work at the center, receiving the distinction of Health Care Hero from the Greater Miami Chamber of Commerce.
E
stablished in 1998 under the direction of Schwartz, along with the support of the Public Health Trust and the Overtown Community Board, the center provides comprehensive health care services in pediatrics, adolescent and adult medicine, low-risk obstetrics, gynecology, and geriatrics. Mental health care, immunization programs, and complete dental services also are provided. Community health fairs, house calls, and grants for program expansion further supplement the clinic's services. Joining UM physicians, residents, and the center's staff, students from the School of Medicine rotate through the clinic for training in primary care.
"This award belongs to the faculty, residents, and students who take care of the Overtown community and provide outstanding care," Schwartz says. "Before this center began, the majority of patients in this community sought care from the emergency room or urgent care center, where they waited long hours and never had a personal physician who cared for them or their families."
The Pediatric Intensive Care Unit of the Holtz Children's Hospital at UM/Jackson also was recognized with a Health Care Hero Award. Bernard A. Roos, M.D., professor of geriatric medicine and chief academic officer of the Miami Jewish Home & Hospital for the Aged, was named a finalist in the health care professionals category.



Military Teamwork Model for Obstetrics




f it works for the United States military, can it work for physicians, nurses, and patients on a hospital labor and delivery floor? A study funded by the Department of Defense and the Harvard Risk Management Foun-dation will evaluate a teamwork intervention used by the military to see if it can improve care and outcomes for obstetric patients.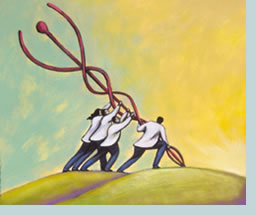 The School of Medicine's Department of Obstetrics and Gynecology at Jackson Memorial Hospital is one of 15 sites taking part in the year-long study, and with 9,000 deliveries a year it's also the busiest medical center involved.Researchers are evaluating a teamwork training program, called MedTeams, that evolved from aviation safety training by the U.S. military. Studies found that lack of teamwork resulted in 147 fatalities and more than $300 million in aircraft damages from 1984 to 1989. After specialized teamwork training, accidents were greatly reduced, with an estimated savings of $30 million per year. Now the research is moving to a high-stress, high-volume hospital setting.
"The goal of the study is to determine the difference teamwork makes on a labor and delivery floor," says David Birnbach, M.D., executive vice chair of the Department of Anesthesi-ology and principal investigator at UM. "Does better communication improve morale among nurses and physicians? Does it produce healthier babies and make for happier patients? We believe that it does and that this study will demonstrate that."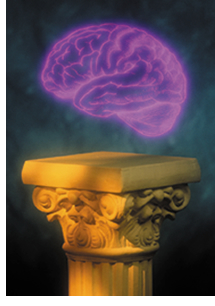 MCKNIGHT BRAIN RESEARCH FOUNDATION DONATES $5 MILLION
A Memorable Gift




$5 million gift from the McKnight Brain Research Foundation will help scientists and physicians at the Univer-sity of Miami School of Medicine unlock the mysteries of the aging brain and why some people lose memory as they grow older. The McKnight Brain Research Foundation supports research toward the understanding of memory and the specific influences of the natural aging process. The foundation's gift will create the Evelyn F. McKnight Center for Age-Related Memory Loss and enable UM to develop a leading center for research into the causes and treatment of age-related brain disorders.
" This generous gift will significantly enhance our progress toward understanding and alleviating the age-related changes in memory and brain function," says John G. Clarkson, M.D. '68, senior vice president for medical affairs and dean of the School of Medicine. "Given our strong existing research in the neurosciences and aging, along with South Florida's growing elderly population, there is no better place for this center."
The gift from the McKnight Brain Research Foundation will support the "This generous gift will significantly enhance our progress toward understanding and alleviating the age-related changes in memory and brain function," says John G. Clarkson, M.D. '68, senior vice president for medical affairs and dean of the School of Medicine. "Given our strong existing research in the neurosciences and aging, along with South Florida's growing elderly population, there is no better place for this center." The gift from the McKnight Brain Research Foundation will support the The gift from the McKnight Brain Research Foundation will support the McKnight Brain Research Foundation.
Evelyn and William McKnight were interested in the effects of aging on memory. Their longtime association with the University has supported various research initiatives of the School of Medicine, most notably the McKnight Vision Research Center at the Bascom Palmer Eye Institute.



Well-suited for Bioterrorism Response



acing great challenges since the September 11 terrorist attacks and the threats of bioterrorism that have followed, emergency medical personnel in South Florida have answered the call to a higher level of preparedness with the help of UM's Center for Research in Medical Education (CRME). A new class at the center offers paramedics, fire rescue workers, nurses, and members of the military two days of training in bioterrorism response.
Along with classroom lectures, participants receive hands-on experience with protective gear, including hazardous materials, or "hazmat," suits for response in biohazardous environments. They also train for real-world scenarios through an elaborate, simulated bioterrorism emergency that includes patient response and care for both ambulatory and incapacitated victims. Along with general skills in specialized response, the class emphasizes interpersonal communication and teamwork.
"With the issues faced today, we've seen the scope of situations expand to all aspects of health care," says Geoffrey Miller, assistant director of emergency medical skills training. "Now all workers must have a level of understanding and skill, because everyone will have to respond."
Renowned for advances in medical education, the CRME offers other courses in paramedic emergency management, including trauma, pediatrics, heart attack, stroke response, and more.



Doctors Play Key Role in Drug Enforcement
X-ray Vision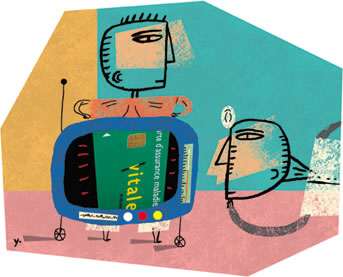 unique program partners the Department of Radi-ology at the School of Medicine with United States Customs and Border Protection in identifying drug smugglers at Miami International Airport and other locations around the country. Through innovations in telemedicine and the expertise of radiologists at UM/ Jackson, Customs agents can identify suspects onsite in a matter of minutes.
Portable facilities at airports in Miami, Fort Lauderdale, Houston, and San Juan capture X-ray images of a suspect's abdomen and store them on a database shared by UM/Jackson and U.S. Customs. Radiologists are paged immediately and can access the images from their computers at the medical center to provide analysis. A quick reply to Customs closes the case. In the past, Customs agents had to take suspects to Jackson for X-ray.
" With this program, we're saving the agents constant trips, allowing them to free up manpower and time," says Luis Rivas, M.D., assistant professor of radiology and chief of trauma and emergency radiology at UM/Jackson.
Beyond regulating borders and keeping communities safe from illegal drugs, the program also protects suspects. According to Rivas, ingesting harmful drugs for transport can be fatal. Leaks from a package in the stomach containing heroin or cocaine, for example, can send the drug directly into the bloodstream. With capabilities for quick analysis and electronic communication with Customs agents, radiologists are able to call for immediate emergency care if necessary.



New Recruits for Cancer Research


n the search for something as urgent as better cancer care, the more minds involved the better. But that's only one of the reasons behind an aggressive campaign to recruit researchers to the University of Miami Sylvester Comprehensive Cancer Center. "The idea is to create multidisciplinary programs that offer new options to patients and increase the quality and quantity of the research that we do," says Joseph D. Rosenblatt, M.D., scientific director.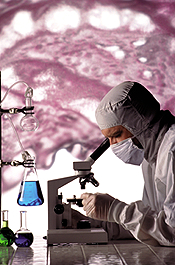 "The strategy is to develop a cadre of individuals who can translate findings from the bedside into the laboratory or clinical researchers who can take laboratory findings and translate them into clinical trials to benefit patients," Rosenblatt says.
Half a dozen new physician-scientists have joined UM/Sylvester since last fall or will arrive soon. "In breast cancer we've recruited Dr. Joyce Slingerland," says Rosenblatt. "Dr. Slingerland, in turn, is helping to recruit molecular pathologists, epidemiologists, clinical researchers, bench researchers and the like, all of whom will work as a team."
Rakesh Singal, M.D., M.R.C.P., comes to UM/Sylvester from Louisiana State University. He is a hematologist/oncologist and genetic researcher who has had a distinguished career studying gene regulation in prostate and other genitourinary tumors. Another new recruit is Denise Pereira, M.D., former chief resident at Jackson. Previously at the Brazilian National Institute of Cancer, she completed a hematology/oncology fellowship at the Princess Margaret Hospital in Toronto and has worked in the bone marrow transplant unit at the Mayo Clinic.
New recruits already on the faculty include Khaled Tolba, M.D., who is developing immune therapy; Izidore Lossos, M.D., a leader in lymphoma research; and Toyin Shonukan, M.D., on the clinical breast cancer team.



PATIENT SAFETY is A TOP PRIORITY
Protecting Patients



he more advanced and complex medical care becomes, the greater the potential risk to patients. To address this challenge, the School of Medicine has established the University of Miami Center for Patient Safety.
The initiative reflects the values of UM President Donna E. Shalala, Ph.D., who cochaired the Quality Interagency Coordination Task Force as U.S. secretary of Health and Human Services. With a mission of improving quality of care, the task force developed priorities that will be expanded at the new UM center, including reducing hazards in patient care, designing new curricula, and implementing safety strategies.
"The goal is to teach all health care professionals how to deliver high-quality, safe care from day one of their education," says Paul Barach, M.D., M.P.H., a nati onal leader in patient safety who recently joined the School of Medicine from the University of Chicago to head the new center.
According to the National Academy of Sciences, Institute of Medicine, up to 98,000 preventable deaths occur each year in health care. Medical errors are a leading cause of preventable death in the United States, higher than motor vehicle accidents or breast cancer and AIDS combined. The problem is critical, says Barach, but creating a culture of safety is not out of reach.
The Center for Patient Safety will be the first program of its kind in the nation and will feature collaboration among UM, Jackson, and other disciplines across the University. The center will offer advanced simulation training to prepare students, residents, and physicians for crisis scenarios. Also topping the center's priorities is the importance of effective communication in clinical encounters. Expert faculty, including William Rutherford, M.D., a physician-commercial pilot who directed team training for a major airline, have been recruited. The College of Engineering and social science departments will help develop structured methods for addressing medical errors and system deficiencies.
"As health care professionals, we have an ethical imperative to do the right thing," Barach says. "We want to design a system that makes it easier to do the right thing, harder to do the wrong thing."



Initiative Aimed at Improving Instruction


n a small conference room in the Rosenstiel Medical Sciences Building, a group of students discusses clinical approaches for a patient showing signs of liver disease. A professor is present but quiet, offering guidance when necessary. Called problem-based learning, this teaching method is part of the curriculum for second-year students and encourages them to take more responsibility for their own learning.


The introduction of forward-thinking instructional methods is one of many educational initiatives at the School of Medicine. Guid-ance is provided by the new Educational Development Office, which is raising the value of teaching and learning through organizational, instructional, and faculty development.
"Enhancing our curriculum has been a major priority," says Mark T. O'Connell, M.D., senior associate dean for medical education. "We are fessors move to the other side of the podium to learn about exam writing, interpersonal relations, and more. Discus-sion groups called faculty learning communities allow teachers to share experiences and learn from each other.
"Our interest in teaching should be as strong as our interests in research or medical care," says Richard Tiberius, Ph.D., director of the Educational Develop-ment Office.



Photo Illustration by The Image Bank/Photography by Pyramid Photographics
Photography by John Zillioux (patient safety) and Pyramid Photographics







UM MEDICINE HOME | UM MEDICINE ARCHIVE