he University of Miami School of Medicine and Jackson Memorial Hospital share a unique affiliation that combines the strengths of private and public enterprise. As the Miami-Dade County Mayor's Healthcare Task Force, the Board of County Commissioners, Community Voices, and Jackson's Public Health Trust address the challenging needs of our patients in an ever-changing environment, it is important to combine insight from our past withan eye on our future.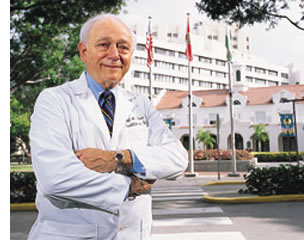 If we do not remember history, we will be doomed to repeat it.I came to the University of Miami/ Jackson Memorial Medical Center in 1971 as chief of cardiothoracic surgery, and my current role as senior vice president of medical affairs for Jackson Health System gives me a unique perspective of the affiliation between the University of Miami School of Medicine and Jackson Health System. Our history can serve as a prelude to the future of countywide health care delivery.
Thirty years ago the hospital was a county department threatened with loss of accreditation because there was no accountability for quality of patient care and administrative oversight. The Public Health Trust was created to perform this function for the Dade County government, and it has since served as a national model.
In the late 1980s, Jackson Memorial Hospital faced financial catastrophe as a consequence of the growth of managed care, the increasing cost of providing indigent care, and the collapse of the trauma network composed of the community's hospitals. The people of Miami-Dade County recognized the crisis and in 1991 passed a half-cent sales tax dedicated to Jackson Memorial Hospital. These dollars provided fiscal stability and made possible, among other things, the Ryder Trauma Center and fostered the creation of Jackson Health System to provide health care countywide. That system now encompasses two hospitals, a maternity center, two nursing homes, 12 primary care centers, and the county's correctional health services.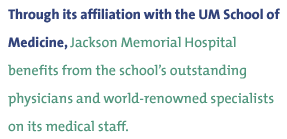 Today our community once again faces a crisis over the need to provide health care to the 450,000 citizens who are unable to pay for such care. Whatever the solution, it must include constituents from all sectors of the health care community and participation of business interests. Other communities have devised successful plans that require all participants to contribute their fair share in a public-private partnership.
Through its affiliation with the UM School of Medicine, Jackson Memorial Hospital benefits from the school's outstanding physicians and world-renowned specialists on its medical staff. Jackson serves as the primary hospital for the private patients of the faculty, which brings considerable revenue support to the hospital. These physicians supervise the residents in accredited physician training programs at Jackson and provide oversight of care for indigent patients, assuring a single standard of care.
We must pool our efforts and work together with the county commission in a collegial manner to empower a governing body to coordinate a countywide system to address our community's health care needs. We must face these challenges with quiet optimism. We must learn from our past successes. We must commit ourselves to a solution that builds upon these successes, expands community participation, and offers these benefits to all citizens.
Gerard Kaiser, M.D., is senior associate dean for clinical affairs at the School of Medicine and senior vice president of medical affairs for Jackson Health System.