ifteen years ago the president of Chrysler complained: "I spend more money for health care for every car I build than I do for steel." Since then health care costs in the U.S. have increased at a double-digit annual rate. The University of Miami, after a year in which health care costs rose
12 percent, faces an increase of 15 to 20 percent for next year, as do small and large businesses and individuals across the country. Individual health coverage is almost impossible to get and virtually unaffordable, exceeding $10,000 a year for a family.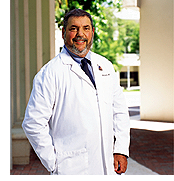 Is there a crisis? It depends on who you are. Employers large and small believe there is; the federal government continues to predict bankruptcy in the Medicare program. Healthy and ill alike are so concerned about losing health insurance that they stay in jobs they dislike.
But pharmaceutical companies, for-profit hospital chains, some not-for-profit hospital systems, and some physicians have experienced increased revenues and profits and geometric increases in incomes. For these groups there is no crisis; higher spending is just part of this country's commitment to the finest health care system in the world. But is it?
The enormous cost has not resulted in a system the world envies. We rank No. 1 in health care expenditures, spending more than 14 percent of our gross domestic product ($3 trillion), while Germany spends 10.5 percent, Sweden 9.2 percent, and Japan 7.1 percent (with the world's highest life expectancy). More than 20 percent of our residents lack health insurance; an even greater number are underinsured. According to the World Health Organization, we rank 28th in infant mortality and 72nd in "efficiency of expenditures for health." The cost of malpractice insurance creates a suffocating burden in Florida and other states. In fact, many believe we are on the brink of a crisis so profound that it may fundamentally alter American health care.
What's the solution? Governmental intervention such as that proposed by the Clinton administration years ago could have helped control costs and mandated universal health coverage, but clearly the time wasn't right. Other "top-down" approaches, including government regulation of health care fees and imposition of a "single payer" system, are unlikely to occur.
What are the alternatives? Many medium to large employers are considering plans that place much of the cost in the employee's hands, along with the choice of what kind of health care to seek and when. While attractive financially, this places many employees at potential financial risk. Others, like the University of Miami, are considering strategies that would empower the patient/employee and his or her primary care physician to provide comprehensive, preventive, and easily available care. The assumption is that such care, from a physician well known to the patient, would reduce unnecessary testing and referrals and decrease overall costs. This strategy has much to recommend it, but there are serious obstacles.
There are few incentives for physicians to enter primary care practice and fewer for those nearing "retirement age" to remain in practice. More and more graduates of U.S. medical schools are choosing specialties that pay higher salaries and provide more flexibility.
Our current reimbursement of physicians pays well for care of the acutely ill and thus has created a subspecialty-oriented, technologically rich system of medicine. There are no incentives to promote wellness, prevent or delay disease, and support patients in the lifestyle changes so necessary for good health. Payment for office assessment, management of complex problems, and patient education is so low that both patients and physicians feel rushed as visit volume increases to meet rising expenses.
Is it any surprise, then, that a health care strategy that depends on a large number of high-quality, well-informed, and motivated primary care physicians supported by the latest information technology poses at the very least a challenge? In the next issue of Medicine magazine, I will describe a proposal being developed to address this critical challenge.