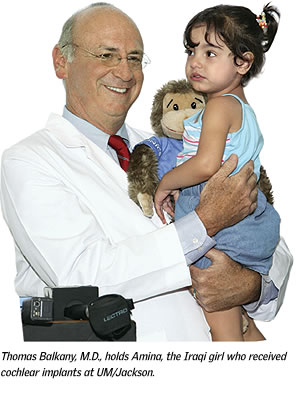 This kid is different, Tom!" said Diane, whom Tom Balkany had recently married. "He is smart but nobody knows it." Diane was trying with all her heart and expertise to make a difference for kids who were then labeled "retarded." For Max, the world was quite organized and reasonably structured. But he never had a chance to get a reference, a benchmark to consolidate or remodel the world he had created for himself. That is because he could never ask and could never appreciate what the people around him were saying, even the very patient, kind ones. He had never been able to hear anything. He did not know that was unusual. And nobody knew he was deaf.
That is what Diane and Tom, then an eager and already passionate medical student, discovered when they brought Max to the audiology section of the Department of Otolaryngology. That was also the day Tom discovered that his favorite discipline of medicine would be otolaryngology, or ear, nose, and throat (ENT), a field that specializes in critical functions that make humans human—hearing, speaking, tasting, eating, and swallowing—and also disorders spanning a large spectrum of severity, from snoring and ear aches to facial reconstruction and removal of tumors of the vocal cords.
The one piece of this discipline that Tom found particularly fascinating was hearing—the way sound waves are channeled to the tympanic membranes, perceived, registered, processed, and carried as electrical energy to refined domains of the human brain. Tom had developed an unusual level of understanding of each step in the complex process of hearing. He rapidly developed unmatched expertise in the surgical procedures aimed at restoring a functional hearing apparatus, as well as in diagnostic and other clinical and scientific layers of the discipline.
When devices were conceptualized to replace missing functional elements in the ear, Tom was at the cutting edge. He could virtually construct an ear machine out of coils, electrodes, and copper wires coated with silicone. Step by step, devices progressed to become adequate to allow most patients to at least understand the speech of loved ones and colleagues. Rising through the ranks, Tom came to the Miller School with the drive to build the best ENT department in the country. Carrying his good looks with a form of nonchalance, what is striking about Tom is his mix of intelligence and kindness; he is a real "mensch" (a good man).
He tells the story of a patient who could not hear a sound and was provided with one of the early prototypes for a cochlear implant (the electronic implantable device that restores hearing for most deaf patients). At that time, the device was improvised in the operating room. The patient, Mike, was a busy entrepreneur and politician. His wife, Claire, was not only the love of his life, she was also the interpreter or, more specifically, the intelligence that allowed him to communicate with and understand the world around him. One day, Mike heard Claire's voice for the first time. He loved her even more. Life is not always fair, and for Mike, whose courage and determination were unsurpassed, the story has it that a brain tumor destroyed his ability to speak. From deafness to speechlessness, this extraordinary communicator faced all the hurdles. Eventually, the tumor took his life, while he was listening to the angelic voice of Claire. To this day, tears still well up in Tom's eyes when he recalls the story of his friend Mike.
Amina was a young Iraqi girl who at age 3 had never heard the voice of her mom and dad. A member of our military, Col. Warner Anderson, noticed that she was unfazed by gunshots and other battle noises. Col. Anderson's wife had heard of Tom Balkany and his team and contacted him. With the invaluable help of the International Kids Fund, little Amina traveled to UM/Jackson and received cochlear implants, and a world of new sounds reached her young brain for the first time. She went back home to Iraq with all the necessary orange and green UM memorabilia and warm feelings about the U.S.A. A true ambassador, she spreads the message that in America we can make miracles happen—particularly Tom Balkany.
But of course, Tom would be the first one to say that teamwork is what makes true medical breakthroughs happen. As chair of the Department of Otolaryngology, he has assembled an outstanding team of physicians, audiologists, nurses, and staff. The team was recently ranked in the top 20 in the U.S. for its amazing clinical and scientific reputation and accomplishments.
It is instructive to note that the other "top 20" medical discipline at UM is ophthalmology, eye disorders. Actually, ophthalmology is No. 1 in the rankings. The Bascom Palmer Eye Institute founded by Ed Norton is known as the premier eye center in the U.S.
ENT and ophthalmology deal with the two senses that make humans human: hearing and vision. Why such emphasis on human senses in Miami? Perhaps it has to do with the fact that we are in the most exciting city in the world. Perhaps at the edge of the Florida Peninsula, where light is powerful and so many languages are spoken, hearing and vision are lifesaving and beyond the shadow of a doubt critical to quality of life.
Johann Sebastian Bach's "Partitas for Violin" are playing, reminding us of the gift of hearing and those who so diligently, like Tom Balkany and his extraordinary team, protect it, repair it, or replace it, whatever the need may be.