1970s
Jamie S. Barkin, M.D. '70, professor of medicine and chief of Mt. Sinai Medical Center's Division of Gastroenterology, has received a Mastership title from The American College of Physicians (ACP). The title was conferred at the ACP's Convocation ceremony during its annual meeting, which took place in May. Mastership is bestowed upon select Fellows in recognition of exceedingly stellar career accomplishments and service. Arthur L. Diskin, M.D. '79, has been appointed vice president, chief medical officer for Royal Caribbean Cruise Lines. He will be responsible for the operations of 34 shipboard infirmaries around the world, the on-board care of more than 10,000 employees, and all corporate public health issues. Diskin was previously chief and medical director of emergency services at Jackson Memorial Hospital.
1980s
Richard C. Lehman, M.D. '80, is a St. Louis orthopaedic surgeon specializing in sports medicine. Lehman is a member of the National Hockey League's Board of Governors and one of the team physicians for the Florida Panthers. He played tennis at the University of Minnesota in the 1970s, earning academic All-American honors.
1990s
John Suh, M.D. '90, is chairman of radiation oncology at Cleveland Clinic Taussig Cancer Institute. Suh is also associate director of the Gamma Knife Center.
Maxine Minto, M.D. '92, was recently named medical director of the National Deaf Academy (NDA) in Mount Dora, Florida. Minto has been with NDA for more than four years and previously held the title of associate medical director. She completed her residency in general psychiatry at the University of Miami/Jackson Memorial Medical Center, along with a fellowship in child and adolescent psychiatry. Formerly the medical director of the Osceola County Mental Health Center, Minto began taking sign language classes in 2004 and communicates with NDA residents and staff in American Sign Language.
2000s
Elizabeth W. Dann, M.D. '02, is finishing her fellowship in women's imaging this year at Dartmouth-Hitchcock Medical Center, located in Lebanon, New Hampshire. Dann will be starting on staff with Dartmouth-Hitchcock, affiliated with Dartmouth Medical School, after returning from maternity leave for the birth of her third daughter.
Christiana M. Shaw, M.D. '03, recently completed five years of medical residency at Tufts Medical Center in Boston. During a ceremony at Tufts, Shaw was presented with the Chairman's Award, which is given by Tufts faculty for superior clinical performance. Shaw also received the Deterling Memorial Award for displaying the best bedside manner to patients.
In Memoriam
Martin Pepus, M.D. '60, of Bozeman, Montana, passed away from brain cancer on April 10. Born in New York City, at age 14 he moved with his family to Miami. Pepus was a captain in the U.S. Air Force, serving as general medical officer in Ogden, Utah. He was a pathologist for 28 years and served as president of Volusia Pathology Group in Daytona Beach. While in Daytona Beach, Pepus started a preschool for mentally handicapped children.
Marion Bartley Knight, M.D. '62, died in his Athens, Tennessee, home on May 17 at the age of 73. A graduate of Emory University as well as the Miller School, Bartley was an Ob/Gyn physician in Perry, Florida, as well as Panama City, Florida. Survivors include his wife, Adelia Guthrie Knight of Athens, Tennessee; son and daughter-in-law, Dr. Steven B. and Tracy P. Knight of Farragut, Tennessee; daughter and son-in-law, Dr. Lynda and Loring Rogers of Athens, Tennessee; and four grandchildren.
Frank P. Urso, M.D. '62, died in Naples, Florida on May 4 at the age of 73. A 1957 graduate of the University of Tampa, Urso gave more than $3 million to the University of Tampa and had a dormitory at the school named after him. Urso had been a director of pathology and clinical laboratories at three majorhospitals. He had also been a professor of pathology at Northeastern OhioUniversities College of Medicine and Pharmacy.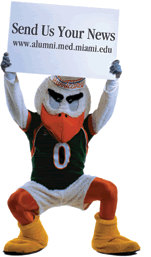 Send Us Your News
Enjoy reading about your classmates in Class Notes?
Take a moment to share some news about yourself
in a future issue of Medicine magazine. Submit your
news online to: www.alumni.med.miami.edu. We will
print your news in the first available issue.