1970s
Alan Matarasso, M.D. '79, clinical professor of surgery at Albert Einstein College of Medicine in New York City, has a busy clinical practice and is active in medical education and plastic surgery societies and research. He is currently president-elect of the Rhinoplasty Society, past president of the New York Regional Society, and the author of 200 scientific articles and 500 presentations.
1980s
Rony Zodkevitch, M.D. '84, a pediatric psychiatrist with a practice in Beverly Hills, California, authored The Toughlove Prescription: How to Create and Enforce Boundaries for Your Teen, a 272-page bestseller published by McGraw-Hill. Along with teaching parents how to discipline their children with love and consistency, Toughlove also has a four-step program parents can use to reach out to their teenagers.
Ashira Johnson, M.D. '89, is medical director for clinical research at Ovation Pharmaceuticals, a company that specializes in the biodevelopment of orphan drugs with a neurological focus. Johnson also works in the immediate care centers for Resurrection Medical Center and is host of Clinician's Roundtable on ReachMD XM 160 on satellite radio. Johnson resides with her two sons in Buffalo Grove, Illinois.
2000s
Nathan Connell, M.D. '07, a house staff officer in medicine with The Warren Alpert Medical School of Brown University and a resident physician with the Rhode Island and Miriam Hospitals, has been named chief resident of medicine for the 2010-2011 academic year. Connell will be pursuing a fellowship in hematology and medical oncology after finishing as chief resident.
Geeta Nayyar, M.D. '03, is a George Washington University rheumatologist who's joining APCO's health policy practice as a vice president. APCO Worldwide is an independently owned global communication consultancy with offices in major cities throughout the Americas, Europe, the Middle East, Africa, and Asia. Nayyar will continue to practice rheumatology at George Washington University as an assistant clinical professor of medicine.
In Memoriam
E. Michael Gutman, M.D. '60, died suddenly in Orlando in April at the age of 73. A private practice psychiatrist in Orlando, Gutman started the Seminole County Mental Health Clinic in 1968. The author of several books on psychiatry and health, Gutman served as an Army captain in Vietnam. Married three times and the father of ten children, Gutman called his last wife, Donna, his "best buddy and first friend." Gutman was buried with military honors at Woodlawn Memorial Park, in Gotha, Florida.
Stephen R. Birch, M.D. '77, died in April while piloting his single-engine airplane off the coast of Santa Barbara County, California. An orthopaedic surgeon with a practice in Santa Barbara, Birch was born in 1947 in Ann Arbor, Michigan, the first-born son of Dr. Larry Birch and Roberta Chess Birch. Birch met his future wife, Alice, while he was in medical school and she was in nursing school; they were married for 31 years. Birch is survived by her and three sons.
Francis Ross MacMahon, M.D. '82, died in April at Camp Lejeune, North Carolina, following a courageous six-year battle with cancer. A captain in the U.S. Navy at the time of his death, MacMahon was certified by the American Board of Anesthesiology and was a member of the American Society of Anesthesia. Commissioned a naval officer in 1978, MacMahon served as executive officer of the U.S. Naval Hospital Guantanamo Bay, Cuba, at one point in his military career. He is survived by his wife of 24 years, Julia, and three daughters.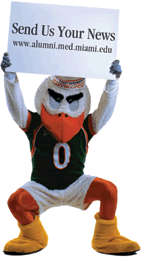 Send Us Your News and Letters
Send letters to to the editor to magazineletters@med.miami.edu. Enjoy reading about your classmates in Class Notes? Take a moment to share some news about yourself in a future issue of Medicine magazine. Submit your news online to: www.alumni.med.miami.edu. We will print your news in the first available issue.