DIABETES RESEARCH INSTITUTE BENEFITS FROM GRANDPARENTS' SUPPORT
THOMAS A. CURTIS COMMITS $1 MILLION TO THE UNIVERSITY OF MIAMI SCHOOL OF MEDICINE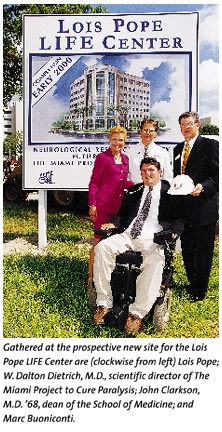 Lois Pope LIFE Center Breaks New Ground

he University of Miami School of Medicine, a leader in the multidisciplinary assault on spinal cord injury and other neurological disorders, is consolidating and expanding its efforts with the construction of the Lois Pope LIFE Center. Benefactors, state leaders, neuroscientists and friends celebrated the public-private partnership last fall at the groundbreaking ceremony.
Philanthropist Lois Pope and the State of Florida each has given $10 million to build the 115,000-square-foot Lois Pope LIFE Center. Her generous donation is the largest private gift ever directed to research spinal cord and nervous system injury.
The new facility will serve as the hub of the medical school's neuroscience research efforts, which will enhance collaboration toward a cure for paralysis as well as Parkinson's, Alzheimer's, stroke, and other neurological diseases.
Founded in 1985, the extensive research activities of The Miami Project to Cure Paralysis span many disciplines, including basic science, clinical, and rehabilitation research. Its interdisciplinary and international staff of more than 85 scientists and clinical researchers are dedicated to finding new treatments and ultimately a cure for paralysis caused by spinal cord injury. Miami Project researchers will be the only ones on this track with a facility of the caliber of the Lois Pope LIFE Center.
Construction of the Lois Pope LIFE Center is expected to be complete in the spring of 2000.

Lois Pope LIFE Fellows Engage in Neuroscience Research

tatistics show that neurological diseases are the third leading cause of death and have an increasing impact on the population as it ages. With this in mind, Lois Pope initiated 20 research fellowships in the neurosciences at the University of Miami. Known as the Lois Pope LIFE Fellows, the program selects young scholars to engage in important and relevant research as they complete their Ph.D. degrees.
The current LIFE fellows include Gizelda Casella, M.D., a former research fellow in plastic and reconstructive surgery at the Milton S. Hershey Medical Center; Anastasia Dimitropoulou, a former neuroscience intern from Harvard Medical School; Brandon M. Kucher, a graduate from Lincoln Memorial University; Jeffrey Plunkett, a graduate from Georgia State University who received a Ph.D. in neurobiology; Andrew Rosendahl, B.S. '98, a graduate from Syracuse University, majoring in physics; Laurie E. Stepanek, a graduate of Texas A&M University; Eric Wu, a graduate from Beijing University of Chinese Medicine and Pharmaceutical Sciences; and Heng-Lin Yen, M.D., who earned his Ph.D. from Shanghai Medical University.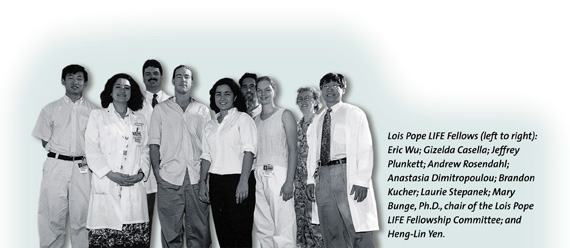 Diabetes Research Institute Benefits From Grandparent's Support

hen their granddaughter was diagnosed with Type 1 diabetes nine years ago, philanthropists Rowland and Sylvia Schaefer pledged their support to the Diabetes Research Institute. Since that time, they have strengthened their commitment to the institute with several million dollar donations to support its pioneering work in islet cell transplantation, one of the most promising methods for reversing the disease.
As a result of the institute's recent accomplishments and its selection as a partner in a new United States Navy and National Institutes of Health Transplant Initiative, the Schaefers have now committed a total of $10 million to the institute to accelerate research.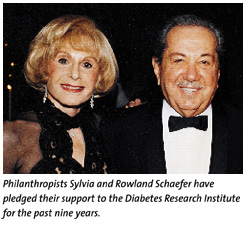 "The Diabetes Research Institute's clear focus on curing diabetes makes it the logical place to receive my support," says Rowland Schaefer. "I have always been very encouraged by the research being done and with the progress that Dr. Ricordi and his associates are making. The fact that the Navy and the NIH have chosen to work with the institute only confirms the quality of their work. My granddaughter and the 16 million other people in this country with diabetes will benefit from the dedication of the scientists. I am very proud to be associated with this program."
Camillo Ricordi, M.D., the scientific director and chief academic officer of the Diabetes Research Institute, expressed his gratitude for their gift. "The leadership and dedication the Schaefers have shown should serve as an inspiration, and renew the hope for all patients and their families that a cure for diabetes is within our reach," he says.
The Schaefers are dedicated members of the Diabetes Research Foundation's Leadership Council and the University of Miami's Merrick Society. Rowland Schaefer, who is also a member of the Foundation's board of directors, serves as president, chairman, and chief executive officer of the Pembroke Pines, Florida-based Claire's Stores, the world's largest mall-based retailer of apparel and fashion accessories for teens. Sylvia Schaefer serves as vice president of Claire's.

Alumni Association Launches John K. Robinson Annual Fund

he Medical Alumni Association recently inaugurated the John K. Robinson (JKR) Annual Fund. As part of the tradition started by the JKR Loyalty Fund, which provides loans to talented students for their medical education, the new JKR Annual Fund will provide that and much more.
Norman Kenyon, M.D. '56, stepped forward to chair the initial fund drive, and with his outstanding leadership, the association expects a highly successful kick-off year.
The Medical Alumni Association is confident that many more graduates will express their gratitude to the School of Medicine through the new JKR Annual Fund. Alumni may continue supporting student loans, or choose to make an unrestricted gift toward the school's priority needs in medical education and research.
Thanks to the generous $100,000 challenge of Edward A. Dauer, M.D. '75, alumni also are seeing the increased impact of each dollar contributed. By matching all alumni gifts one to one, the challenge doubles every gift's spending power.
Individuals who donate $1,000 or more will receive membership in the University's President's Circle and also be invited to a recognition event hosted by School of Medicine Dean John G. Clarkson, M.D. '68.
For more information on the JKR Annual fund, please contact Blaise Fallon in the Office of Medical Alumni Relations at 305-243-6256.

Chiron Society Takes Off: Great Success in Year One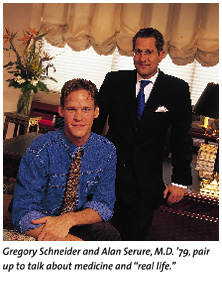 he Chiron Society just completed its inaugural academic year with astounding success. The unprecedented response to a new initiative to match physicians and students has resulted in meaningful pairings and strong relationships.
One such pairing is that of Alan Serure, M.D. '79, and Gregory Schneider, class of 2001. Schneider's interests in otolaryngology and plastic surgery led to a match with Dr. Serure, a plastic surgeon practicing in South Miami.
According to Schneider, the Chiron Society is the perfect way to meet different types of doctors as well as to gain exposure to certain medical specialties. Fur-thermore, through his interactions with Dr. Serure, Schneider has found that he is most interested in facial reconstructive surgery, such as the repair of congenital malformations, and he plans to concentrate in that area in the future.
In fact, the mentor relationship provides a window to the world for young physicians-in-training and infuses many alumni with enthusiasm reminiscent of their earlier years.
Dr. Serure, currently the president of the Medical Alumni Association which sponsors the Chiron Society, wished he had access to a mentor when he was a medical student. "It was difficult to conceptualize life after medical school because there was no common thread between the academic world and the fuller life experience," Dr. Serure says.
The Chiron Society encourages a cycle of involvement, so many participating students will likely become mentors themselves, thus maintaining a vital link with the School of Medicine.

Grants Fuel New Research Endeavors

he Health Foundation of South Florida awarded $300,000 to the Depart-ment of Pediatrics for "B3-Building Babies Brains." A collaborative effort between the University's Mailman Center for Child Development and the Miami-Dade Association of Child Care Providers, Dr. Susan Gold's team will develop training materials based on the latest brain research discoveries and provide training to caregivers of newborns and infants.
The Robert Wood Johnson Foundation awarded $163,368 to the School of Medicine's Health Services Research Center to study the impact of workplace drug-testing programs on employees' behavior and attitudes about drug use. Researchers in this two-year project will examine five drug-testing programs, such as random and pre-employment tests, to measure the effect these programs have on the number of times employees use drugs and whether they deter employees from use.
"Previous studies have suggested that drug users avoid working for firms that randomly test for drugs because they run the risk of a positive drug screen," says Michael French, Ph.D., research associate professor at the School of Medicine and the University's Department of Economics, and principal investigator of the study. "Our study will examine whether this assumption is true."
The Dade Community Foundation awarded $57,500 to support a range of agencies that provide AIDS prevention and education programs and direct services. The Division of Adolescent Medicine received $5,000 in support of the Teen Prevention Education Peer Mentoring Program, which uses young people as case managers and peer educators to reach high-risk youths served through Jackson Memorial Hospital's adolescent clinics.
The foundation also awarded $9,000 to the Comprehensive AIDS Program. Funds will be used to begin a community education and risk reduction project in the Florida City/Homestead area.
The University of Miami/Jackson Memorial Burn Center received a grant from the North Dade Medical Foundation for the "Learn Not to Burn" educational program to be implemented with Dade County Public Schools.

Thomas A. Curtis Commits $1 Million to the University of Miami School of Medicine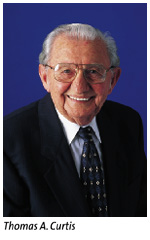 homas A. Curtis has named the University of Miami/Jackson Memorial Hospital Burn Center (UM/JM Burn Center) and the University of Miami Ear Institute as beneficiaries of two separate charitable remainder trusts, each funded with $500,000. A supporter of the UM/JM Burn Center since 1981, his gift reflects considerable interest in the treatment of the more than 300 burn victims admitted annually to the UM/JM Burn Center. He is also pleased to support the University's Ear Institute, an international center for research, education, and clinical excellence in diseases of the ear and other communication disorders. Curtis chose charitable remainder trusts because they provide him with income for life, and at the same time, a charitable tax deduction.
With two of his nephews serving as City of Miami firefighters, Curtis understands the complexity of treating burn victims. The UM/JM Burn Center is the only one located in South Florida and one of the busiest in the nation. In May 1998, the Burn Center Intensive Care Unit opened a five-bed, state-of-the-art facility in the Ryder Trauma Center which provides the finest treatment, rehabilitation, and follow-up care in a peaceful, comforting environment.
A successful businessman, Curtis moved to Miami in 1940 and opened Miami Battery. Shortly after opening his battery manufacturing business, he was drafted and served for the duration of World War II as chief electrician on the USS Harveson. Although Miami Battery remained opened during the war, Curtis had to begin again when he returned. He credits "hard work, determination, and honesty" for the success of his business.

Friends for Sylvester Rallies Support for Cancer Cure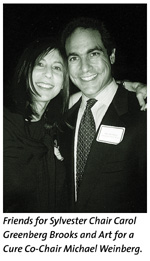 he University of Miami/Sylvester Compre-hensive Cancer Center's Friends for Sylvester is committed to the ongoing search for cancer cures to reduce the human burden from cancer through research, education, prevention, and the delivery of quality patient care. Each member of the organization makes a $10,000 pledge to be paid over a maximum of ten years.
The common denominator of Friends for Sylvester is that members have been touched by the devastating effects of cancer, either by their own illness or through that of a loved one. This link makes them uniquely motivated in the quest for a cure. They raise unrestricted funds which are typically directed to one of the priority research areas of UM/Sylvester such as breast cancer, prostate cancer, immuno-therapy, tumor cell biology, tumor immu-nology, AIDS-related malignancies, developmental therapeutics, and biopsychosocial oncology.
In the fall of 1999, Friends for Sylvester will hold their first annual Art for a Cure event. The co-chairs are Stefanie Reed and Michael Weinberg, both founding board members of Friends for Sylvester. Reed, director of Sotheby's in Miami, brings her expertise to this exciting event. Art for a Cure will consist of both silent and live art auctions of pieces donated by artists and collectors. For further information regarding either Art for a Cure or Friends for Sylvester, please contact Elizabeth Wasserman at 305-243-9087.

Medical Alumni Gather in Tampa and San Francisco

ore than 40 graduates from the School of Medicine convened at the Rusty Pelican restaurant in Tampa last fall to mingle with fellow alumni, learn about new developments at the medical school, and honor distinguished alumni Dr. Kenneth C. Kiehl and Dr. Emilio D. Echevarria-both graduates of the class of 1956.
The evening was highlighted by Dr. Laurence B. Gardner's presentation entitled "The Future of Medical Education." Chairman of the Department of Medicine, Gardner discussed the evolution of medical education from traditional methods to a more team-oriented, case-sensitive approach. Dennis Mihale, M.D. '86, co-hosted this regional event, and with enthusiastic alumni such as Dr. Mihale, we hope to get to know even more of the school's graduates across the country.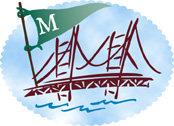 Consistent with this effort to connect with alumni, Dean John Clarkson hosted a dinner for a small group of individuals in San Francisco, with the assistance of Kathy Fields, M.D. '83. Dr. Clarkson and his wife, Diana, dined with Dr. Fields and her husband, Dr. Garry Rayant, Edward Sprague, M.D. '61, and his wife, Joan Mallion Sprague, and Recia Kott Blumenkranz, M.D. '81, and her husband, Dr. Mark Blumenkranz.
The dinner was held at Vertigo, a popular San Francisco restaurant, and provided an opportunity for the dean to talk about changes at the medical school as well as to learn about developments in the lives of graduates. Dr. Clarkson would welcome hearing from other alumni in the Bay area and looks forward to hosting another event in the near future. For further information on meeting with the dean and assisting the school in its outreach efforts, please contact Blaise Fallon in the Office of Medical Alumni Relations at 305-243-6256.



UM MEDICINE HOME | UM MEDICINE ARCHIVE