School of Medicine Sets Research Priorities

o better identify its future research priorities, the School of Medicine is developing six research umbrellas under which scientists' related investigative activities can be grouped. This strategic planning process will help the school assign precious resources and set future fundraising goals.
"It is not possible for our institution to cover all aspects of medical research," says Senior Vice President for Medical Affairs John G. Clarkson, M.D., dean of the School of Medicine and chair of its research task force. "We must focus on current strengths and identify other areas where we can develop centers of excellence."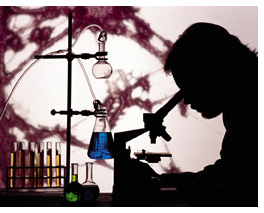 For the past year, some of the school's most brilliant scientific minds have been looking at the strengths, weaknesses, needs, and other issues facing the six areas. The umbrellas include both existing and new programs, including the following:
- Cell growth and development Cancer research is the primary component of this area. The University of Miami Hospital and Clinics/Sylvester Comprehensive Cancer Center has a strong patient base and is currently beefing up its research enterprise. The school's growing wound healing research program also strengthens this area.
- Behavior The school's fastest growing area for the past decade includes programs in adult development and aging, behavioral medicine, child and family studies, HIV/AIDS, and substance abuse.
- Human immunology This area includes a common thread through disease groups as diverse as cancer, diabetes, HIV/AIDS, and other infectious diseases, and organ and cellular transplantation.
- Neurosciences With a quarter of the school's National Institutes of Health grant support, this is the school's greatest strength. In addition to spinal cord injury, stroke, trauma, vision, hearing, and neuro-degenerative disease research, the school has a strong interdisciplinary neuroscience graduate education program.
- Vascular biology This area relates to most pathological processes of the organ systems, including heart disease, stroke, kidney disease, pulmonary hypertension, cancer, and some forms of organ transplantation.
- Health services research A relatively new field in medical research, focusing on outcomes research, this area seeks to find the most effective medical treatments for various diseases. Health services research ultimately will help decision-makers design and operate a more cost-efficient health care system.
Last year, the school conducted more than $112 million in biomedical research. The strategic plan is designed to help the School of Medicine compete more effectively for funding from the National Institutes of Health and other funding agencies, as well as from industry officials and philanthropists.
Business plans are being developed which will consider specific strengths, weaknesses, opportunities, and threats in each area, while projecting one-, three-, five-, and seven-year needs. Funding plans will stem from the business plans. Future issues of University of Miami Medicine will focus on each research umbrella and chart its development.