SURGERY CHAIR DEDICATED IN MEMORY OF MEDICAL SCHOOL LUMINARY ROBERT ZEPPA
ATTORNEYS BOOST SUPPORT OF BATCHELOR CHILDREN CENTER
LAW FIRM FUNDS SPINAL CORD RESEARCH AT THE MIAMI PROJECT TO CURE PARALYSIS
VISIONARY PHILANTHROPISTS FUND CHARITABLE GIFTS FOR BASCAM PALMER
ALUMNA CREATES SCHOLARSHIP FOR FEMALE MEDICAL STUDENTS
SPORTS PHYSICIAN HONORED FOR WORK IN ANOTHER ARENA: CARING FOR THE HOMELESS
FORMER RESIDENT WRITES TOPICAL BOOK ON SKIN CARE
MILES ZISSON, BASCOM PALMER BENEFACTOR, DIES
MEDICAL ALUMNI REKINDLE FRIENDSHIPS IN WASHINGTON AND BOSTON

Surgery Chair Dedicated in Memory of Medical School Luminary Robert Zeppa
ore than 150 friends and faculty gathered for the dedication of the Robert Zeppa Memorial Chair in the Daughtry Family Department of Surgery last September. The dedication ceremony marked the sixth anniversary of the passing of Robert Zeppa, M.D., longtime chairman of the Department of Surgery and chief of the Ryder Trauma Center. John Clarkson, M.D., senior vice president for medical affairs and dean of the medical school; Ira Clark, president and CEO of Jackson Memorial Hospital; Alan Livingstone, M.D., interim chairman of the Department of Surgery; and Jay Weiss, University trustee and former Public Health Trust chairman, spoke at the event. Those attending reminisced about Dr. Zeppa's life and his impact on the community. His wife, Cicely, was on hand to accept a medallion commemorating the dedication of the chair.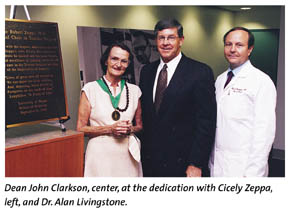 Dr. Zeppa was a part of the University of Miami/Jackson Memorial Medical Center for 27 years. During his 22-year tenure as its chairman, he built the Department of Surgery into a center of national prominence. In his later years, he assumed the additional duties of chief of the trauma service for Jackson Memorial Hospital. Dr. Zeppa's crowning achievement was the building of the Ryder Trauma Center.
The dedication, which established a memorial chair for one of the pillars of the school, was made possible by the hard work of Dr. Zeppa's colleagues and the many surgeons he mentored. Five years after his death, the chair was several hundred thousand dollars shy of its goal. Dr. Livingstone spearheaded an effort to complete what he called the Department of Surgery's number one fundraising priority. Unwilling to place the burden of establishing the chair on Dr. Zeppa's widow or former patients, Dr. Livingstone reached out to Dr. Zeppa's colleagues and surgeons he trained to complete funding of the chair.
The effort raised over $500,000 from 110 former residents. For many, this was the first time they had made pledges or gifts to the School of Medicine. "The fundraising effort for the Zeppa Chair was the first time faculty and former residents were able to have a conversation about the importance of supporting the institution that trained them," says Dr. Livingstone. "The response was immediate and overwhelming."

Attorney's Boost Support of Batchelor Children's Center

cott Sheftall and Brian Torres of the Miami-based law firm of Sheftall and Torres are responsible for contributions of an estimated $418,268 to benefit the Batchelor Children's Center-Comprehensive Research Institute, a proposed world-class research facility for children's diseases. A new waiting area, to be located in the Pediatric Infectious Diseases and Immunology wing, and new critical research laboratory space are being named in honor of the firm.
The partners share a strong commitment to the community. Sheftall is a long-time member of the University of Miami Children's Council and serves as chairman of the Children's Celebrity Pro-Am Golf Classic, which will benefit the Department of Pediatrics. The inaugural event was held April 14-16, 2000, at the Doral Golf Resort and Spa.

Law Firm Funds Spinal Cord Research at The Miami Project to Cure Paralysis
ike Eidson, Dean Colson, and the law firm of Colson, Hicks, Eidson, Colson, Matthews, Martinez & Mendoza have made a $100,000 donation to benefit The Miami Project to Cure Paralysis, the world's largest, most comprehensive research center dedicated to finding more effective treatments and, ultimately, a cure for paralysis resulting from spinal cord injury.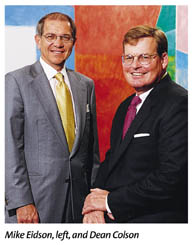 In appreciation of the firm's generosity, the second floor reception area of the executive offices in the Lois Pope Life Center, the new home of The Miami Project, will bear the firm's name.
The Miami Project was founded in 1985 through the vision and dedicated efforts of Barth Green, M.D., an internationally recognized expert in the field of spinal cord injury. Throughout the years, the center has assembled a broad spectrum of researchers, clinicians, and therapists whose expertise all relate directly to the problem of spinal cord injury and whose full-time focus is spinal cord injury research.
"The members of this law firm have demonstrated a real sensitivity to the tremendous challenges that so many of their severely disabled clients face in their everyday lives," says Dr. Green. "The extraordinary courage of the Marc Buonicontis of the world stimulate all of us whose lives they touch, to help rid them of the countless burdens associated with their severe disability."
The firm has a long history of support for The Miami Project because of the cutting-edge technology and know-how that is provided to victims of spinal cord injuries. "We are longtime admirers of the hard work of The Miami Project," Eidson says. "We continue to do our part to help find a cure for spinal cord paralysis because there is no more devastating injury than this."
Adds Colson, who is a University of Miami trustee, "We feel a commitment to funding spinal cord research because our firm has represented many who have benefited from the work of The Miami Project and Dr. Green."

Visionary Philanthropists Fund Charitable Gifts For Bascom Palmer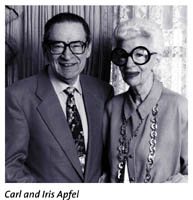 he Apfel Family's funding of charitable gift annuities to benefit the University of Miami's Bascom Palmer Eye Institute is a generous extension of their life's work--the preserving and restoring of beautiful fabrics. The family's recent gift, which totaled more than $1.2 million, enables Bascom Palmer physicians to continue their work in assuring that more people continue to see and witness the beauty around them.
Iris Barrel Apfel and her husband, Carl, founded Old World Weavers, an internationally acclaimed design and manufacturing company, from which many of the country's best interior designers purchase high-quality textiles. Iris Apfel is renowned as an accomplished collector and expert on antique fabrics. During her extensive career, she has been a part of many historical restoration projects, including work at the White House under six different U.S. presidents.
The gift annuities were donated by Carl and Iris Apfel and her mother, Sayde Barrel. In recognition, the family and friends' waiting area on the sixth floor of the Anne Bates Leach Eye Hospital surgery suite has been named "The Barrel-Apfel Waiting Room." Their gift is a tribute to the family's lifelong work in the appreciation of beauty and a shining example of their generous wish to share it with others.
For information about creating a charitable gift annuity to benefit both you and the University of Miami School of Medicine, please contact Tom Dieters, director of Planned Giving, at 305-284-1527.

Alumna Creates Scholarships for Female Medical Students
eth Seidenberg, M.D. '83, is a fortunate individual: She loves her work. As vice president for clinical research at Merck, an international pharmaceuticals company, Dr. Seidenberg leads a group of physicians who are responsible for the development of drugs in areas like respiratory medicine and immunology. Most recently, her team developed and introduced new medications including Singulair, which treats asthma, and Vioxx, which is used for the relief of pain, osteoarthritis, and dysmenorrhea.
At the School of Medicine, Dr. Seidenberg has established the Seidenberg Minority Scholarship Fund to benefit female students, who are increasing in number. At the time that Dr. Seidenberg graduated, there were only six women in her class. This year, 55 percent of the freshman class is female.

Dr. Seidenberg made the gift because of her appreciation for the education she received at the School of Medicine, which she considers one of the most important steps in her professional life.
After graduation from the school, Dr. Seidenberg completed her residency at Johns Hopkins University School of Medicine and obtained a fellowship at the National Institutes of Health (NIH). While at the NIH, she developed an interest in clinical research and worked on the early developmental stages of AIDS and asthma treatments.
Dr. Seidenberg's interest in clinical research led to a position with Merck, where she initially worked in early-phase development in pulmonary and immunology research. After ten years with the company, her responsibilities grew to her present position, which encompasses implementation and outcome of clinical trials, as well as compilation of those outcomes for review by federal agencies, such as the Food and Drug Administration. In addition, Dr. Seidenberg serves as a marketing liaison and reviews promotional materials for her products.

Sports Physician Honored for Work in Another Arena: Caring for the Homeless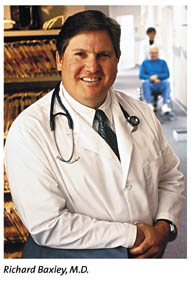 ichard Baxley, M.D. '82, is one busy man. A physician for the Orlando Magic NBA basketball team and the Orlando Solar Bears IHL ice hockey team, Dr. Baxley doesn't just practice sports medicine. He also cares for the homeless community in any and every way he can. Due to these efforts and many more, Dr. Baxley was named Florida Family Physician of the Year by The Florida Academy of Family Physicians in 1999.
Besides practicing good medicine, "Dr. Rick," as he is affectionately called, is sensitive to the needs of his patients and is as concerned about their happiness as he is about their overall health. He also cares about those less fortunate in the community. In 1991, he co-founded, along with Lewis Green, M.D., a medical clinic for the homeless. This was done with the help of the Coalition for the Homeless of Central Florida. According to Florida Family Physician Magazine, it was the first such clinic to address the health needs of the homeless in the greater Orlando area, a population of approximately 2,500 to 3,000 people. This medical clinic would eventually become The Healthcare Center for the Homeless, which opened in January 1994 and now has a paid medical and clerical staff, a volunteer staff, a pharmacy, a blood lab, and other features.
Dr. Baxley has received additional awards and honors, which are equally impressive. In 1994, he received a Presidential Volunteer Action Award from the Points of Light Foundation for his work with the Coalition for the Homeless, and he was a top finalist for the American Academy of Family Physicians Family Physician of the Year award.

Former Resident Writes Topical Book on Skin Care

my Newburger, M.D., returned to her training roots last January at the School of Medicine for a speaking engagement with the Department of Dermatology and Cutaneous Surgery.
Dr. Newburger, who completed her residency at UM/Jackson in 1978, recently published a book titled Looking Good at Any Age, for which she is currently on a nationwide book tour.
Written as a practical guide to skin care, the book includes the latest in medical research on the skin and a host of case studies. The book also offers its readers an abundance of useful information, such as a decade-to-decade account of what to expect in the life cycle of the skin, a list of the author's picks of the top 50 anti-aging products, tips on how to pick a good plastic surgeon, guidance on how to avoid certain makeup mistakes, as well as Dr. Amy's Seven-Point Aging Response Plan.
Advance reviews of the book have been positive. "Dr. Amy Newburger has written a terrific book. It's for women by a woman, but men may also profit by reading it," says William Eaglstein, M.D., chairman in the Department of Dermatology and Cutaneous Surgery at the School of Medicine. "In easily understood language, she explains not only 'the what and the how' of skin, but goes far beyond, providing a context in which to think about and to deal with one's reaction to their skin. Most important, she explains what can reasonably be expected, prevented, and corrected."
Dr. Newburger runs a private practice in Scarsdale, New York.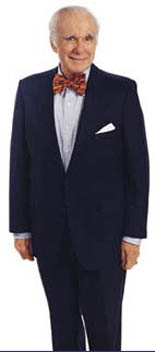 Miles Zisson, Bascom Palmer Benefactor, Dies
iles Zisson, a philanthropist and benefactor of the University of Miami Bascom Palmer Eye Institute, died in February 1999.
Zisson and his wife learned of Bascom Palmer and the work performed there, through their friendship with Stanley Chang, M.D., one of Bascom Palmer's earliest graduates. Later, as Zisson began to suffer from glaucoma, Dr. Chang referred him to Bascom Palmer. It was then that a relationship of philanthropy and care began between the Zissons and the eye institute.
Bascom Palmer impressed the Zissons on a number of levels, including the doctors' competence and concern for patients, and the institute's status at the medical center as a patient facility and teaching institution. In 1999, Bascom Palmer was ranked number two in ophthalmology in a survey of physicians nationwide polled by U.S. News & World Report. The institute also serves otolaryngology and plastic surgery patients.

"We noticed, as former New York City residents, that the doctors showed what we considered an unusual humanistic concern for patients," Miles Zisson observed at the time. "Then, when we began noting the number of medical students in the lobby and learned that Bascom Palmer was not only a fine center of ophthalmic care, but a teaching hospital too, we were even more impressed."
Zisson supported both Bascom Palmer's facility on the medical campus and the institute's facility in Palm Beach. Among his donations were the proceeds from the sale of his home and personal possessions, which exceeded $1 million. In recognition of this support, he was a member of the Bascom Palmer Society, the institute's highest level of donor recognition, which includes supporters whose gifts exceed $1 million.
For information about how a gift of real estate can benefit both you and the University of Miami School of Medicine, please contact Tom Dieters, director of Planned Giving, at 305-284-1527.

Medical Alumni Rekindle Friendships in Washington and Boston

lumni in Washington, D.C., and Boston, Massachusetts, had the opportunity to network and reestablish ties with the School of Medicine at receptions in their areas.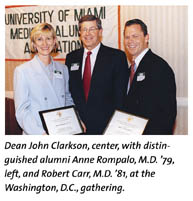 More than 25 graduates from the School of Medicine gathered for a reception at The Washington Hilton and Towers in Washington, D.C., last October. Hosted by the Medical Alumni Association, the event was an opportunity to meet John G. Clarkson, M.D. '68, senior vice president for medical affairs and dean of the School of Medicine, and to learn more about recent trends and developments at the medical school. The enthusiasm displayed at the event was contagious. It also was an occasion to honor distinguished alumni Anne M. Rompalo, M.D. '79, and Robert W. Carr, M.D. '81. Most importantly, alumni rekindled old friendships and initiated new ones.
The attendance of Bernard Fogel, M.D. '61, senior advisor to the president and dean emeritus, as well as alumni board member Steve Chavoustie, M.D. '81, a classmate of Dr. Carr, made the event even more memorable. All in all, the event's success continues to fuel the desire for fellow alumni to get to know one another across the country.
This reception was followed in November by the school's first Boston alumni event. It was an intimate gathering, which prompted a lively question and answer session following Dean Clarkson's update on the medical school. The delightful evening culminated in the recognition of Umberto De Girolami, M.D. '68, a classmate of Dean Clarkson's, as a distinguished alumnus.
Dean Clarkson and the Medical Alumni Association encourage alumni to stay in touch, especially since more events will be planned across the country.
For information on meeting with the dean and the school's outreach efforts, please contact Rebeca Virgil in the Office of Medical Alumni Relations at 305-243-6256.



UM MEDICINE HOME | UM MEDICINE ARCHIVE
SCHOOL OF MEDICINE HOME | UNIVERSITY OF MIAMI HOME