NEW DRUG MAY PREVENT ALCOHOL CRAVING
TWIGGS TO LEAD WOMEN'S HEALTH INITIATIVE
RESEARCHERS STUDY LINK BETWEEN NEIGHBORHOOD DESIGN AND TEEN DRUG ABUSE
STUDY EXAMINES HOW ELDERLY USE COMPUTERS
PEÑALVER TO LEAD DEPARTMENT OF OBSTETRICS AND GYNECOLOGY
PSYCHOLOGISTS STUDY FAMILY THERAPY FOR ADOLESCENT DRUG ABUSE

New Drug May Prevent Alcohol Craving

new drug may prevent alcoholics from craving another drink by blocking the very brain receptors that are associated with alcohol dependence, according to a University study published in the Archives of General Psychiatry last August.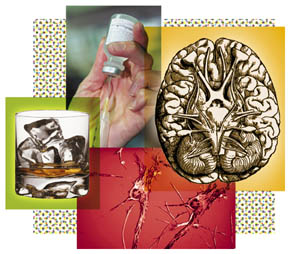 Barbara Mason, Ph.D., associate professor in the Department of Psychiatry and Behavioral Sciences, found that alcohol-dependent outpatients taking nalmefene during a 12-week study had fewer incidents of relapse to heavy drinking compared to the group taking a placebo. Nalmefene acts by blocking receptors in the brain that are closely associated with alcohol dependence. Currently, nalmefene is not available commercially in the oral form provided to patients in the study, but it is available in an injectable form known as Revex, which is used to treat opiate overdose.
During the study, 105 outpatients, who had abstained from drinking for about two weeks prior to their participation in the study, received counseling and random placebos or nalmefene in doses of 20 or 80 milligrams daily.
"We found that nalmefene was effective in preventing relapse to heavy drinking, or in reducing the number of subsequent episodes in those patients who did relapse," says Dr. Mason, who is conducting three additional alcohol-related studies. "Among the patients, there was no evidence of medically serious side effects. Importantly, patients adhered to taking the medication as prescribed, indicating that nalmefene was acceptable to patients with alcohol dependence."
The placebo group did not fare as well. Eighty percent of placebo patients who "slipped" and had a drink experienced a consequent episode of heavy drinking, compared to 56.5 percent of patients taking nalmefene.
"Many patients who are in early recovery from alcoholism slip and have a drink. Nalmefene may support their recovery efforts by reducing the risk of that one slip escalating into the out-of-control, heavy drinking that is associated with the major health risks of alcoholism," Dr. Mason says.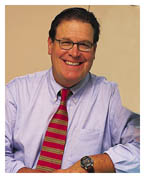 Twigg's to Lead Women's Health Initiative

or the first time in Florida, a University of Miami Sylvester Comprehensive Cancer Center researcher has developed "knock out" mice, a tool to study the human immune system and diseases such as cancer. With this scientific advancement, UM/Sylvester joins only a handful of cancer centers nationwide that have the ability to create this means of genetic research.
"It's quite significant because these mice allow scientists to choose which gene they want to study and then remove that gene from a mouse embryo's genetic makeup," says Eckhard Podack, M.D., Ph.D., professor and chairman of the Department of Microbiology and Immunology at the School of Medicine. "By examining what happens when specific genes are lacking, we hope to be able to solve many unanswered questions about cancer."
This process allows scientists to isolate a specific gene known as "needle in a haystack" and study its role in human disease.
Dr. Podack and his laboratory colleagues have "knocked out" a specific protein molecule from 17 mice and are closely watching the injected mice's progress after lymphoma (cancer of the tissues of the lymphatic system) has been transferred to them.

Researchers Study Link Between Neighborhood Design and Teen Drug Abuse

orty years ago, houses were built with front porches that encouraged neighbors to socialize and create long-lasting friendships. Everyone knew each other, and every neighborhood parent was involved with the parenting of children, especially in the playgrounds. But in recent years, new construction has produced a built environment with homes and streets lacking the very places that inspire people to socialize. What kind of effects has this type of architecture had on human relations? Is it the root of some of today's societal ills?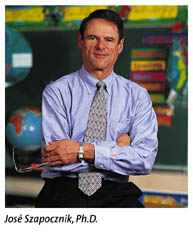 University psychologists and architects will seek answers to these questions in a new study funded by The Robert Wood Johnson Foundation through its Substance Abuse Policy Research Program. Under this $348,304 grant, University researchers will develop a body of knowledge that may be able to influence future urban policy regarding neighborhoods and other built environments as either a risk or deterrent for adolescent drug abuse.
"We hope that as a result of our research we will be able to inform parents and the public at large about urban environments that are most helpful for raising well-adjusted children and other environments that offer risk for deviant and antisocial adolescent behavior," says José Szapocznik, Ph.D., professor and director of the Center for Family Studies at the School of Medicine's Department of Psychiatry and Behavioral Sciences and the principal investigator in the study.
Drug abuse is being used in this study as a marker of things gone wrong. Records from the Miami-Dade Juvenile Assessment Center will be referenced to find all drug-related arrests that have occurred in the county involving adolescents. Then, investigators will narrow their search and identify youths living in East Little Havana who have been arrested for drug-related crimes. Researchers will map out and study the characteristics of every building and street in East Little Havana and will compare their findings to the areas where the arrested juveniles live to conclude how architectural features relate to rates of substance abuse and arrests.
Finally, they will compose a comprehensive package of information to disseminate to the community and to a number of zoning and redevelopment policy makers. Little Havana was chosen as a precursor for this study because researchers from the Center for Family Studies and the Center for Urban Studies have been conducting investigations in that community since 1972.

Study Examines How Elderly use Technology

iming to educate the computer industry about the future needs of older Americans, researchers at the University of Miami School of Medicine, Florida State University, and Georgia Institute of Technology have teamed up in a multi-site study that will examine the way the industry can help older Americans use technology.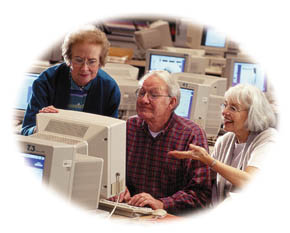 "Given the increased use of computers and other forms of technology in various settings, one important area of concern is how well older people will be able to adapt to rapid developments in technology," says Sara Czaja, Ph.D., deputy director of the University's Center on Adult Development and Aging and the study's principal investigator at the University of Miami.
Under this $3.2 million grant, researchers will develop the Center for Research and Education on Aging and Technology Enhancement (CREATE) to conduct research on how age-related changes in mental aptitudes and body function impact an older person's ability to interact with technical systems.
Each school will launch a project that will focus on different but complementary approaches to researching interaction between people and computers. The Center for Family and Aging, for example, will be the coordinating site for the University of Miami's branch of the program, hosting studies to investigate the potential benefits of "screen phone" technology for older people, the World Wide Web, and database tasks commonly performed within work settings.

Peñalver To Lead Department of Obstetrics and Gynecology

anuel Peñalver, M.D., professor of obstetrics and gynecology, has been promoted to chairman of the Department of Obstetrics and Gynecology at the School of Medicine.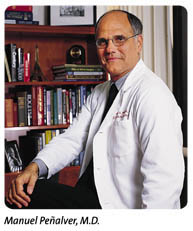 Under his leadership, Dr. Peñalver will strive to make the department one of the best in the country, attracting quality physicians to the faculty and expanding the department's research and educational base. He also is slated to play a significant role in the ongoing development of the school's community relations and international health initiative, due to his high profile both locally and internationally with OB/GYN healthcare providers.
In recent years, Dr. Peñalver has been among the school's most frequent winners of teaching honors. In 1993, the Association of Professors in Gynecology and Obstetrics awarded him the "Excellence in Teaching Award." Three years later, the Council on Resident Education in Obstetrics and Gynecology granted him the "National Faculty Award for Excellence in Resident Education." In 1997, Good Housekeeping Magazine placed him in its roster of "The Best Doctors for Women."
"We are very pleased to have Dr. Peñalver on our leadership team," says John Clarkson, M.D., senior vice president for medical affairs and dean of the School of Medicine. "Dr. Peñalver is a product of the University of Miami, earning his undergraduate degree, medical degree, and all of his post-graduate training at the University. Since joining the faculty as an assistant professor in 1984, Dr. Peñalver has been a highly productive clinician and researcher as well as a respected educator."

Psychologists Study Family Therapy for Adolescent Drug Abuse

ifteen years ago, Howard Liddle, professor of psychiatry and behavioral sciences at the School of Medicine, created a therapeutic model involving family therapy for adolescent drug abusers. Since then, the Multidimensional Family Therapy program has steadily evolved in the university research environment as a result of numerous ongoing studies. Now, University therapists will take the program "on the road" to test its efficacy outside the academic setting, working with teens in an outpatient drug abuse treatment center.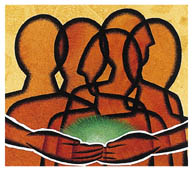 "Essentially, this is part of a broader movement to take established therapies and treatments in a variety of fields, including drug abuse treatments, and see if the effectiveness that they have demonstrated in research settings hold up in real world community settings," says Dr. Liddle, director of the University's Center for Treatment Research on Adolescent Drug Abuse.
University therapists will conduct two studies using the Multidimensional Family Therapy as a training tool and a treatment program. The first study, "Family Therapy for Early Adolescent Substance Abuse," will involve boys and girls between the ages of 12 and 14 who belong to the Village's Family Connection Program, a community-based nonprofit organization that provides drug and alcohol treatment to adults and adolescents. This three-year study will compare not only the effectiveness between family therapy and conventional treatment, but also if the boys and girls react differently to family treatment.
The second study, "Transporting Family Therapy to Adolescent Day Treatment," will involve training therapists to conduct the Multidimensional Family Therapy program at a day treatment center. This four-year study will evaluate the impact of conducting family therapy in a clinical setting, the Jackson Memorial Hospital Adolescent Day Treatment Program. The National Institute on Drug Abuse and the Center for Substance Abuse Treatment granted nearly $2.7 million to fund these studies.



UM MEDICINE HOME | UM MEDICINE ARCHIVE
SCHOOL OF MEDICINE HOME | UNIVERSITY OF MIAMI HOME