Dean John G. Clarkson Announces Resignation





Making Headlines
Faculty Honors





Dean John G. Clarkson Announces Resignation

A Tenure of Excellence and Growth



he University of Miami Leonard M. Miller School of Medicine closed 2004 with a historic announcement: a $100 million gift that gave the medical school a new name. Early in 2005 there was another major announcement: John G. Clarkson, M.D., senior vice president for medical affairs and dean of the Miller School of Medicine since 1995, is stepping down to accept the position of executive director of the American Board of Ophthalmology.


"Dean Clarkson has brought the Miller School of Medicine to previously unimaginable heights of excellence in biomedical research, education, and patient care," says University of Miami President Donna E. Shalala. "We are poised to become one of the world's top medical schools."
Clarkson has presided over a transformation of the medical center. "The Lois Pope LIFE Building, the Batchelor Building, and the Schoninger Research Quadrangle were all completed on his watch and are a testimonial to the Miller School of Medicine's progress," says Clarkson's predecessor, Bernard J. Fogel, M.D., senior advisor to the president and dean emeritus. "A look at the Clinical Research Institute jumping out of the ground, plans for the new basic science building, and the ultimate expansion of the clinical resources that the school's success mandates will be Dean Clarkson's legacy.
Clarkson, previously director of Bascom Palmer Eye Institute and chairman of the Department of Ophthalmology, became dean during the toughest time ever experienced by medical schools, Fogel said. Yet despite the difficult environment, Clarkson pushed the school forward, nurturing the growth and development of several internationally renowned centers of excellence and implementing the school's largest capital campaign ever. The faculty medical practice, University of Miami Medical Group, became a consolidated, competitive clinical operation under the dean's leadership, with new focus on improved access and customer service.
"One of the hallmarks of the dean's decade has not only been his role in shaping the School of Medicine, but also his part in forging a strong relationship between the school and Jackson Memorial Hospital," says Gerard A. Kaiser, M.D., executive vice president and chief medical officer for Jackson Health System as well as senior associate dean for clinical affairs at the Miller School of Medicine.

The dean has worked in many other ways to strengthen the school's partnership with the community, as a leader of the Mayor's Health Care Task Force and several community boards. Clarkson also presided over the redesign of the medical curriculum, a growing emphasis on the recruitment of out-of-state medical students to raise the school's national stature, and the new partnership with Florida Atlantic University.
"This community and our University will be forever indebted to John Clarkson for what he has done to advance health care in this community," says Dean Colson, chairman of the University of Miami Board of Trustees.
Clarkson will remain as dean until a successor has been named and will then assume a new part-time leadership role at the University. "One of the real privileges of this job has been working with the wonderful students, faculty, and staff who make the medical center a jewel of this community," Clarkson says. "I see only great things in the future for the medical center."



Strengthening Awareness of PI Diseases

Promoting the Warning Signs



hree years ago Tanner Wilson was hospitalized with viral pneumonia. Shortly after he came home from the hospital, he began to bruise a lot and suffered frequent nosebleeds. Doctors were at a loss to explain what Tanner had; he was first thought to have leukemia, then they just weren't sure, but the little boy was stable.
Then Tanner's hometown, Ft. Pierce, Florida, was hit by two hurricanes in the fall of 2004, and his health took a turn for the worse as well. It was an allergist who finally referred Tanner to the Miller School of Medicine after he noted abnormally low antibody levels in the child. Pediatric clinical immunologist Gary Kleiner, M.D., Ph.D., diagnosed Hyper IgM, a rare immunodeficiency disease in which the immune system fails to produce IgA and IgG antibodies. Kleiner explained that Tanner has an underlying T cell defect that results in a B cell (antibody) problem. This causes abnormally elevated, non-beneficial antibody levels (IgM type). He has a problem with immune regulation, which predisposes him to life-threatening infections. Without a bone marrow transplant, Tanner would not be expected to live much past 30.
Tanner's disease, Hyper IgM, is one of the 70 types of primary immunodeficiencies, otherwise known as PIs. More common than malignancies and sometimes mistaken for human immunodeficiency virus (HIV), PIs can range in severity from a predisposition to illness to a complete lack of immune defenses. Individuals with PI are born with a faulty immune system that is missing some—sometimes even all—of the body's immune defense mechanisms.
Kleiner, assistant professor of pediatrics at the Miller School of Medicine, is one of only three board-certified pediatric clinical immunologists in the state. Working with The Jeffrey Modell Foundation, Kleiner presented a conference last fall at the Miller School aimed at educating physicians about the signs of PIs. The Modell Foundation, created after the death of Jeffrey Modell from PI, recently launched a multi-year campaign to help inform physicians and families about PIs. "It's more common than people think," Kleiner says. "More and more treatments are coming up, so awareness is important."
The key to controlling the potentially deadly disorders lies in knowledge, Kleiner says. If PI is not diagnosed in time, "the long-term effects can be very severe."



Joint American-Israeli Conference on Cancer


hen trying to solve a problem as complex as cancer, assigning more minds to the task can only help. That was the thinking behind the first-ever Joint American-Israeli Conference on Cancer (JAICC), held in Jerusalem in March. The intent was to foster collaboration between physicians and scientists in the two countries.
"We feel that Israel, a relative research powerhouse, has been isolated from the world scientific community as a result of the unfortunate events of the past four years," says Joseph D. Rosenblatt, M.D., associate director for clinical and translational research, chief of the Division of Hematology/Oncology at UM/ Sylvester, and professor of medicine at the Leonard M. Miller School of Medicine.
The inaugural JAICC hosted more than 50 experts from more than a dozen institutions, including Avram Hershko, M.D., Ph.D., of the Technion-Israel Institute of Technology. Hershko was one of three researchers honored with the 2004 Nobel Prize in Chemistry for the discovery of ubiquitin-mediated protein degradation, which has led to new approaches in the treatment of myeloma and other malignancies.
Other key organizers of the conference were Hyam I. Levitsky, M.D., from Johns Hopkins University in Baltimore, and Robert Korngold, Ph.D., from Hackensack University Medical Center in Hackensack, New Jersey.
"The Israelis have made significant contributions and this interchange will probably create new and productive collaborations that will benefit us all. Especially our patients," says Rosenblatt.



Researchers Publish Breakthrough Findings on the Body's Immune System

Primal Pathway

team of researchers at the Miller School of Medicine has identified a pathway that is activated in response to a viral infection at the very earliest stage, a discovery that has enormous implications for fighting disease. The scientists believe the pathway helps explain innate immunity, the body's very early detection system that sets off alarms that a pathogen, such as a fungus, virus, or bacteria, has contacted or penetrated a cell. The breakthrough findings by the UM scientists were published in the prestigious scientific journal Nature.
"Understanding how this innate immune pathway works has huge clinical implications," says Glen Barber, Ph.D., professor of microbiology and immunology at the Miller School and lead author of the study. "As we unravel the pathway further, we hope to learn how to regulate the innate immune system to improve vaccines and therapeutic treatments against viral and other pathogen-related diseases, and potentially against cancers caused by viruses."
It has been known for several decades that the body's immune system responds to an invading pathogen by making a lot of interferon, which in turn switches on antiviral genes that destroy the invader.
"The pathway that we found plays a key role in activating these interferons and galvanizing the immune response," explains Barber.
Barber, Siddharth Balachandran, Ph.D., and Emmanuel Thomas, Ph.D., all authors on the Nature article, are continuing their work on the pathway through funding from the Defense Advanced Research Program Agency, which is part of the U.S. Department of Defense.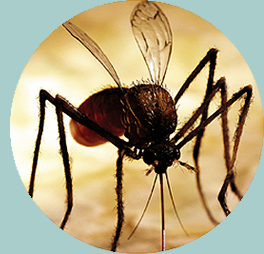 Pest Control

n most places mosquitoes are just an annoyance, but in many of the world's cities the bugs carry life-threatening diseases. The University of Miami is tackling the deadly epidemic of mosquito-borne diseases by bringing together public health specialists, engineers, economists, and ethicists in a lifesaving mission with federal support.
The Department of Epidemiology and Public Health at the Leonard M. Miller School of Medicine has received a $1.6 million grant from the National Institutes of Health (NIH) to establish an Exploratory Center for Interdisciplinary Research. The NIH is spending more than $36 million to fund 21 centers as part of its NIH Roadmap for Medical Research; UM's center will study control of mosquito-borne diseases.
The Exploratory Center for Interdisciplinary Research will be developed through the University's Global Public Health Program and will examine mosquito-borne disease control in urban environments. Many diseases carried by mosquitoes, such as malaria, dengue, and West Nile, are major public health problems.
"These mosquito-borne diseases are infecting and killing more people than ever in cities, especially in developing countries. The focus of our new NIH exploratory center is to develop ecologically sound interdisciplinary approaches to help solve major disease problems in cities in countries such as Kenya, Egypt, Israel, Trinidad, and Costa Rica," says John Beier, Sc.D., director of the UM Global Public Health Program and professor of epidemiology and public health at the Miller School of Medicine. "We have assembled a team of scientific experts from the network countries and from diverse University disciplines such as economics, engineering, geography, bioethics, and mathematics to come together and find solutions."
Through the NIH Roadmap, start-up funding is being provided for three years, with long-term support coming through an Interdisciplinary Research Consortium.



News, Accomplishments, and Achievements in the Miller School of Medicine
Making Headlines
Trio of Gifts
Three landmark gifts to the Miller School of Medicine during the month of December made headlines in South Florida and across the country.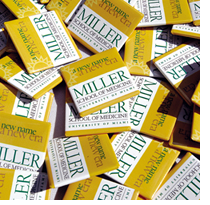 The $100 million gift from the family of the late Leonard M. Miller, which led to the naming of the medical school to the University of Miami Leonard M. Miller School of Medicine, appeared in The New York Times, USA Today, The Chronicle of Higher Education, The Chronicle of Philanthropy, The Miami Herald, South Florida Sun-Sentinel, El Nuevo Herald, Daily Business Review, and The South Florida Business Journal. In addition, the gift received television coverage on all local stations and CNN.
The $13 million grant to create the Wallace H. Coulter Center for Translational Research received coverage in The Miami Herald, South Florida Sun-Sentinel, and The South Florida Business Journal.
Stories about the $5 million grant from the Dr. John T. Macdonald Foundation that created Miami GeneCure Diagnostics, Florida's first comprehensive medical genetics diagnostic laboratory, appeared in The Miami Herald, El Nuevo Herald, and South Florida Sun-Sentinel.
A Grand Opening
The grand opening of the University of Miami/Jackson Memorial Hospital Center for Patient Safety on January 13 received extensive media coverage featuring interviews with center director Paul Barach, M.D., and David Lubarsky, M.D., chairman of the Department of Anesthesiology. The Miami Herald, El Nuevo Herald, South Florida Hospital News, Internal Medicine News, and AMA eVoice reported on the opening. Electronic media coverage included NBC-6, Miami-Dade TV, WLTV, and the Telemundo and Univision networks.
A Rare Organ Transplant
Transplant surgeon Tomoaki Kato, M.D., received worldwide news coverage after performing a six-organ transplant on a Japanese baby at Jackson Memorial Hospital just before Christmas. Eleven-month-old Yosuke Ohashi would never have received the operation in Japan because children younger than 15 are prohibited from serving as organ donors. In Japan the story appeared on four television networks and in at least 17 newspapers; it was also reported in 24 countries around the world. The story was featured on Good Morning America and covered by every South Florida television station as well as The Miami Herald and El Nuevo Herald. Nationally, the Associated Press, CNN, FOX, ABC, NBC, Univision, and Telemundo networks reported the story.





Photos by Pyramid Photographics, John Zillioux (Kleiner) and Biomedical Communications (Barber)